A Dateline Instagram poll showed that 28 percent of WIS students participated in this year's election, despite many not being eligible to vote.
Since the 2018 midterm elections, there has been a national uptick in youth involvement in politics, according to the Tufts University Center for Information & Research on Civic Learning & Engagement (CIRCLE).
CIRCLE conducted a survey where most respondents were young adults who were eligible to vote in the 2020 election. The survey found that youth voter turnout and political engagement have increased since 2018, as well as belief in youths' power to create change.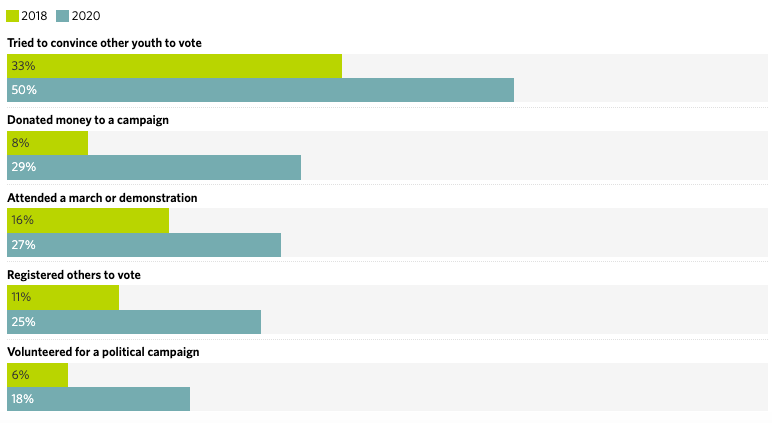 This year, several WIS students who decided to involve themselves in the election did so by sending messages to swing states.
Story continues below advertisement
Over the summer, sophomore Joost Almekinders wrote 300 letters to North Carolina voters through the nonprofit organization Vote Forward. He mailed them in late October so that the letters would arrive a week before the election and encourage voter turnout.
According to Almekinders, he wasn't allowed to express his political views in his letters. Instead, he wrote messages such as "do what would make you proud" to try to convince the recipients to vote.
Sophomore Ella Bown filled out a stack of 100 postcards this summer to send to the nonprofit Georgia Postcard Project. Unlike Vote Forward, it is dedicated to persuading individuals to vote for the swing state's Democratic candidates.
On each postcard, Bown wrote the same message, starting with an explanation of the importance of early in-person voting. Then, she would urge Georgians to "please vote blue all the way through the ballot, starting with Joe Biden and Kamala Harris."
Both Bown and Almekinders chose to involve themselves in this year's election because they thought that it was the most important one they had ever experienced. "I'm a bit older now. I understand more what's going on and what's happening, and I have my own point of view. So I felt like I should at least try to have an impact," Almekinders said.
Senior Sophia Nehme worked as an intern this fall on Sara Gideon's Senate campaign through the Maine Democratic Party. Sara Gideon's platform promoted affordable health care and climate change action and emphasized the importance of compromise between parties.
Nehme chose to work on the campaign because she disagreed with Gideon's Republican opponent, Maine Senator Susan Collins, on various topics, including the confirmation of Supreme Court Justice Brett Kavanaugh. "Susan Collins against Sara Gideon was going to be one of the most competitive Senate races in the country…I wanted to do my part to help flip the Senate blue," Nehme said.
Nehme's job consisted of cold-calling registered voters and then "IDing" them, which meant figuring out who they planned to vote for up and down the ticket. Additionally, she would recruit and train volunteers.
One challenge that Nehme faced was that some of the Mainers she spoke with were undecided or hesitant to vote for Democratic candidates. "I attended lots of meetings with all the campaign interns [and] field organizers on the campaign, and I basically learned Sara Gideon's platform inside out…so that I could attempt to persuade undecided voters over the phone," Nehme said.
Although their methods and levels of involvement in this year's election varied, all three students feel that they have gained a lot from their experiences.
"I've definitely been able to immerse myself in new perspectives which I wouldn't have access to otherwise, just because Maine, demographically or by political views, is different [from] D.C.," Nehme said.
Bown's experience participating in the election changed her view on politicians as a whole. "I always thought that politicians were people to idolize, but now I realized that they're just people, and that they make mistakes…we have to hold them accountable, and help them make our country better, because they don't know everything," Bown said.
Almekinders' experience taught him more about how the U.S. political system functions, especially the Electoral College. "Every day after the election, I would count out electoral numbers, see how [candidates could] win. And I think overall, I became more invested [in the election] than usual," Almekinders said.
All three individuals think that their involvement made a difference in the election process.
"I'm not saying my work completely changed people's political alignments or beliefs, [but] at the end of the day, I may have planted a seed in their brain about something that they can reflect on and think about further," Nehme said. "And even though that may not change their decision, it's just interesting to know that I've had an impact on other people."
By Maia Nehme