This is a developing story. The Dateline staff add more information as it is revealed.
April 16, 2020: New Orleans Trip Officially Cancelled
The 2020 10th grade trip to New Orleans has officially been canceled, Upper School Principal Sarah Polland announced in an email to 10th-grade students on Thursday. The trip was supposed to take place in March, when the Upper School administration postponed the trip to June, due to the evolving coronavirus pandemic. Now, the June trip will not happen, considering the severity of the pandemic.
"I realize this is a tradition many of you have looked forward to for many years, and please know we all share in your disappointment," Polland wrote.
Story continues below advertisement
The administration plans to attempt to "recreate a similar experience locally in the beginning of [next year] to focus on pre-IB class building and cohesiveness."
March 12, 2020: School to close early before spring break
Head of School Suzanna Jemsby announced in an email today that students will not have classes after Friday March, 13 due to the coronovairus outbreak. The administration will reevaluate after spring break end on March 29.
"We will keep the education of our students at the forefront of all our decisions," Jemsby wrote.
Jemsby explained that the campus will remain open for teacher training on Monday and Tuesday, in an effort to prepare faculty members for long-term distance learning. On Wednesday and Thursday, the virtual learning plan will go into place. There will be an assembly tomorrow for all upper schools introducing the distance learning policy.
Spring break will begin one day early, on Friday, March 20.
All extracuricular activities schedule from March 13 to March 29 are cancelled. The upper school play, "Metamorphoeses," will hold its schedule performances on Thursday and Friday, but will not perform on Saturday or Sunday.
Jemsby is hopeful that classes will resume as soon as possible.
"While we hope to be able to resume classes on our campuses on Monday, March 30, there are many factors that must be considered, including how fast COVID-19 continues to spread and whether there is a decision made by public health officials that precludes us from resuming school as normal," Jemsby said.
By Saul Pink
March 11, 2020: Faculty member's spouse shows symptoms of virus
On Wednesday March 11th, according to an email by Head of School Suzanna Jemsby "a spouse of a Tregaron faculty member is showing some symptoms consistent with COVID-19." The spouse was not tested when the email was sent. The faculty member of the spouse has self quarantined.
The email also states WIS planned to conduct a deep clean in "select instructional staff spaces" as well as regular cleaning throughout the night of March 11th. This email was part of "Suzanna's Study" email chain and was not sent to students.
Full email below: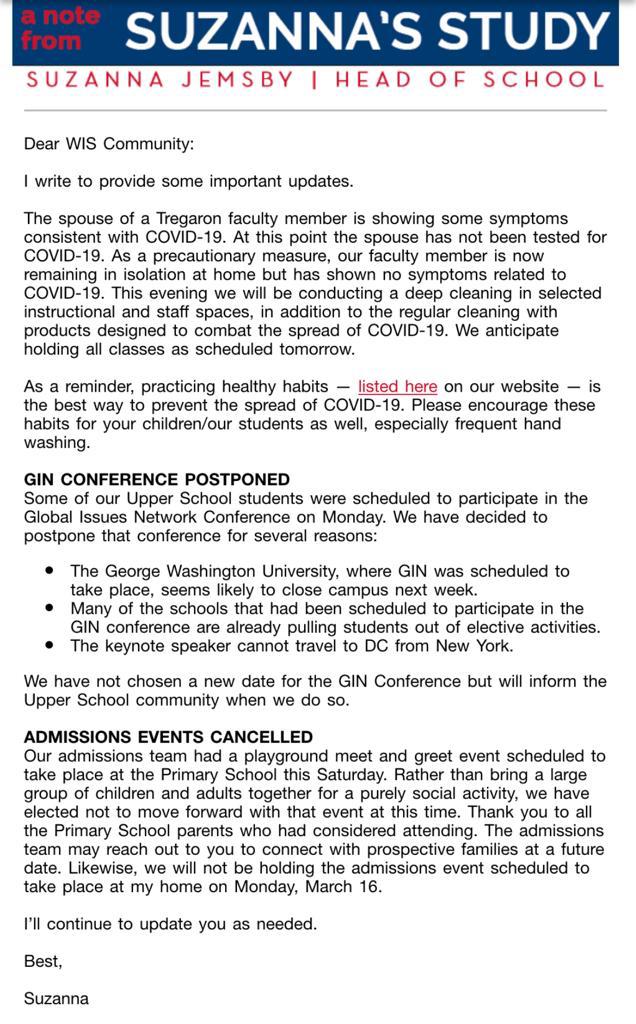 March 11, 2020: Assistant Principal Beta Eaton describes virtual learning plans
In the past week, WIS administration has been working to put in place a distance learning policy. However, there are still many unanswered questions concerning how it woud work.
Beta Eaton, Assistant Principal for 9th and 10th grade, explained how a students' day will look if they work from home. "We are still going to maintain the schedule, but a lot of it, especially in Upper School, will be a combination of facetime with your teachers, on Google Meet, but also independent work," Eaton said.
She also outlines the video call schedule for each class. "If a class meets five times per cycle, the expectation [is] that you see your teacher's face three times per cycle," Eaton explained.
Eaton offers an example of how this new schedule might work. "It's B-Day and you meet third period. Maybe your first two classes choose not to meet [for the first two periods]. Your first class would take place at 10:30," Eaton said.
She also understands that some students will not follow the normal class schedule should they be doing distance learning. For two classes out of five each cycle, video call is not required. "If it [is] first period on a B-Day and [there isn't] a prescheduled meeting time, you don't have to be up," Eaton said.
There will be a special assembly Friday morning to introduce the new distance learning policy.
By Abigail Bown
March 10, 2020: WIS prepares for long-term virtual learning
With the increase of Covid-19 in the DMV students have begun to assume that WIS will inevitably shut down with cases growing in the area. With that, virtual learning and how classes would continue becomes more of a pressing issue.
High school biology teacher, Trish Beck, explains that while the faculty is concerned with training students to stay healthy, they are actively making a plan for virtual learning. "They are really working on a plan now, but as far as how to help teach the kids how to prevent the spread, I don't know about that," Beck said.
Teacher training for virtual learning has been set up for Tuesday and Thursday of this week. However, virtual learning does bring issues of student reactions.
"Certainly, it will be a little different, and students will need to be more reliant on their textbook," history teacher Don Boehm said. Boehm also explains that it is worrying as seniors are amidst the end of the IB with exams approaching in just two months.
By Rose Boehm and Abigail Bown
March 10, 2020: 10th grade New Orleans trip postponed due to COVID-19
With Coronavirus becoming more prevalent across the US this week, the decision was made March 9th to postpone the annual Grade 10 trip to New Orleans. In an email sent to the Upper School community, Upper School Principal Sarah Polland stated, "We currently do not have any cases of COVID-19 in our community, but cases have been identified in the area. Given the expected escalation of cases in the United States in the coming days, our team determined that conducting overnight field trips is not advisable at this time."
It is important to note that, like the 8th-grade language exchange trips, the NOLA trip has been postponed and not canceled. According to the WIS administration, the trip will go ahead in June if the virus has diminished at that point, pushing finals week one week earlier to account for the extra week of classes next week in replacement of the trip.
By Emily Muenzer and Rebeka Tatham
March 10, 2020: COVID-19 and IB Exams
As COVID-19 spreads around the world, the chaos left in its wake has become practically unavoidable. The consequences of the disease on testing for WIS students, both in and out of school, is uncertain, however the International Baccalaureate Organization (IB), and other academic institutions have begun to initiate plans to minimize the delays and cancellations that COVID-19 has and will cause.
Due to COVID-19, IB schools in mainland China, Hong Kong, Macau, Mongolia, Vietnam, Taiwan, Italy, South Korea, Bahrain, Iran, Iraq, Japan, Kuwait, Lebanon, Palestine, Georgia, UAE, Azerbaijan, Armenia, Saudi Arabia, and Pakistan have been forced to close. Schools in these regions will be given extensions on IB related coursework if they remain closed for 2 weeks or longer.
"I'm mad, I wanted an extension too you know. Tell me, come on, I doubt Armenia is worse off than the US," current senior," Sebastien Loko said. Other students understood the need for closure and called for WIS administration to follow suit.
Special accommodations have been put in place so that affected students can complete certain assignments remotely. Some examples include video conferencing for oral examinations, or photographing artwork instead of presenting it at an in-person exhibition. The IB stated that they are unable to postpone May examinations as the "examination schedule is a global schedule and therefore it would be unreasonable to change it for students who are not affected." In certain cases where testing is not possible, the IB might employ the missing mark procedure that allows the organization to "estimate how a student would have performed on any missing assessment component (like an examination paper) based on the other elements of the assessment they have completed."
"[The response] is inconsiderate because during a pandemic we should be able to collaborate with the IB to work out a better solution," senior Emily Daniel-Papi said.
The College Board, who administer the SAT, have cancelled all tests in 15 countries. SAT scores play a large role in admission to colleges, and students who's tests are cancelled due Covid-19 have fewer chances to get a high score. The ACT, which is similarly important to college admission, has announced that that tests administered outside the US will be subject to cancellation of a case by case basis.
By Charlie Lane
March 9, 2020
WIS just announced the postponing of the 10th grade New Orleans trip and the 12th grade Civil Rights trip to the Southern U.S. Last week, WIS postponed the eighth grade trips to Peru and France.
"I was excited to show that side of my heritage to my classmates," senior Stephanie Hood, whose father is from Selma, Alabama said reflecting on the postponing of the civil rights trip.
"My friends from school were going to get to meet some of my family members. I don't think a lot of my classmates are ever going to go to the south. I wanted to show them parts of the south that I like, and look at it in the way I do," Hood added.
Follow @WISDateline on Twitter and Instagram for more coronavirus updates.