On September 20th, Greta Thunberg led four million people across 161 countries in the largest climate strike ever. However, up until last August, Thunberg was a normal Swedish student about to begin her freshman year. She had been concerned by climate change ever since learning about it when she was eight years old. At 11, she became depressed by the apparent global inaction towards daily environmental destruction. In May 2018, she wrote an essay focused on climate change that won a competition hosted by the Swedish climate newspaper Svenska Dagbladet. This essay was the start of her career in activism.
Last August, Thunberg began Skolstrejk För Klimatet (School Strike for Climate), also known as Fridays for Future. Originally, this was a lone effort; Thunberg hadn't managed to garner much interest from her classmates. She decided to strike from August 20th until the Swedish general election on September 9th; she placed herself outside the Riksdag and made her sign. Her goal was to encourage the Swedish parliament to comply with the terms of the Paris Agreement for reducing carbon emissions.
Thunberg posted images of her protest on social media, and these images went viral. Soon after, more people began joining her on her strike. She received increased public attention after the Swedish climate company We Don't Have Time featured her on their social media, and after a representative from the Swedish bank Nordea quoted her in a Twitter post. Journalists began reporting on her story, and the attention she received went from local to national to global. (Business Insider).
Following the Swedish general election, Thunberg started striking every Friday, and she inspired 20,000 students around the world to do the same. She began to give high profile speeches, such as at the World Economic Summit, the Australian World Summit, and the European Union. On September 23rd, Thunberg delivered a passionate speech in front of the United Nations, where she told world leaders: "People are suffering. People are dying. Entire ecosystems are collapsing. We are in the beginning of a mass extinction, and all you can talk about is money and fairy tales of eternal economic growth. How dare you!" (NPR).
Story continues below advertisement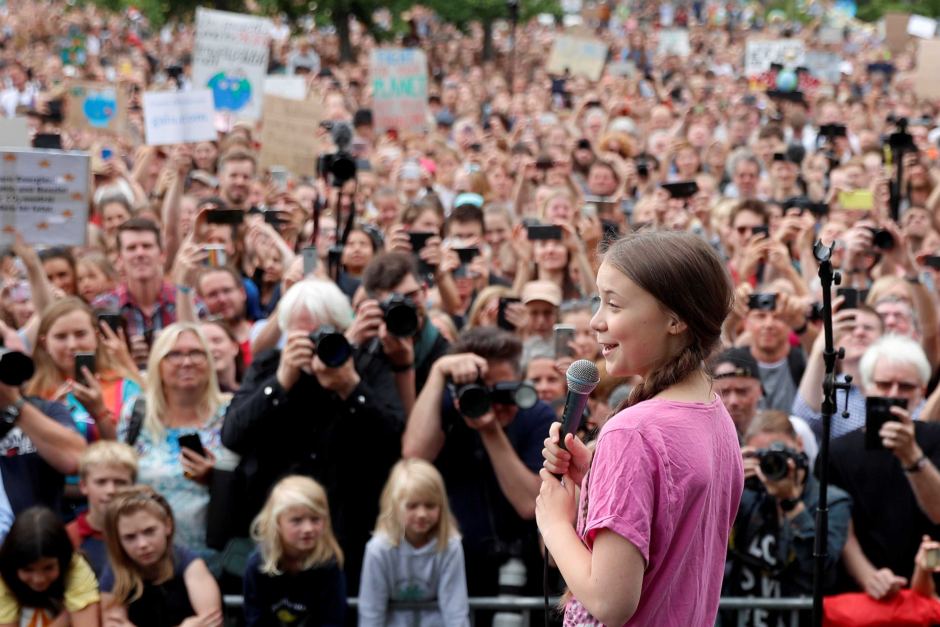 Thunberg has become a highly influential figure, to the extent that she was nominated for the 2019 Nobel Peace Prize. At heart, though, she remains a teenager, with many of the same concerns as teenagers all over the world. Thunberg has Asperger's syndrome, and she credits it as her "superpower" because it allows her to be more straightforward about climate change. However, she also says that she doesn't like to be at the center of attention and that she forces herself to remain in the spotlight because she knows she can use her platform to "do something good" (The Atlantic). She also says that when she is around too many people, she has to "shut off" her brain, as a way to not let the external stimuli surrounding her overwhelm her. Thunberg has not allowed her newfound fame or her discomfort with it to shift her priorities, and she has not deviated promoting her message of action against climate change.
Thunberg's story is as inspirational as her message. She is living proof that any person can step up to make a difference in the world.