Over one hundred students gathered to discuss the world's latest issues and present their emotions about recent events at the Global Issues Network (GIN) Conference in Washington, D.C. on March 12-13.
The conference was held at Funger Hall at the George Washington University campus and hosted by students from Washington International School, School Without Walls, and Bullis. The day was comprised of student-led Global Villages(discussion sessions) as well as presentations of their choice in front of small groups of students. There were also special guest appearances from several different organizations presenting a key aspect of their organization or company.
'It seems like a good turn out, a lot of people are coming. I knew immediately it was going to be a great conference,' WIS 9th grader, David Allen said.
When entering the location, the students were greeted with pastries and complimentary water bottles provided by GIN. This period of time allowed them to roam around and get to know other students which they would be spending the duration of the conference with. Many of these students would be meeting each other for the first time and would be cooperating later on in the global villages through constructive conversations and debates. The conference was ultimately a great way for students to socialize and go beyond the communities they're used to.
Story continues below advertisement
"A lot of times because we go to private school we don't interact with kids from others school so this is a great opportunity to interact with other students in an academic and social way," Allen said.
Later on, the conference provided the students with a chance to learn something new when it hosted a presentation by Angelica Silvero, Head of the World Bank Group Speakers Bureau. Silvero started off by explaining her role at the World Bank and then the organization's role in our world. She discussed the latest global issues and how the Bank is approaching poverty on a global scale as well as how they have already aided the struggle.
There was genuine interest flowing through the audience as several questions were posed afterwards. Students were able to obtain a new perspective on the world and the issues our generation will face later on in our lives.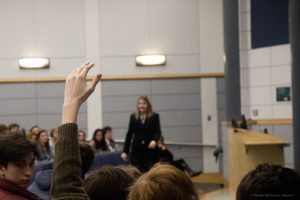 'Everyone was super inclined on learning something new and were excited to hear what she had to say,' WIS 9th grader, Anders Westermann said.
One of the several purposes of the conference was to stress the importance of and establish strong relations between communities. Many of the activities that day involved cooperation between students and a certain degree of teamwork such as the brainstorming of solutions in the Global Villages for current issues. For example, a major topic discussed was the recent Florida shootings and its implications on politics and the student body. Students were challenged when tackling the issue and displayed exceptional perseverance.
In our modern society, we tend to forget the things that are happening outside of our bubble. The Global Issues Network Conference was an exemplary opportunity for young students to go beyond their prior knowledge and augment their caliber of comprehension. This conference demonstrated that the time for change is now and our generation is next to undertake the world's greatest issues.
By Pierre Forneris