Spring is here! Personally, I hate the cold so I'm glad the warmer weather is rolling in. (Putting aside the fact that we're killing the earth and global warming is more present than ever.) Anyway, spring as sports are starting and the days grow longer, I always crave some iced coffee or tea from Starbucks to cool me down. This year though, I wanted to try something a little bit different and be more conscientious about where I shop.
I've realized that there are a lot of benefits that come from going to local coffee shops and not a lot of benefits that come from going to Starbucks. This spring, it's time to switch things up a little. Next time you're headed to Starbucks, think about these five arguments and maybe try something new.
1.) The coffee isn't that good.
Story continues below advertisement
Maybe you're that person who goes to Starbucks at least once a week, always gets the same drink, and never gets sick of it. I can understand that, but why confine yourself to one poor rendition of a coffee drink when you could be getting something of much better quality? It's not because of price differences, because we all know that Starbucks is just as overpriced as any other cafe, maybe even more so. And most of the time drinks at Starbucks are not of the best quality.
You could be drinking this really bad coffee and not opening your mind to any other possibilities because of laziness or just because that's what you're used to. Always buying the same thing blinds you from seeing things that are better.
Most of the time, locally brewed coffee will be much better than that made at Starbucks. David Fritzler, the Food and Beverage Director at Tryst Coffee, explains that "Coffee will never be 100% local. It can only be grown in tropical mountains but in the end it's best freshly roasted and freshly brewed and the latter can only happen locally."
To people who really love coffee, it is more than just a drink. You won't get this sort of devotion, care, and high standards at a corporate chain. Fritzler remarks that,  "Coffee, especially great coffee is, is special. It has the ability to bring people together. It also has the ability to provide a uniquely complex and rewarding sensory experience – coffee has more aromatic compounds than anything else we ingest. Those three things are hard to focus on and promote in a corporate, fast food model, but they're things I focus on every single day."
2.) It's not environmentally friendly.
Starbucks has put a some effort into making their company more environmentally friendly, but the business still falls short in several major categories. First of all, their coffee is made with Monsanto Milk. This milk comes from cows that are fed modified, cheap feed. This affects the health of the animals and traces of artificial additives and hormones can be later found in the milk.
Another problem is the use of paper cups, which might seem small at first, but is really serious. The fact that Starbucks uses paper cups for all its drinks, even those that are consumed in the cafe, leads to much more pollution than necessary. This problem has a simple solution,:simply buying mugs for coffee that is consumed in the shop, reducing the company's environmental footprint significantly.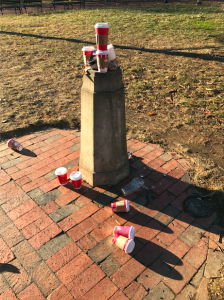 3.) Starbucks is really unhealthy.
Recently, there's been a huge health-kick in society, especially regarding food. While smoothie bowls and sushi burritos are getting more popular, fried and fast foods are fading fast. Of course, that doesn't mean that suddenly everyone is eating healthy food all the time, but the need to be healthy is a lot more present in everyday life. Therefore, because Starbucks is pretty low on the health scale, I feel like this should be considered.
Based on an article by Food Babe, a blog with guidelines to a healthier lifestyle, the contents of a Pumpkin Spice Latte and of coffee at Starbucks in general is surprising. Most Starbucks coffee isn't organic, and according to the article, "Non-organic coffee is considered one of the heaviest chemically treated crops in the world, especially when it's imported from developing nations that allow pesticides that are restricted in the U.S. due to health concerns."
There's also a huge amount of sugar in the drinks. A Grande Pumpkin Spice Latte contains 50 g of sugar. According to the American Heart Association women should consume a maximum of 25 grams of sugar per day, while men shouldn't have more than 37.5 grams.
4.) Starbucks is misleading those with dairy allergies and vegans.
Ok, I know most of the people at this school aren't vegan, but this last point is for the few of those who are. Starbucks is known to be a good choice if you're vegan in general, because of all the alternative milk options they have such as soy milk, coconut milk, and almond milk, to name a few. Because of this, it also seems to be a good choice for those with dairy allergies.
However, Starbucks may not be as good as it seems in this aspect. Because the ingredient list for the drinks isn't readily available, whether or not a product really contains dairy can be hard to figure out. Because of this unclarity, many Starbucks employees are not aware which ingredients have traces of dairy. In the case of the Pumpkin Spice Latte, the flavoring for the latte actually contains sweetened condensed milk, so even if the you were to get a pumpkin spice latte with soy milk, it wouldn't be vegan.
Speaking of soy milk, according to the Food Babe article, the organic soy milk at Starbucks "contains carrageenan – which is linked to gastrointestinal inflammation and cancer. It also contains added sugar, preservatives and artificial flavours" on top of everything else in your drink. Many other cafes are now offering non dairy milk choices, so it might even be healthier to try something new.
5.) Destroy Capitalism! (local coffee shops are better anyway)
Of course, there are many benefits to buying things locally. When we buy local products, the money we spend on buying them will not only go to the product we get but will also go back to benefitting the community through taxes and supporting local business often leads to the quick development  of local neighborhoods.
Just because of that, buying products locally seems more logical. But there's another side that adds to that logic too. We have absolutely amazing cafes and coffee shops in D.C. There are so many options, and unlike Starbucks, all of them have unique specialties and atmospheres. You can find a great cafe practically anywhere in the city. If you're not sure where to go, check if any of these places are nearby.
Baked and Wired – I'm sure everyone's heard of this cute Georgetown cafe with a rustic, communal vibe. But just in case you didn't know, they don't only have huge, creative, and beautiful cupcakes but also boast some amazing coffee and tea options.
Firehook – This constantly confuses me. Why do people insist on walking all the way to Starbucks after school when we've got an amazing coffee shop and bakery just down the road? Ok, so Starbucks might have more customizable drink options, but the pastries at Firehook are absolutely fantastic, and if you're looking for good coffee, Firehook has you covered too. Less walking and cookies the size of dinner plates? Just go to Firehook.
Tryst – If you walk a little further down Connecticut, there's an amazing little restaurant and cafe called Tryst. It's perfect for brunch, with dozens of options on the menu: fresh croissants, muffins, tarts, and pies. The sandwich options are endlessly creative,  and if you're not into sandwiches, the menu ranges from nachos to flatbreads. The drinks are very high quality, with two types of chai tea lattes, matcha lattes, frappuccinos, smoothies, and house made syrups, you can't complain about limited choices.
Filter – This is a really small, cute coffee shop in the heart of D.C., right by the capitol. If you have parents that work at the IMF or World Bank, this is the perfect place to go by the office. A small selection of house made pastries means that the focus is mainly on the coffee, which is made with meticulous care. If you're not a coffee person, their hot chocolate is creamy and frothy with a deep semi-sweet chocolate flavor. If you're interested in brewing coffee at home, check out the coffee pots, which are made by local artisans.
Open City at the National Cathedral – I've been wanting to visit this cafe for a while, and I'm sure a lot of WIS students have already been here, because it's so nearby. It's an old fashioned place in a hexagonal room with a wide skylight spanning much of the roof. The possibilities are just as customizable as Starbucks, with a European themed menu featuring items such as belgium waffles, as well as a huge coffee, tea latte, smoothie and milkshake selection, and housemade syrup options.
Dog Tag Bakery – This is a clean cut, cozy cafe in Georgetown that is often filled with sunlight from the huge windows in the front. Not only do they have delicious pastries and the best croissants I've ever had, but they also have many different coffee and cool tea options. On top of all that, the cafe is dedicated to veterans with disabilities, employing them and sending parts of the cafe's profits to veteran programs across the U.S.  
Simit and Smith – If you're looking to try something a little bit different, this is the spot. As yet another cafe in Georgetown, it distinguishes itself with delicious mediterranean breads stuffed with feta, beef, or spinach. It also has a large coffee and tea selection and amazing baklava.
Filter – locally made coffee pots and freshly brewed coffee: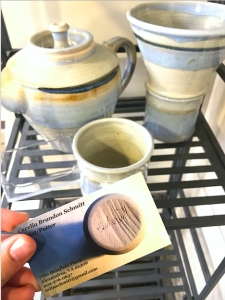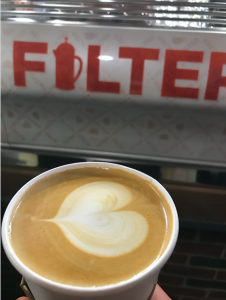 Tryst– Matcha Tea Latte: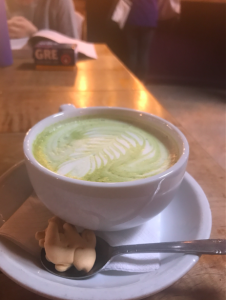 Open City – Masala Chai and Sticky Bun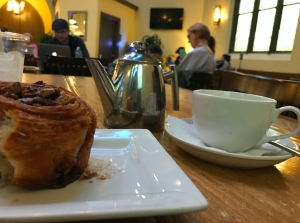 It's not as if Starbucks is some sort of villain in the coffee industry, but it certainly could do some things better. Actually, it could do a lot of things better. Their coffee and environmental footprint are disappointing, and because it is such a huge corporation it is easier for them to add preservatives and conceal ingredients, creating an overall discreetly bad health effect. Local coffee shops really have everything going for them, so next time you want a warm drink, try something new.
By: Marta Maliszewska