Fast fashion is exacerbating climate change because of its low-quality materials and artificial fibers, increasing the amount of non-biodegradable scraps. Some fast fashion stores include Romwe, Shein, Urban Outfitters and Forever 21. 
Fast fashion is defined as the production of low-quality clothing made by stores in order to bring the newest inexpensive trends to the public.
This clothing has harmful impacts on the environment. Some may contain toxins, dangerous chemicals and dyes and/or synthetic fabrics. Every year there are about 1.1 million tons of clothing thrown out in the US alone, and these fabrics rarely break down, according to The Good Trade. Furthermore, these clothes are harmful to workers because they interact with these chemicals all day. 
Fast fashion was born in the late 1970s because companies wanted to produce more than one clothing line per season, according to Good On You. When luxury brands had fashion shows and presented the newest trends, other brands copied these clothes and produced them faster. 
Story continues below advertisement
Few stores used these cheap methods until the 1990s when celebrities started promoting brands that used fast fashion. Some examples of the promotion of these brands would be wearing them normally in the street and getting pictures taken by the paparazzi, or by the celebrity talking positively about said brand, according to Good On You.
"These clothes are made from plastic and fibers which are horrible for the earth," sophomore student Klara Young said. Young feels that climate change is one of the biggest issues we are currently facing and fast fashion is contributing to it greatly. "Also, it creates an incredible amount of emission from the factories that are crammed with workers that make less than minimum wage."
A lot of people aren't aware of the effect this issue is having on climate change, according to Young. She didn't know much about fast fashion until she was informed by another student about all of the problems it is creating. 
Young believes that even though these clothes are cheap and trendy, there are many alternative stores that sell clothes that are equally as good and with potentially better materials.
One alternative is Depop, an app that functions as an online thrift store. Clothes on Depop are recycled and reused as a way to reduce waste.
Some websites let you know which stores use the most artificial fabrics and materials. "There is this website called Good On You, and you can look up brands and it tells you their sustainability based on how it affects the environment and the workers," Young said. "And it also has some sustainable clothing stores recommendations."
Fortunately, some stores have recently tried becoming more sustainable, such as Gap and Patagonia, and plan on going fully eco friendly. 
Not everyone believes that it is necessary to get rid of the cheaper fashion. "Fast fashion is a difficult topic to give opinions on," strategic fashion consultant Alessandro Re said. "The reason I feel neutral about this topic is because it allows anyone to afford and buy fashion, but it has drastic consequences on the planet and the workers' health."
Luxury brands like Gucci, Louis Vuitton, Saint Laurent and Off-White are now beginning to explore the fast fashion industry and understand its value, particularly for teenagers and young adults, according to Re.  They want to create a cheaper side of their store with new trends every month while still making money. It likely would increase their profits.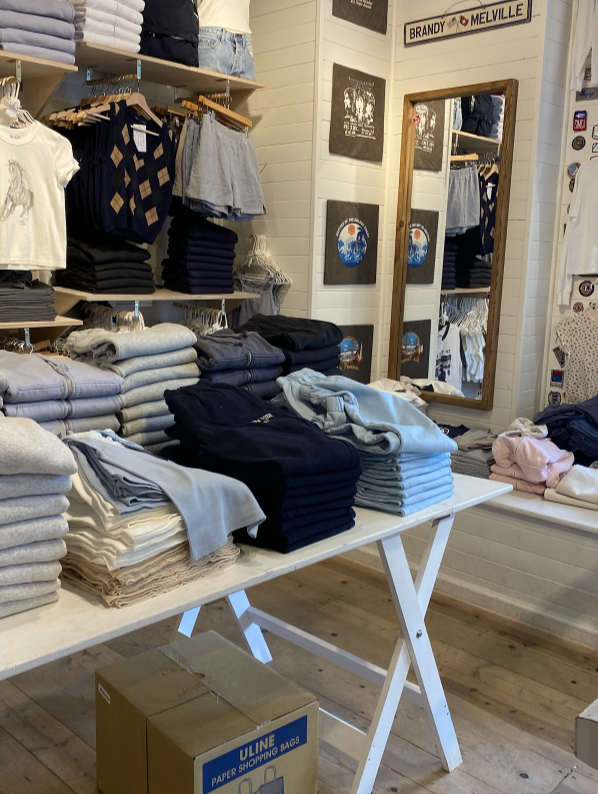 "By now the fashion world probably would not do as well without fast fashion because trends change too quickly," Re said. "What is 'in' today could be 'out' by next week, so brands need to always be on top of the latest news. There will always be fast fashion, because there will always be a part of society that cannot afford such high prices."
Marco Cini is a textile entrepreneur working in Italy who believes that fashion allows for people to express themselves and show different emotions through what they wear. 
According to Cini, fast fashion is not quality clothing because for something to have quality and be beautiful, it takes care and time. For example, when you borrow vintage clothes from your parents/guardians, you know that those clothes are sustainable because they have lasted for generations without becoming ruined. Clothes that are low-quality are easily damaged. 
"Instead of calling it fast fashion, I would call it smart fashion, " Cini said. "This is because when a company has some ideas in mind, they go to poorer countries so the factories cost less and they don't have to pay the workers as much."
"They then create clothes with these horrible materials and put them out on the market for a low price so more people buy them, resulting in them making a lot of money. When these clothes get thrown out because the clothes broke or something happened to them, the customers would buy it again so the production is constant. Of course, it's horrible and the ethics behind it are unacceptable, but it's awfully smart."
"Before purchasing something from a store we must analyze the ethics of this brand," Cini said. "Is it a brand that has less effect on the earth and does not endanger all of the animals on earth as well as irritate your skin once worn? Great! Awesome purchase and have fun styling it. Is it a brand that children and workers that don't get paid enough work on for the entire day, with materials that will not break down and therefore increase the waste of the earth? Maybe rethink your need for this item." 
By Sofia Braccialarghe