Featured Picture: Karla Zimmerman, Lonely Planet
For some general tips for finding cheap or free events in and around DC, I suggest keeping an eye open for flyers or banners around town. Furthermore, take a peek at Eventbrite, a social network platform, where there is a multitude of events available for everyone at zero costs, a range of which are showcased in this article. Groupon is also a great app where although events (amongst other things like household goods that you can purchase) aren't free, are heavily discounted like some of the events listed below. If you're interested in any of the events below simply search it up as more in-depth information is very easy to find.
Sports
Story continues below advertisement
If you're an avid runner, sign up for ParkRun. It's a free service offering you a weekly timed 5k run at one of its three gorgeous locations: Roosevelt Island, Fletcher's Cove and College Park every Saturday at 9 AM.

The National Park service offers a Ranger run of 3-4 miles, where you can both work out and explore the National Mall with an expert of the National Parks, every Saturday at 8 AM. Meet at the Washington Monument Lodge.

Fancy a challenge? Take on the 18-mile route of the Mount Vernon Trail, a beautiful and diverse route that'll keep you entertained the whole way or conquer repeats of the 239 foot Mount Hamilton hill in the National Arboretum.

Interested in Yoga?

HgAthletics has partnered with CorePower Yoga for a free 5 PM classes every Monday

The BikeRack offers great Sunday Yoga classes at the Bike Rack Logan Circle at 6 PM

Also, most Yoga studios around DC will welcome you for a free yoga introductory class so why not try it out at several studios?

If you're looking for that extra level of relaxation – Try High Yoga at the Greenhouse on 10th Street for a relaxing yoga class, where donations will be given to Earthjustice (18+ event)

Hit up the Fusion 360 studio for a free morning Boot Camp at 9 AM that'll kick you quickly into shape and test your limits. This gym also allows you to enter a draw for great prizes, all for free!

Love Barre Classes?

Check out B3 in the park, an intense barre class, on September 16th at 10:00 AM on the upper deck of Meridian Hill park, where you can experience a free barre class with free food, drinks and raffle prizes provided by local DC businesses.

Check out your local gyms and clubs because they often give away free workout classes as taster sessions. For example, you can easily get free classes at Hot Yoga clubs and Crossfit boxes for a workout that targets your body and not your wallet.

Protect yourself with self-defense classes by the American University Police Department, throughout the months of October and November.

Take a beginner Krav Maga class at the Roundhouse Krav Maga & Martial Arts in Columbia, to learn some hardcore martial arts and defense skills.

Travel down to the Adventure section of this page to discover what hikes and bike trail routes are waiting for you to explore all around DC and its surrounding areas.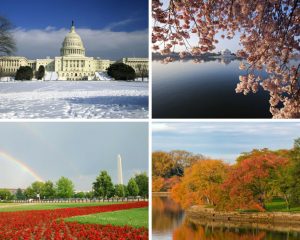 History Fans
Drop into any of the fantastic museums on the National Mall or explore the monuments, including the National Monument and Lincoln Memorial, all in walking distance of each other.

Note: Look out for a new museum on the Vietnam War coming soon

Take a free tour of the National Mall or its features, during the day or night for a moonlight tour. These free tours can be just one monument of interest to you or the whole National Mall. Furthermore, there are opportunities, for a bike tour, running tour, walking tour and even a tour with your dog!

For the history lovers that like eerie things, take a trip to the Arlington Cemetery where you don't only discover JFK's grave site but also the Tomb of the Unknowns, where they regularly have a changing of the guard.

On the 3rd Saturday of every month between April and October, explore the Congressional Cemetery with historian Steve Hammond for a more personal look into America's Civil War.

Take a trip to the past at Georgetown's Old Stone House – the oldest unchanged building in the district. On-site Park Rangers offer free of charge tours, and the house is a beautiful place to take a stroll, full of history.
Culture Explorer
Tour the public rooms of the White House and learn how the President lives. This is a free trip but make sure to plan this well in advance as you need to get permission from either your congressional representative or your embassy.

Get a personal guided tour throughout the District by DC by Foot's knowledgeable tour guides for trips such as Secrets & Scandals, DC's Ghosts, National Mall, Capitol Hill, Georgetown and Arlington Cemetery.

Pop down to the Goethe-Institut for a mind-opening voyage into German culture, with language classes, exhibitions and more in their jam-packed calendar.

Around the Fourth of July, make time to visit the Smithsonian Folklife Festival at the National Mall to explore the living exhibit running from the last weekend in June to the first weekend in July.

Learn more about American History at the U.S. Capitol Rotunda, where you're invited to explore the Emancipation Hall.

Grab a free tour of the Library of Congress, arriving from a tunnel from the Capitol building.

Wander along the Chesapeake & Ohio Canal, or take a walk through Georgetown. Both locations have a great wealth of history and discover the bustling local culture and history.

Tour some beautiful religious buildings in DC, with one being the Basilica of the National Shrine of the Immaculate Conception, America's largest Catholic Church, the National Cathedral or the outside and visitor's center of the Mormon Church.

At the Basilica, docent can guide on a free tour of the major works of religious art, the church's history and of the Crypt.
Lovers of the Arts
View the exhibits at the National Portrait Gallery, where you not only experience beautiful works of art in the paintings but in the building itself.

Check out the Schedule for the John F. Kennedy Center for the Performing Arts as they hold free performances on their Millennium stage at 6.PM nightly of all kinds of performances, such poetry slams, and pieces by the National Symphony Orchestra.

Explore the National Gallery of Art, showcasing work from artists around the world in a number of different styles. Not only can you enjoy the beautiful artwork and gorgeous grounds but the free performances in the West Garden Court throughout the fall.

Take a tour of the Hillwood Estate Museum and Gardens, where you not only get to enjoy the beauty of the estate but also the Russian Imperial art and French Decorative Art

Take a trip down to the Chinatown Friendship Archway and marvel in its beauty and the uniqueness of its surroundings. Plus afterward, you can go to nearby restaurants for some dumplings and drinks, which although aren't free is a nice meal to eat after a long day strolling through DC.

Stroll through Hirshhorn museum's Sculpture Garden to enjoy both the intriguing art pieces and DC's gorgeous scenery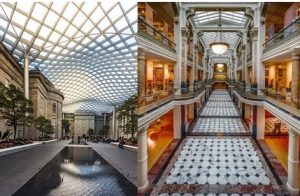 For the Intellectuals
In3 hosts crash courses in many IT subjects including HTML & CSS, building a Web App with JavaScript & Jquery and coding classes. (E)

Look at the World Bank's packed program of mostly free events, which include everything from debates on development to plays and musical performances. 

http://www.worldbank.org/en/events/all

Dive into the World Affairs Network and explore the fascinating topics, some more current and some more closely related to history. 

http://www.worldaffairs.org/events

Interested in Shakespeare? Head down to the Folger Theatre and watch Shakespeare's play unfold in their personal theatre – all for free! 

Explore the microscopic elements of human anatomy, the farthest reaches of the universe, great works of literature and more at the Carnegie Endowment for International Peace Hall

http://carnegieendowment.org/events

For the literary bugs, visit the Politics and Prose bookstore where they often hold free readings and book signings by authors, and attendees can attend a thought-provoking evening of discourse from a range of subjects.
Music and Film Fans
At the Luce Foundation Center for American Art, you can become a part of Luce Unplugged – a free monthly concert series showcasing local talent. On Thursdays, the shows are tributes to the Luce center artwork while Fridays feature 2 local bands, a cash bar and free drink samples from a local brewery or distillery (+21 event).

Catch a free film at the Freer and Sackler film series, held at the National Gallery of Art, AFI Silver Theatre and the National Museum of American History, as the Freer Gallery is under renovation

At the Ronald Reagan Building and International Trade Center, check out the Live Concert Series on the Plaza, where you can dance and sing along with a variety of local musicians.
Food Lovers
Dive into the glorious smells and tastes of Eastern Market, while enjoying the local live music.Buying food isn't free but you can often score some good testers and other food for fairly cheap and definitely worth the spend.

Want to travel around the world without leaving DC? During the first two Saturdays in May many embassies take part in Passport DC – an international culture festival where you can learn how to make foods from around the world and get to taste all of them.

Want to learn how to cook Vegan food? Visit the Greenbelt Farmers Market on October 8th for a free Vegan Cooking demo of your favorite fall foods, complimentary samples provided.
Festivals
Throughout the year, there are a number of appealing festivals for any travelers or locals to join for free.

For the musicians:

For the film fans

Free outdoor films [ link ] in the summer months

For the culture seekers

Smithsonian FolFestivalstival

Smithsonian Circus Festival

National Cherry Blossom festival

H Street Festival (September 16th, 2017 = 12:00PM-7:00 PM) – an 11 block long festival with 14 staging areas showcasing multiple music genres, dance, poetry, heritage arts and much more. The festival stands testament to the truth that arts can be a valuable agent in impacting economic growth, as building vacancy on H street has fallen greatly since the festival's creation

Sweden in the Park: in Glen Echo Park, get immersed in Swedish and Nordic culture with free dances, food, and exhibits.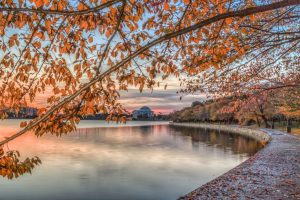 Adventure Lovers
Meet creatures of all size and shape at the National Zoo, located conveniently near cafes, transport routes and pleasant parks for a nice stroll afterward.

Take a hike through any of the parks in DC, such as Rock Creek Park, or venture out a little bit further to explore the Shenandoah, a beautiful and easily national park in Virginia.

Try the Capital Crescent Trail, running from Georgetown all the way to Silver Spring, MD.

The C&O Canal train, passing through Georgetown, allows for a relaxing hike and a touch of American history.

Explore the National Arboretum, a gorgeous oasis full of delicately manicured gardens and majestic pillars, providing any visitor with some relaxing respite from the city.

Want an outdoor oasis with a greater focus on aquatic life? Visit the Kenilworth Aquatic gardens for the eye catching displays of water lilies, lotuses, bamboo and more all adding bright life to the edges of the Anacostia River.

Head down for a stroll along the National Harbour, Washington Harbour in Georgetown or paddle in the Yards Park right on the Anacostia river which holds free Jazz concerts in June and other activities for younger children like pirate treasure hunts.

Some bike route recommendations from a veteran include

The Capital Crescent Marathon (26mi), a  route from Georgetown skirting the Potomac and traveling through gorgeous parks where forest scenery is abundant and shops nearby to stop for a well-deserved snack and drink

Great Ride to Great Falls (30 mi). This ride is challenging, taking around 3 hours with a lot of hills and challenges to navigate but it is well worth the work as you can expect to enjoy vibrant forest scenery and magnificent waterfalls, providing any rider with an easy and accessible escape from city life.

Mount Vernon Trail and Mall (32.2 mi)

Ride to the Top (50 mi) is a relaxing trip taking you from the end of Beach Drive all the way to Lake Needwood in Maryland on the Rock Creek trail. It may be long but it doesn't have difficult hills and can be enjoyed leisurely, especially on a weekend where cars aren't allowed on Beach Drive

Great Eastern loop (40mi) takes its riders on a tour of the easter expanses of the DMV area through Glench Echo, Potomac Village, Chevy Chase and Rock Creek Park. Its a nice ride with hills that are few and far between so its a nice relaxing place.

Get our veteran's personal tips for the trail and more pictures of the beautiful routes here:

https://www.wisdateline.org/?p=2517 
Phoebe Thomas