"Politicians and diapers have one thing in common… They should both be changed regularly and for the same reason"
-Unknown
It's funny to think that we can be so skeptical of people who are technically supposed to run our society.  But unfortunately, the truth is that candidates, especially nowadays, often use information that is factually untrue in order to muster support. So how do we know when they're speaking the truth, or the half truth? How do we know when they're just plain Pants on Fire?

Politifact is an organization dedicated to debunking political myths spread by important public figures. This news organization is notorious for their "Truth-o meter", a rigorous fact-checking process that ultimately ranks politician's claims on a scale. The criteria for the ranking depends upon the completeness and comprehensive nature of the statement, and could be affected by things like missing vital information or murky details.
Story continues below advertisement
Editors and reporters from the Tampa Bay Times operate the website, under Chief Editor Angie Holan.  With a team of reporters, she launched this operation in 2007 when discrepancies ensued between Barack Obama and John McCain. In 2008, they who won the Pulitzer Prize for their diligence in holding politicians accountable for their claims.
Holan joined us at assembly on September 22nd to discuss her role as leader of a fact-checking system, especially relevant during this election. The majority of her presentation was comprised of Q&A from WIS students, which revealed interesting perspectives. Students persistently questioned the organization's' ability to avoid bias, especially considering answers to questions regarding trends in the truthfulness of specific parties. As it appeared, the "most truthful" candidate according to the Truth-o-meter thus far has been Bernie Sanders, and that the overwhelming majority of statements ranked "Pants on Fire" were made by Donald Trump.
Since these results are evidently left-leaning, there appeared to exist some skepticism regarding the organization's process of statement selection and ranking among the student body. Holan was able to explain the procedure, but encouraged students, nonetheless, to  "find news sources that they find credible and then read those sources regularly. Don't just read what's in your social media feeds."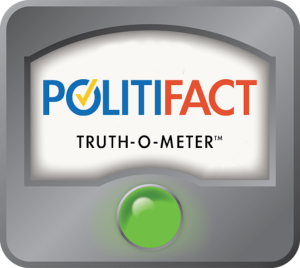 Holan was born and raised in Louisiana, with a somewhat politically charged background:her father is from former Yugoslavia and often taught her about the values of freedom democracy. After attending high school with strong interests in languages and the humanities, she pursued a Liberal Arts major at University of Texas, Austin, describing her experience in college as a process of "enrolling in [her] interests"; courses involving, philosophy, history and literature.
Little by little, her career in journalism began to take form, starting after college when she moved to Albuquerque, New Mexico where she found a job writing for a local, weekly newspaper. Each job she was assigned helped her refine her focus. During one more tragic instance, her assignment entailed interviewing a mother whose son had died in a horrible accident. Holan recalled her anguish at knocking on the woman's door, marking the moment as the one where she realized she never wanted to cover crime.
Politics, however, is an area in which she always felt "some of the most interesting and important things happen". Now, as an award-winning journalist with a degree from Columbia University, she has taught undergraduate classes in reporting and writing, but most pertinently, she launched Politifact.
The unprecedented 2016 presidential race has brought about immensely polarized perspectives. With increasingly unpredictable and frequent chaotic incidents and debates, some would argue that the major flaw in both the Trump and Clinton campaigns is a significant lack of transparency.
Both final candidates rank poorly in terms of trustworthiness, but for different reasons, Holan explains. One can attribute Hillary's poor rating to secrecy, such as evasion of public record in her state department emails. Yet, "she does quite well on fact checks, possibly because of her experience in government". Trump, however, " is unlike any candidate we've ever fact-checked. He's not cautious the way most politicians are. He would be the most different thing about this year's election" Holan notes.
Holan is accustomed to backlash, especially from Twitter followers and subscribers that disagree with the ratings. But she maintains an unwavering objective to truthfully represent politicians in order to eliminate controversy. Perhaps in the coming years the politicians that make the most accurate claims will tend to be right-wingers, and Politifact is constructed and prepared to reflect that. Holan came with the message that her "main goal is to give people the information they need to govern themselves in a democracy".
by Val Deshler