The machines have started anew. For a few weeks they've been gathering dust, but the metronomic thumping of their needles is echoing off the walls of the basement once again. In the center of the room, Sophomore William Williamson sits in front of his embroidery machine, paying close attention to each stitch. He's embroidering a hoodie for his company, Stalé.
Stalé is a "digital studio" founded by Sophomores Quentin Maret and William Williamson. "It's a display of beautiful artwork by creative minds," Maret described.
"Stalé" comes from the word "stale", meaning no longer fresh, and adds irony to the name. Plus, the acute accent over the last "e" gives the brand a french flair, both founders' second language.
The company has two distinct parts. "There's the business aspect where we are selling the garments, and we have the other artistic aspects where we share art through different mediums," Maret explained.
Story continues below advertisement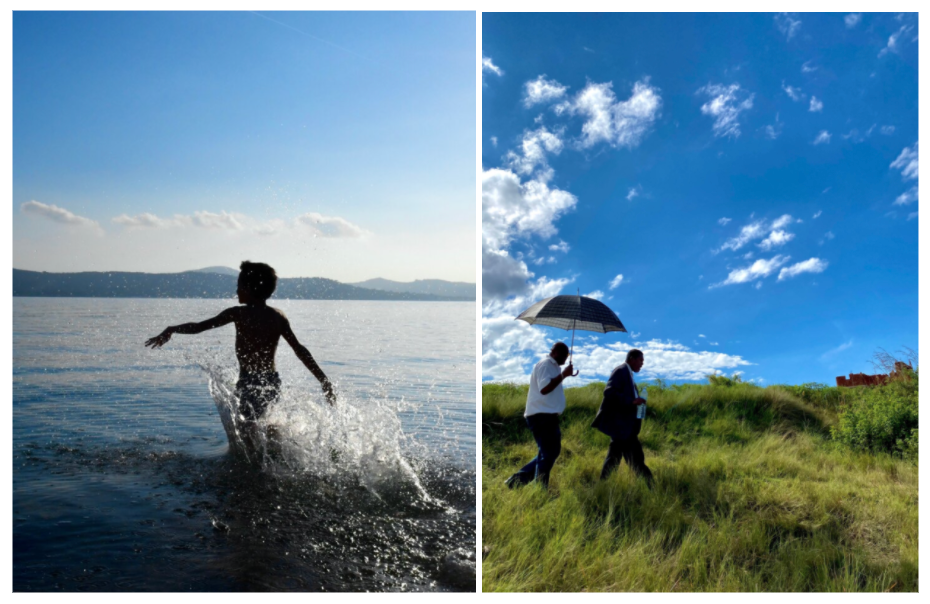 The company covers multiple forms of art. "Currently our main focus is on prints and clothing, as well as 'Quentin' with his photography," Williamson said.
Stalé's wide scope of art combined with it's required knowledge of entrepreneurship make for a heavy workload. Plus, Williamson and Maret are going through the entire process on their own.
They start with planning their ideas and designs, producing the item, uploading it to the website, selling the item and finally shipping it.
Luckily, Williamson and Maret have a system. "'Quentin's' role currently is setting up the website whereas mine is producing the clothing," Williamson said. "[But] we generally can switch around roles and it's pretty fluid."
Their roles often take into account who has access to what. Williamson has the embroidery machine and Maret has the materials for screen printing.
Screen printing and embroidery pose the biggest challenge to Maret and Williamson.
The screen printing process is complicated and they can't do it alone. They need a print shop to print their transparencies before they can use photo emulsion, a liquid that hardens to create the stencils for each design.
There are several materials required, frames, screens, UV lights and more. "If you want to print an image, you have to work on alignment so all of your layers, when you print them in multiple colors, are on top of each other on the item of clothing," Williamson added.
Embroidery is no easier. "The embroidery software feels as if it's a 20 year old software, it doesn't look new, it's not modern like the Adobe ones are," Williamson explained. "It does it's job but it's difficult to use and it doesn't have shortcuts or features to do anything that makes it efficient."
A lot of the embroidery process is redoing the same design over and over due to software issues. "Random occurrences happen where the design just randomly spikes in one direction or threads just mash and tangle," Williamson said.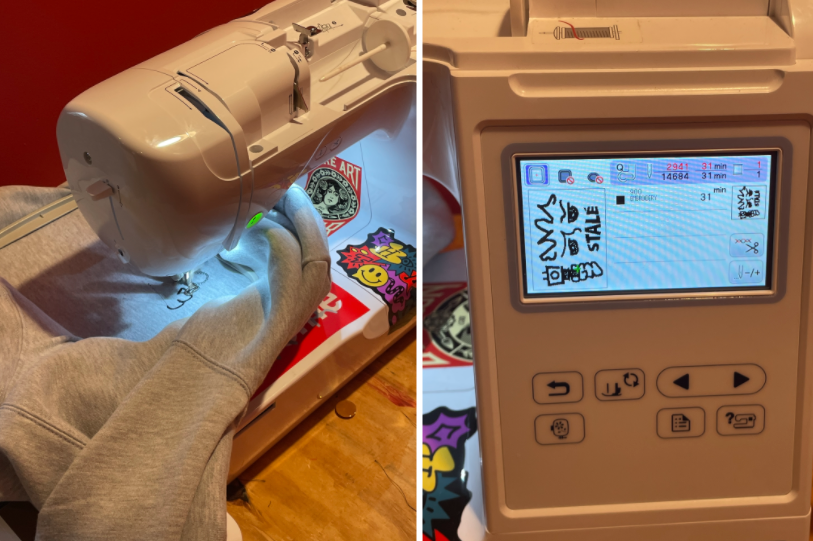 The machine and software issues are not the only challenge. Embroidery and screen printing are expensive. "If you want to get the good screen prints, financially it's an investment," Maret said.
Williamson has gotten some assistance from his parents, but even still he's spent a lot of money on Stalé. "I'm about $1,000 deep into investments because [for] software and machines, not counting sewing machines and clothing, you need an upfront investment before you can even sell," he said.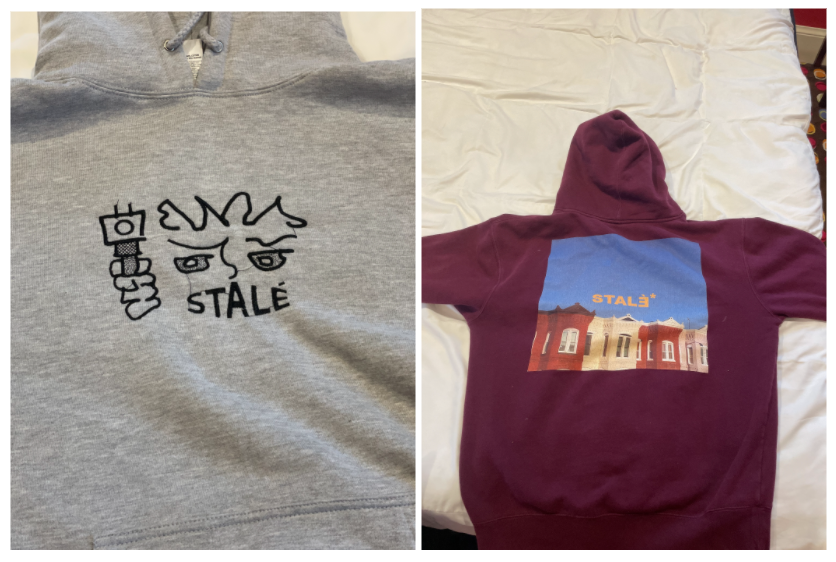 Plus, they have to balance their production with their customer base. "Reusing a design too much ends up lowering the demand for the items as well as limiting customer interest," Williamson said. "It also makes our niche market of having custom made our own designs less desirable."
At this point, Williamson has all of the machinery necessary to produce each individual garment in his basement, except for the garment itself.
Stalé outsources it's blank hoodies from a supplier. "We did a lot of research into getting the best hoodie blank that we could get for our price range, especially as it makes up a large sum of the costs," Williamson explained.
However, the hoodie blanks are all that Stalé outsources. "Having it be inhouse lets me control a lot of the quality," Williamson said.
In order to expand their clothing repertoire, they're experimenting with second-hand clothing.
Sophomore Tristan Martin, Maret and Williamson's friend and potential Stalé artist, is exploring screen printing on pants. "I went to a thrift store this weekend and I bought a lot of cheap pants just so I can test out on them over the next few weeks and see what I can do," Martin said.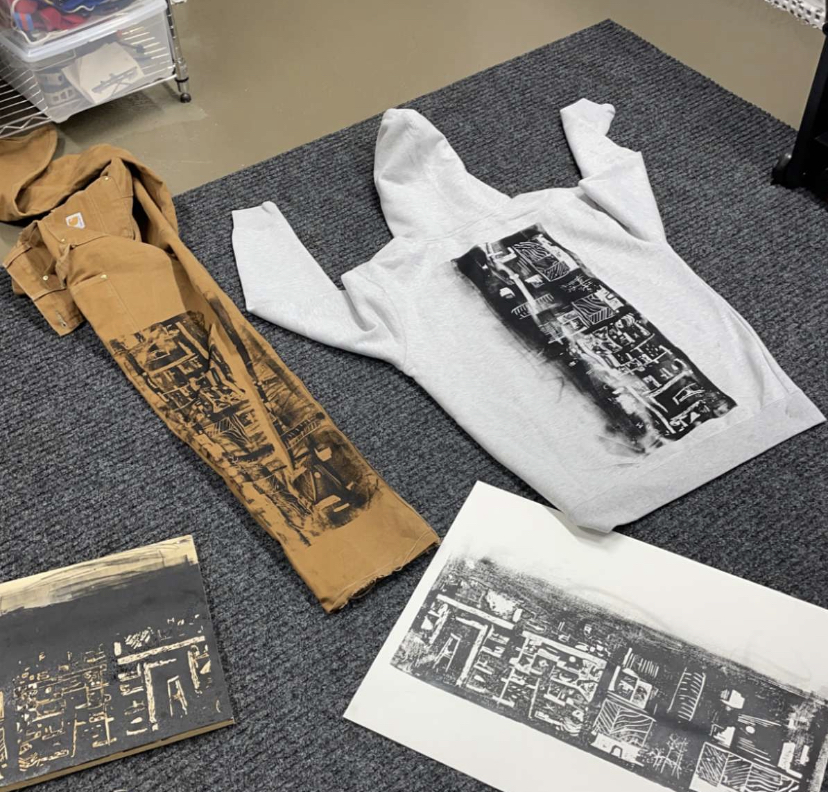 However, some of Stalé's experimentation and growth has been put on hold due to the COVID-19 pandemic. "Shipping is another big issue we have, because in the COVID era we can't do a lot of in person transactions which is what I did last year when I sold most of my hoodies," Williamson explained.
To counter this problem, Maret has a system set up on the website where he can print the address labels after someone purchases an item and he has custom Stalé bags to ship the items in.
But not every problem can be fixed with code. "[One of our biggest] challenges is consistency and motivation," Williamson said. "There are days where we'll have a lot of ideas and we'll be very productive and there will be a span of two weeks where not much work gets done."
Despite all of these challenges, the founders have been working hard and Stalé's first clothing drop is coming in April.
All of these obstacles might seem discouraging, but Williamson and Maret have been passionate about creation for years. Williamson credits Maret with his interest in fashion. "Quentin has always dressed quite stylishly and that's where I started dressing from," he said.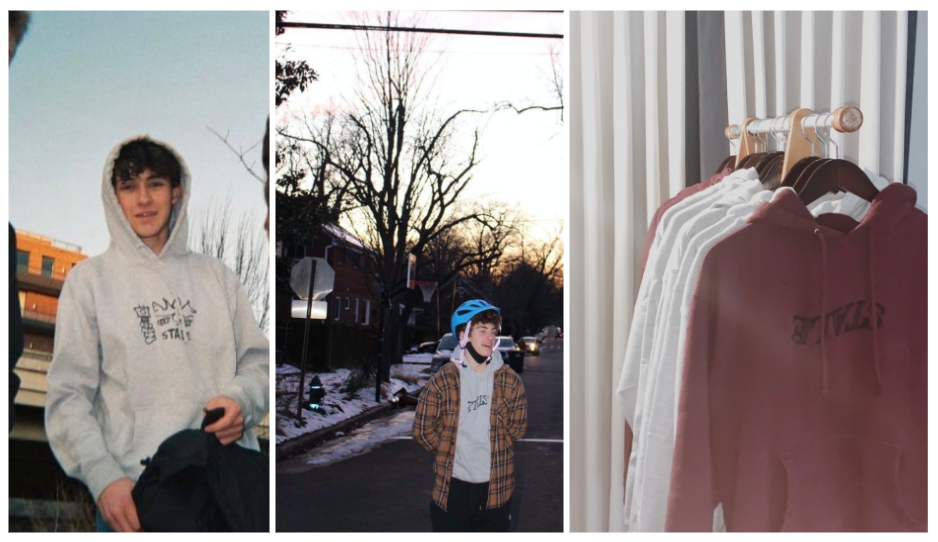 Stalé also has an academic bonus. "Hopefully by the end of highschool, we'd like [Stalé] to be somewhat of a portfolio that we can show to art schools," Williamson said.
Maret has a specific interest in architecture. His tenth grade project combined chemistry and architecture by studying carbon-neutral homes.
While their interests are diverse and span multiple disciplines, they all lead back to creation.
Williamson and Maret enjoy creating so much that they want to give others the same opportunity. "I'd like to also be able to support other creatives in the DC area [in doing] their work," Williamson explained.
Stalé's final destination is "creating a larger platform for local artists, designers, creatives, whatever you want to call them, to thrive," Williamson said.
By Abigail Bown