WIS's mission is to be "enriched by differences, informed through inquiry, global in reach." The people at WIS exemplify these values and so do their dogs as they are of different breeds, come from different backgrounds, and have different interests.
Say hello, bonjour, and hola to the dogs of WIS!
---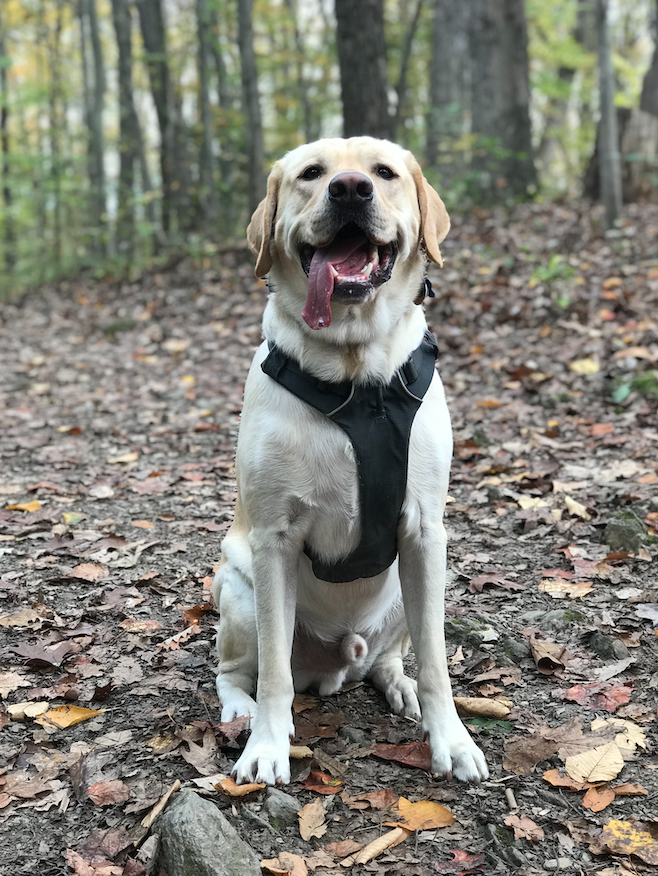 Alexander "Alex" Winston Cristol Hällström
Owner: Zoe Hällström '24
Story continues below advertisement
Breed: Labrador Retriever
Age: Three years old
Favorite food: Challah bread
Favorite toy: Llama rope toy
Favorite thing to do: Being chased by other dogs around the Tregaron Conservancy, especially if it's muddy
My mom had six labradors growing up and she and I always wanted a dog for our family of three. It took a while to convince my dad but he finally gave in when he saw three-month-old Winston at the Labrador breeders in Frederick, MD.
We kept "Winston" as our dog's middle name but gave him the first name "Alexander" because it means "protector of man" and we wanted our dog to protect us.
Alex loves undivided attention. Every time my mom is on the phone, he gets jealous and barks at her. Also, if he wants your attention, he puts his front paws on your lap or nudges your arm with his snout until you pet him.
---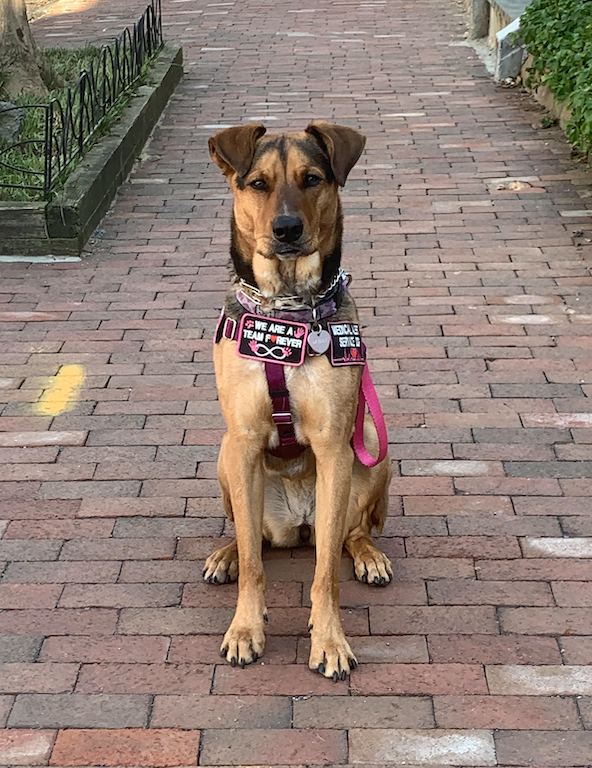 Bailey Bubbles Emerson
Owners: Vivienne Emerson '29 and Aspen Emerson '27
Breed: German Shepherd and Australian Cattle Dog Mix
Age: One year old
Favorite food: Steak
Favorite toy: Squishmallow that she stole from Vivienne
Favorite thing to do: Training
The Emersons got their two-month-old puppy from the shelter "Operation Kindness" in Dallas, TX, where they used to live. Aspen named the puppy after the main character in the movie A Dog's Purpose and wanted a middle name that started with the same letter. The Emersons used to have a small dog so Aspen wanted a big dog that she could train.
Aspen trains Bailey in her house and at parks. "She can do a lot of basic obedience, then some circus tricks, and then also she can do some casts." Aspen takes a lot of pride in Bailey's skills and wishes that she could compete in shows. Unfortunately, some competitions only allow pure breed entrants.
---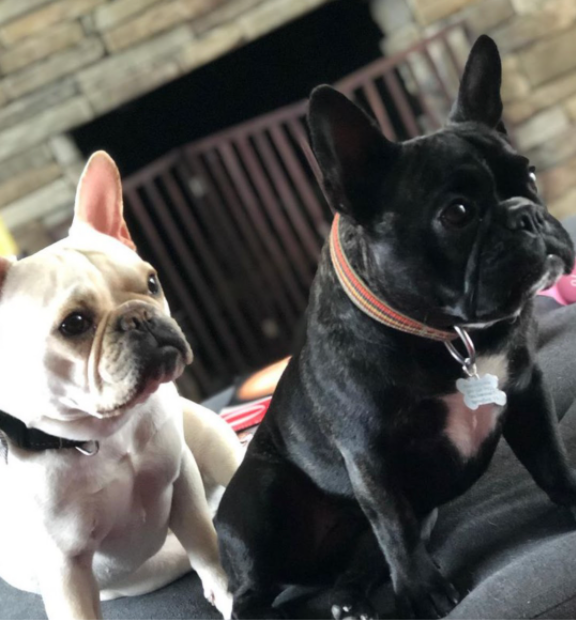 Buster and Luna Chintha
Owner: Sonia Chintha, MS English Teacher
Breed: French Bulldog
Age: Two years old
Favorite foods: Everything, even things that aren't edible (Buster); Salmon (Luna)
Favorite toys: Balls (Buster); Antlers (Luna)
Favorite things to do: Jump (Buster); Sleep (Luna)
Three years ago, Sonia Chintha found out that she could not have children so she decided that she would get fur babies instead. "That was like my consolation for the grief I was feeling," she said.
One day at pick up from school, she met her students Klara and Nina Young's French Bulldog, Mason, which they had recently gotten from a breeder in Boonsboro, MD. Chintha asked for their breeder's information and decided to get Mason's cousin from their breeder a few months later. "I already knew that I was going to name her 'Luna' because it means the light in the nighttime and the darkness so she's my little star, my light in the dark," Chintha said.
Though she had only planned to get Luna, when she arrived at the breeder, Luna's brother became available. "I always knew that I wanted two dogs, I just didn't think that I'd get them at the same time," Chintha said. "I had this moment of like, 'I'm not going to have children, I have the space, I have the financial capabilities so why not.'" Without first calling her husband, she brought home both eight-week-old puppies. However, she let him pick the male dog's name.
Chintha's favorite thing about Buster is that he loves to snuggle but Luna does not; "When she was a baby she would take all four of her paws when I tried to hug her and push me away from her." As Chintha is all about female empowerment, she appreciates that Luna is independent.
---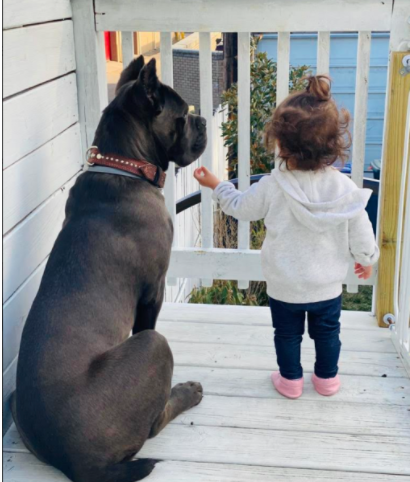 Canela Pedrazo
Owner: Floreal Pedrazo, Director of Athletics
Breed: Italian Mastiff
Age: Seven months old
Favorite food: Hot dogs
Favorite toy: Frisbee
Favorite thing to do: Nibbling Pedrazo's daughter's dirty socks
Floreal Pedrazo and his wife knew that if they were ever going to get a female dog they would name her "Canela", meaning cinnamon in Spanish. They got a nine-week-old puppy from a breeder in Maryland because they love dogs and wanted their daughter to grow up with animals. "We live in the city so horses or chickens were not an option," Pedrazo said.
Canela is very tolerant even though Pedrazo's daughter likes to poke the dog's eye, pull her tail, and ride her like a pony. Canela also understands that when she is at home she should relax, and when she goes out, she's allowed to be active. "I think that she got that balance down already even though she's a puppy," Pedrazo said.
---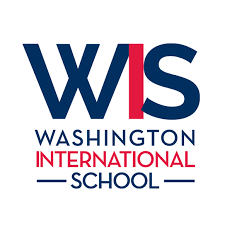 Dora Kibble-Eater Bourcicot
Owner: Xavier Bourcicot '27
Breed: Pitbull and Terrier Mix
Age: Three years old
Favorite food: Cheese
Favorite toy: Stuffed dinosaur
Favorite thing to do: Playing tug-a-war
Xavier Bourcicot is an only child and is very social. "I can just talk and talk all day," he said. When he was nine, he reminded his parents that he had been asking for a dog for six years. "I am going to explode – please, can I either have a sister or a dog. I need another companion that's not an adult in this house," he said.
Finally, his parents relented and got him a six-week-old puppy from a shelter. "We wanted to help a rescue dog because the dogs in the pound aren't treated well," Bourcicot said. They named the dog after the warriors in Bourcicot's parent's favorite movie, Black Panther.
The Bourcicots nicknamed her "Dora the Destroyer" and for good reason. "She's a menace, she tears up everything," Bourcicot said. One time, the Bourcicots left Dora in the bathroom with some toys during the day because they felt bad about always leaving her in her cage whenever they left their house. "We thought that she'll just sleep and do her own thing," Bourcicot said. When they came home they saw that she had dug a foot-long hole in the wall.
---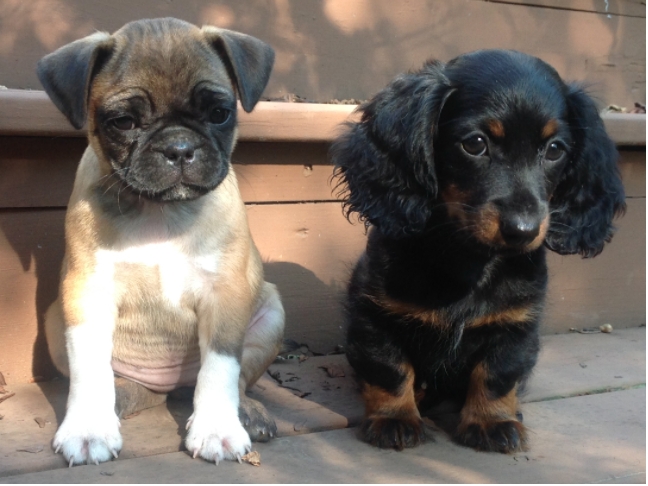 Lola and Nina Cuesta Lopez
Owner: Valeria Cuesta Lopez '24
Breeds: Miniature Dachshund (Lola); Pug and Pitbull Mix (Nina)
Ages: Eight months old (Lola); Seven months old (Nina)
Favorite food: Berries
Favorite toys: Bones (Lola); Shoes (Nina)
Favorite things to do: Chew on bones on the sofa (Lola); Bother Lola (Nina)
The Cuesta Lopez family decided to get dogs because they wanted some companionship during quarantine. "We got two dogs so that they could keep each other company because my last dog Pepperoni got really depressed being alone," Valeria Cuesta Lopez said.
They got three and four-month-old puppies at Just Puppies, a pet store in Rockville, MD, the same place where they got Pepperoni. "When we were coming back from the dog shelter, me and my family were just thinking of names we thought went well," Cuesta Lopez said. "We all really liked 'Nina' and 'Lola' because they really fit their personalities."
One of the many things that Cuesta Lopez loves about her dogs is that they have contrasting personalities. Lola is ladylike: "She's so gentle and girly, really girly, she's like the definition of girly," Cuesta Lopez said. On the other hand, Nina is more of a tomboy: "I like how Nina likes to play rough like whenever I want to just play around with one of them I know I can always go to Nina."
---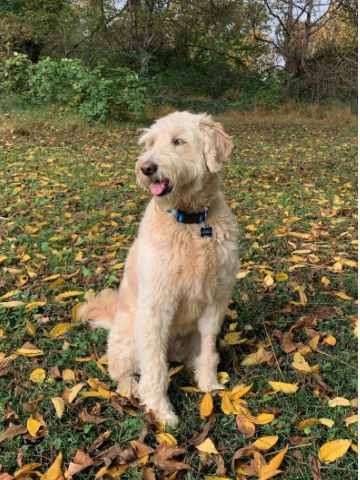 Luna Sarmiento
Owners: Antonio Giorgianni '24 and Sofia Giorgianni '21
Breed: Golden Retriever and Poodle Mix
Age: Five years old
Favorite food: Meat and peanut butter
Favorite toy: A stuffed squeaky squirrel
Favorite thing to do: Smelling new smells in the forest
After putting a dog on their Christmas lists for at least five consecutive years, Antonio and Sofia's parents finally gave in and got them an eight-week-old Goldendoodle from a Virginia breeder.
The Giorgiannis agreed to give the puppy their mom's last name because she was going to take her to all of her doctors' appointments. However, there was a bit of a debate when choosing her first name. "My sister and my mom really liked the name 'Luna'," Antonio said. "I was quite opposed to the name at first, I thought 'Cleo' or 'Noodles' was a better name but they ultimately won that battle."
Something that Antonio loves about Luna is that she's very vocal, especially when she wakes up and stretches. He can hear her howl from the other side of the house. "It's just super cute and funny to hear," he said.
---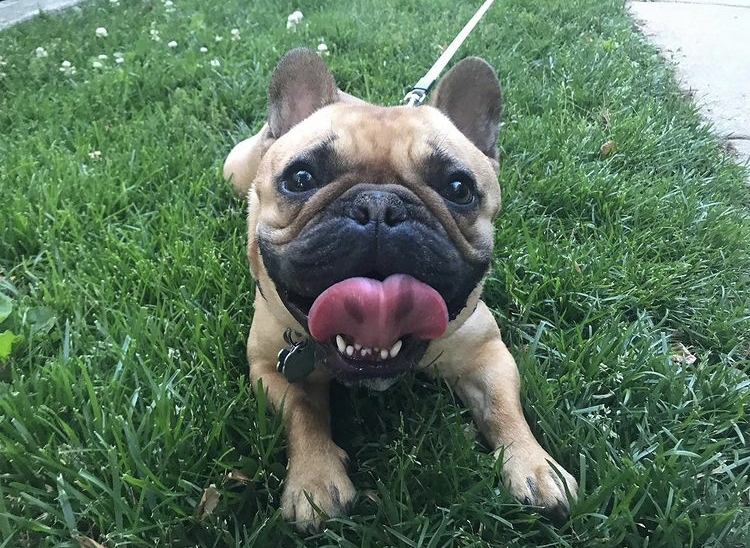 Mason Brofessor Young
Owners: Klara Young '24 and Nina Young '23
Breed: French Bulldog
Age: Four years old
Favorite food: Eggs
Favorite toy: Stuffed toys
Favorite thing to do: Sunbathing in his backyard
After Klara Young's sisters, Anna and Nina, had been begging for a dog for several years, Klara started pressing for one in fifth grade; "I was like relentless about it." Eventually, their parents gave in and got them a three-month-old Frenchie.
The Youngs named his first name after their grandfather's middle name as a joke as he didn't want them to get a dog. Mason's middle name also derives from a joke. "In fifth grade, my dad and I would just be like 'Brofessor,' 'Brotatochip' and we were like 'you know what, Mason is such a 'Brofessor'," Klara said.
A few days ago, Mason gave the Youngs a big scare. "Anna was here from college and she just went back, and on her last day here she fed [Mason] a Hot Cheeto," Klara said. "So the next day, this is really gross but [Mason] was puking a lot and it looked like he was pooping out blood so we took him to the hospital because we were really scared because I didn't know that [Anna] fed him a Hot Cheeto, but it ended up just being the coloring from the Hot Cheeto."
---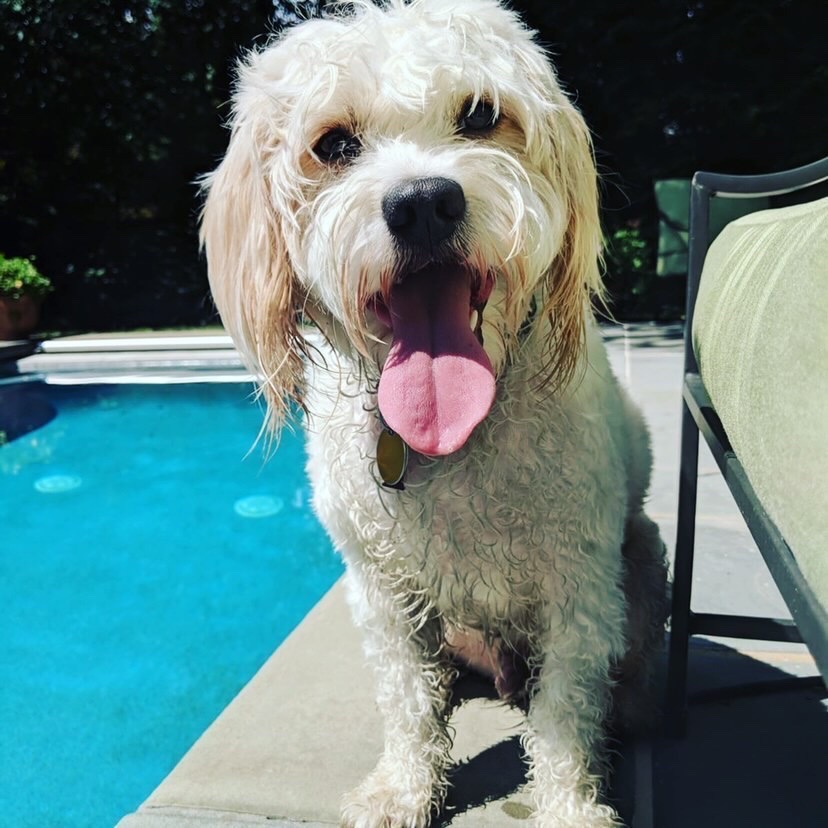 Theodore "Theo" Richard Randall
Owners: Emma Randall '24 and Lucy Randall '26
Breed: Cavalier King Charles and Bichon Frise Mix
Age: Four years old
Favorite food: Anything he can't have
Favorite toy: Squeaky emoji balls
Favorite thing to do: Go to the beach in Lewes, DE
"We wanted a dog for a long time," Emma said. Finally, as a late Christmas present in 2016, Emma and Lucy were surprised with a two-month-old "Cavachon". The Randalls named the puppy "Theodore" because they had recently watched Alvin and the Chipmunks and thought that Theodore was the cutest chipmunk. Theo's middle name is named after their dad's uncle, Richard, who was a veterinarian.
Theo is very mischievous. One time, after their dad came back from a trip, he left his suitcase containing candy and prescription medication on the ground. "I come into [my parent's] room and the bag is fully empty and there are wrappers all over the floor like different candies and a thing of medications spilled all over the floor," Emma said. "Theo is sitting there watching, wagging his tail, being like 'look what I've done"." Though Theo is a troublemaker, the Randalls can never stay mad at him for too long.