As the nation's capital, Washington, D.C. is known for politics, the National Mall, and the Smithsonian. Many native Washingtonians, however, have a different view of what makes D.C. unique. When residents take pride in their city and culture, they think more of Go-Go music, Helly Hansen jackets, and the nightlife on H street.
Though out of all the cultural centerpieces of Washington, Chinese food stands out. It is widely considered to be one of the most popular ethnic cuisines in the United States, so it seems natural that it's common in Washington as well. There is one thing, however, that makes Chinese carry-out in D.C. distinctly flavorful: the sweet and tangy orange condiment known as Mumbo Sauce so deeply localized that only 10 percent of WIS students asked could identify it.
Born in Chicago in the 1950s, Mumbo Sauce quickly found its way to the D.C. restaurant "Wingz and Thingz" as a condiment for chicken wings. The sauce quickly became beloved by the district's Black community. Due to its growing popularity, chicken wings with Mumbo Sauce soon became commonplace at almost every carryout in the D.C. area.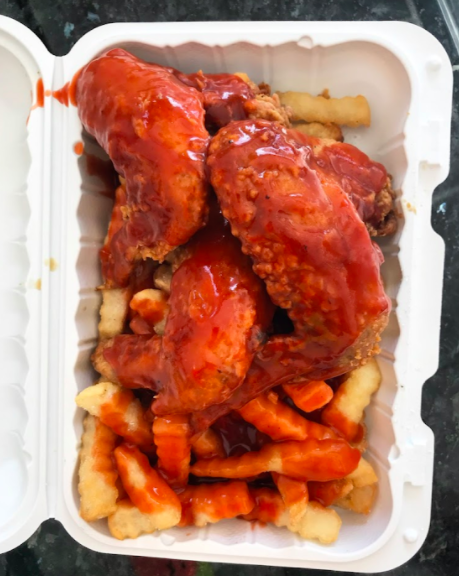 "Chinese carry-outs, they're very smart, they know what we like and we buy it," DJ Flexx, a long time D.C. native and disc jockey, said.
Story continues below advertisement
"Mumbo Sauce means everything to D.C. natives. People always stereotype us with 'D.C. is full of politics and money,' and while that's true, when you get outside and get into the streets, you know Mumbo Sauce is part of that culture here in the city. It's our thing," photographer and native Washingtonian Steven Anthony said.
However, there is a negative sentiment regarding Mumbo sauce straying further away from its roots similar to how some D.C. residents feel gentrification is killing their communities.
"[Mumbo Sauce] represents us. That's Black Washington,"

community leader and author Tony Lewis Jr. said
"[Mumbo Sauce] represents us. That's Black Washington," D.C. community leader and author Tony Lewis Jr. said. "We only got mumbo sauce in like carry-outs coming up and now you got places like Hamilton or Ben's Next Door and in some ways it's D.C. culture but then it's like satire, something about that just doesn't feel right."
Talia Roman, who grew up in the city, believes Mumbo Sauce plays an even deeper role in shaping the Washingtonian identity than just being a culinary staple.
"D.C. people are very proud of their culture and the great things that have come from the capital in general. I think this is partially due to the statehood status of DC, which makes many of us feel like outsiders in our own country," Roman said.
She believes Mumbo Sauce therefore provides identity to a city whose place in the United States has always been ambiguous, especially seeing that the House of Representatives voted in favor of D.C. statehood for just the first time in 2020 with the bill finally making it to the Senate.
Mumbo sauce has cemented itself as a staple of Washington's local culinary scene, while also being a unique part of its culture. It's something that brings pride and joy to the hearts and taste buds of Washingtonians, who drop by their local carryouts for something deeper than just a condiment.
By Alexander Danielyan