Middle school and upper school teachers at WIS are finding innovative ways to keep students involved in the performing arts this semester, with students still at home due to the pandemic.
Most teachers had planned for an in person start to school, but had to adapt when they realized the nationwide health situation wasn't improving, and school would be completely virtual once again.
"When you're on a laptop it's really hard. So what I've had to do is basically adapt to Zoom," middle school Theater Arts teacher and Fall Play director Erik Lurz said. "So this is your stage, and this is your, you know, set. And you've just got to move around and interact with the architecture of your room basically."
Over the summer, Lurz came up with the idea to have a virtual Middle School Fall Play. He thought he would be a unique opportunity for students to take part in, as well as bond with the community. So, Lurz decided to write an adaptation of the original Shakespeare play The Tempest, called The Rats Have Quit It!.
Story continues below advertisement
"It's a play entirely adapted for Zoom. So instead of it being about these characters who get shipwrecked on a deserted island by a storm, a Tempest, the pandemic is the Tempest. They're sort of trapped in this extreme quarantine, where they're only in this room. This is the island. This is it, and each of them have their own individual island," Lurz said.
Even if students return to campus before the performance, rehearsals will take place over Zoom since the production was specifically written to be performed that way. The performances will be live Zoom sessions, with the actors and audience members in one Zoom room together, and occasional breakout rooms. The characters will interact with the audience, as if they are also part of the play. Additionally, there will be pre-recorded musical numbers.
"So we're really treating it as sort of, this Zoom immersive performance with, like, talent show/ escape room almost," Lurz said. "We're really hoping that it's a way that the community can come together, even though we all can't be in a theater with a hundred fifty people in the audience."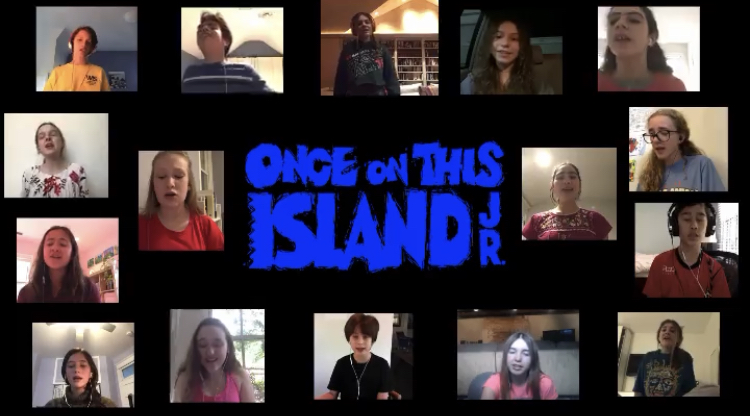 In the Upper School, there will not be a Fall Musical taking place. However, upper school Vocal Music teacher John Munt has plans for a "virtual cabaret-style review" with numbers from 21st century Broadway musicals.
"We couldn't do anything really theatrical. So I thought to still have a musical theme, so I thought 21st century Broadway musicals would be a good idea," Munt said.
Auditions were held on September 9 and 11, and all students who participated will get to be a part of the production. Munt will have 20 to 30 minute one-on-one sessions with students to practice their selected song from a 21st century Broadway musical.
"I'm going to be working with students over Zoom, kind of like a vocal coaching," he said.
Munt plans to hold the performances on the actual days that the Upper School Musical would have taken place, right before Thanksgiving break. There will be no audience, but they will be able to watch from their homes, and there will be student MCs to introduce performers and engage the audience.
"I would love to, for the musical review, to livestream students performing one at a time, socially distant, because it is solos pretty much how it works, in the Black Box Theater. With maybe, you know, some lighting, some, a little bit of a set to have like a cabaret nightclub kind of feel," he said.
Munt said that if he cannot get enough WiFi signal from the theater, then he plans on pre- recording the performances and then hosting a Zoom event to share them with an audience. If the situation doesn't allow for students to be on campus singing, they would record themselves singing their song, which would then be shown in the Zoom event with the community, along with clips of the emcees to have a fun and accessible experience for everyone.
"It's not a high stress kind of situation. It's more about students enjoying being able to express themselves musically," Munt said.
Middle school Vocal Music teacher Madeline Gondek says that, while COVID has hit the performing arts hard, they are making the best of the situation. She has dedicated herself to keep the performing arts alive at WIS this year.
"Whatever I can make happen, I want to make happen," Gondek said.
"Whatever I can make happen, I want to make happen,"

Middle school Vocal Music Teacher Madeline Gondek
She is working closely with Lurz to make the middle school play happen. Along with that, Gondek has created a new Musical Theater Club for middle school students. So far, there has been a very positive response.
"It's just a place, literally, for the kids who love musicals to just sit and chat and build community," Gondek said.
Gondek believes that it is important for the performing arts to continue, despite the situation, as they provide a chance to escape from the real world and its challenges for a little while.
"It's an outlet. It's something that makes a lot of people happy, and right now I think we need that," Gondek said. "And it's something where, no matter what feelings you have, you can take those feelings and turn them into something beautiful and productive."
By Naomi Breuer