WIS students usually spend their summer break traveling to exotic places, visiting family overseas, and spending time with their friends. However, with travel restrictions and social distancing in place due to COVID-19, many of the aforementioned activities became impossible. Because of this, students found new ways to spend their time this summer.
Freshman Emilia Kudela usually spends her summer visiting her grandparents in Poland. "My mother's side of the family lives in the city, while my father's is in the countryside, so we always get a nice mix of activities and environments," Kudela said. Unfortunately, her family was unable to travel there this summer due to the travel ban.
Instead, she and her family mostly stayed at home and took a week long road trip to the Outer Banks in North Carolina. During the trip, in addition to getting some "quality sun and beach time," Kudela discovered her love for Dairy Queen. "There are no DQs in Poland so I'm happy I got the opportunity to try some blizzards for the first time," Kudela said.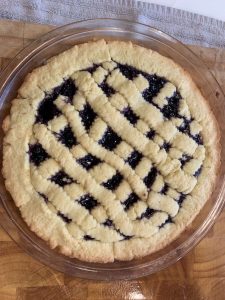 Ninth-grader Antonio Giorgianni also considers travel to be an important part of his summer break. He and his family usually visit relatives in Italy or Colombia. Due to travel restrictions, Giorgianni "was not able to visit [his] grandmother for her 80th birthday and [was] very bummed about that."
Story continues below advertisement
Despite staying at home for most of the summer, Giorgianni found new ways to exercise due to cancelled soccer practices, played video games with his close friends, and cooked to pass the time.
10th-grader Finn Porter usually spends part of his summer in Cape Cod, and the rest working at the Rock Creek Park Horse Center stables in D.C. Although he couldn't work at the stables, he spent most of his summer in Chatham and feels that "COVID has impacted [his] summer minimally".
During his vacation, Porter worked in a lumber yard, skateboarded, and did schoolwork. Porter spent a lot of time working on the 10th Grade Project and doing summer reading, although he "normally do[es] far less schoolwork over the summer".
Sophomore Eleanor Hawkins' initial summer plans included visiting her family in France, attending a medicine camp, and traveling to Denmark for a soccer tournament. Although she was unable to participate in any of those activities, she joined an online genetics course and virtually attended the Best Buddies Leadership Conference, while coaching a few younger girls in soccer on the side.
Hawkins spent much of her summer doing both optional and mandatory coursework, such as math, biology, and the 10th Grade Project. "I normally don't do any classwork over the summer but since I had a lot more free time due to no traveling, I was able to do more," Hawkins said.
Junior Nadim Mottu and his family had planned trips to visit family and friends in Switzerland, Egypt, and Greece. He also planned to attend a computer science camp at Cambridge University. All of his plans were postponed. Rather than traveling, he stayed home with his family, where he spent his time taking online coding classes and practicing video editing for his YouTube channel.
Mottu normally spends more of his summer break outside or seeing friends, but this summer chose to spend more time on schoolwork. In addition to the required coursework, Mottu did "opt-in work if it seemed interesting (such as watching economics documentaries and listening to podcasts)."
11th-grader Carolina Payeras had hoped to attend a three-week summer intensive at the San Francisco Ballet School and visit family in Colombia. Although she couldn't travel to either of those places, she was luckily still able to do dance training at her D.C. studio for 5 weeks. "In the studio, we stayed 6 feet apart at all times, wore masks while we were dancing, had daily temperature checks, and hand sanitizer was provided to us at all times," Payeras said.
Like Mottu, Payeras spent time doing schoolwork, which was mainly optional, for example standardized testing practice. In addition to coursework, she logged lots of driving hours to get her license, and felt that she "definitely drove a lot more than [she] would have [without COVID-19]".
Senior Vanessa Schor attends summer camp and travels overseas to visit family every summer, but wasn't able to do either this year. Instead, she conducted short, socially-distanced visits to see her grandparents and attended a virtual program over Zoom. "Since it was a STEM-based program, they had equipment shipped to us so we could run experiments at home, which was extremely fun," Schor said.
A large chunk of her summer was spent on her schoolwork. In addition to long term assignments, such as the Extended Essay (EE), she had assignments from the school year. "[The assignments] spilled into the summer due to not having enough time. We were definitely behind on some things," Schor said.
Summer work before senior year is usually very stress-inducing, but Schor found the abundance of time helpful. "Because of COVID-19, the summer work felt slightly less weighing since there wasn't a lot I was missing out on. It was all I had to do during the summer," she said.
12th-grader Patrick Anders' original plans for the summer included an internship at the National Archives, a family trip to China, and a national basketball tournament in Las Vegas.
Instead, his family traveled to Iowa to learn more about where his grandparents grew up, as well as Austria, where the other side of his family is from. In Austria, Anders interned for a month at a corporate law firm.
Similar to Schor, Anders had summer work, with five out of his six IB classes assigning required work. Over the summer, he worked on his EE and completed the mandatory schoolwork. In addition to this, he "had to do a lot of college research; filling out forms for recommendation letters, drafting [his] common app essay, and studying for the ACT."
Although many students had to find alternatives to their summer plans, there were some silver linings. Besides having more time to tackle schoolwork and college applications, they also gained an appreciation for the little things in life. "Because of being quarantined, I learned to appreciate quality time with family way more," Kudela said.

By Maia Nehme