One day in 1978, 26-year-old Tom O'Mara spotted an advertisement in The Washington Post for a teaching job at the Washington International School. It seemed like a good gig, he thought, with summers off to pursue what he really loved: mountain climbing and outdoor expeditions. So, O'Mara walked to the Tregaron campus from his home in Georgetown to interview for the position.
"I never saw myself being an educator," O'Mara said. "I looked at it as almost a temporary thing."
O'Mara got the job. And this month — after 42 years at WIS as a math teacher, Athletic Director, and Boys Varsity Basketball Coach — he is retiring.
Known around WIS as "Mr. O," O'Mara was first hired as a science teacher, teaching in labs stuffed in the basement of the mansion. He gradually began picking up math classes; he always enjoyed math in high school and college. In the 1980-81 school year, an IB math teacher left in the middle of the year, and O'Mara took on the class. He's been teaching IB math ever since.
Story continues below advertisement
Beyond the classroom, O'Mara has left a deep mark on WIS athletics. In the late 1980s, he took over the Boys Varsity Basketball program. In 1994, WIS was searching for a new Athletic Director. As the school year approached and WIS lacked a candidate, O'Mara offered to step in for a year. He served as Athletic Director for the next 26 years.
O'Mara's passion for athletics came naturally. He played several sports in high school, ultimately playing baseball at a high level. After graduating from the University of Maryland, O'Mara served in the Peace Corps in the Southern African nation of Lesotho. At the school where he worked, he was the "sportsmaster," coaching teams and building tennis and basketball courts.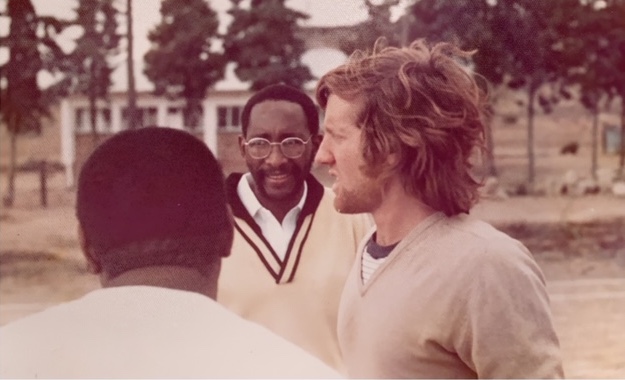 In the 1990s, the O'Mara-led Red Devil boys basketball team, then playing in two leagues simultaneously, dominated, one year winning the championship in both leagues.
But despite the squad's success, WIS basketball faced one great challenge: not having a gym.
"We did everything to keep the program going. We practiced outdoors all the time," O'Mara said. "We would climb into a van and drive to Takoma Park and we would play in a church on a linoleum floor with bent rims."
O'Mara describes the era as the "wild days" of WIS basketball. If it was snowing, the team would shovel the outdoor basketball court at lunch and practice in the bitter cold.
"Sometimes we are out here practicing and look more like a polar expedition than like a basketball team," Daniel Deng '93, a key player on O'Mara's teams, told the Washington Post in a 1993 article about O'Mara's practices.
While not having a gym may seem like a limitation, O'Mara believes it helped the team grow.
"We bonded because we were 'have nots.' We didn't have the same thing other schools had and we knew we were the underdogs," O'Mara said.
O'Mara continued to coach until 2010. One shining moment came in 2009 when the Red Devils upset Jewish Day School (JDS) in the PVAC championship in front of a packed house at Trinity University. The team won in double overtime, just a few weeks after losing to JDS by 40 points in a regular-season matchup.
Patrick Altekruse was a soccer coach at WIS in the mid-1990s, before returning in 2010 as the athletic trainer. He remembers O'Mara's organization and efficiency while leading a busy life at WIS.
"In those early days, he headed the math department, he taught five classes, he was AD and basketball coach," Altekruse said. "It was amazing, he would just have these hour-and-a-half practices and covered as much stuff as some coaches could do in two or three hours."
In his two-and-a-half years with the Peace Corps, O'Mara taught various subjects, along with coaching. He says he sees teaching and coaching as a singular entity.
"I know it sounds kind of corny, but I'd look at my classes as being almost like a basketball team. At the end of the year, you have an exam, especially a senior class where you prep them for the IB exam. I looked at that as prepping the team for a big game," O'Mara said.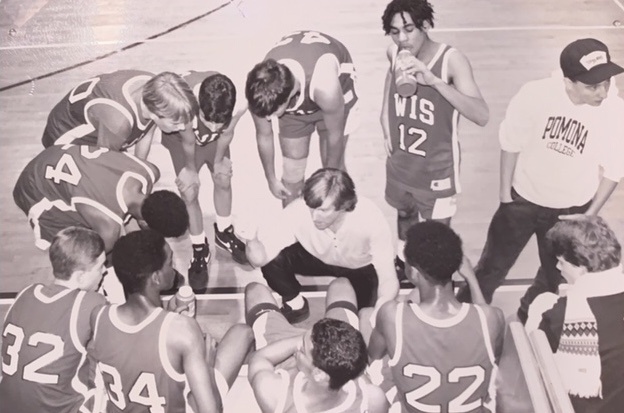 "If you never got the chance to have Mr. O as a teacher, I feel pretty bad for you, honestly, because he's, if not the best, one of the best teachers at WIS, ever," said current senior Dante Rohlck.
Rohlck describes O'Mara's fast-paced, demanding teaching style, notably similar to his basketball practices, where he walks into the room and the students must immediately get to work. "The amount of practice and intensive work he makes us do, it ingrains it into your mind," Rohlck said.
Otillia Rossert '17, a student in O'Mara's Higher Level Math class, agreed. "He paid attention to everyone in the class, whether one person was confused or many, he would make sure that every student was confident in solving the problem before moving on."
Along with his intensity, O'Mara is known for his omnipresence. No matter the time of day, students could always find him in his glass-enclosed office in the Hall of Peace, filled with old photos and boxes of uniforms. Rohlck notes that the office often reeks of sardines, which O'Mara eats to fuel his long hours at Tregaron.
In his 42 years, O'Mara has seen the school's athletics program transform. Now WIS has a home gym, a soccer field, and a DCSAA soccer state championship.
"That's what made my tenure here so interesting, I was able to not only grow as an educator, but also grow along with the school," O'Mara said.
If you never got the chance to have Mr. O as a teacher, I feel pretty bad for you, honestly, because he's, if not the best, one of the best teachers at WIS, ever.

Dante Rohlck, 2020
But although the school changed, O'Mara describes the students as a constant.
"The student body at WIS is just a serious group of kids who have goals," O'Mara said. "You didn't have to tinker with attitudes and deal with disciplinary actions and all that. You get right down to business, and I've always appreciated that."
O'Mara remains undecided about his retirement plans. He renewed his lease on his Connecticut Avenue apartment for another year. He plans to stay in the D.C. area to be close to his 94-year-old mother who lives in New Jersey.
While O'Mara initially saw working at WIS as temporary, after 42 years, he is certain he found his calling.
"It never felt like work. That's about as honest of a statement that I can make: working at WIS has never felt like work," O'Mara said. "And oh my God, how many people wish they could have that? I feel very lucky in that respect."
By Saul Pink