The other day, I decided to go for a stroll around my neighborhood. I figured a quick walk was harmless as long as I stayed ten feet away from anybody who was outside, and besides, I deserved a break from work. After I'd hung up my last Zoom call of the day and clicked out of my completed assignments, I slipped on a scratchy surgical mask and stepped out the side door. The warm spring air smelled a little plasticky through the mask, but it felt much fresher and freer than the stuffy indoor stillness I'd endured for the past thirty-six hours. Walking up my near-vacant and verdant street, I had a small thought: Life sucks. I couldn't think of a single benefit that came from the current pandemic — I only thought of its consequences. A few weeks ago I'd have given anything to be out in this beautiful, bright weather because it would've meant time with friends, a trip to New Orleans, and a summer of total freedom before the IB began. Now, no matter what idyllic picture book the sky could've come from, it only marks a twenty-minute escape from hours of white computer light pressing into my eyeballs.
These few precious moments outside… what do they matter? As a nation, we face economic collapse and soaring unemployment. Reports of domestic abuse have shot up since the introduction of social distancing guidelines — France alone has reported a 30 percent spike, according to the New York Times. The countless Americans who have disregarded these guidelines let the virus slip into their communities. The CDC reported hospitals crammed with victims, 25.5 percent of whom were under the age of 50 as of mid-April. My relatives have compared the current situation with catastrophes like the 1918 Spanish Flu and the fourteenth-century Black Death. If those two catastrophic epidemics are at all similar to COVID-19, then life must, indeed, suck. 
It's much easier, I realized, to focus on COVID-19's overwhelming negative effects rather than on any positive ones. After all, it's a crisis that upturned countless lives around the world and rewrote our definition of normalcy. But along with its many, many drawbacks, the pandemic has its silver linings.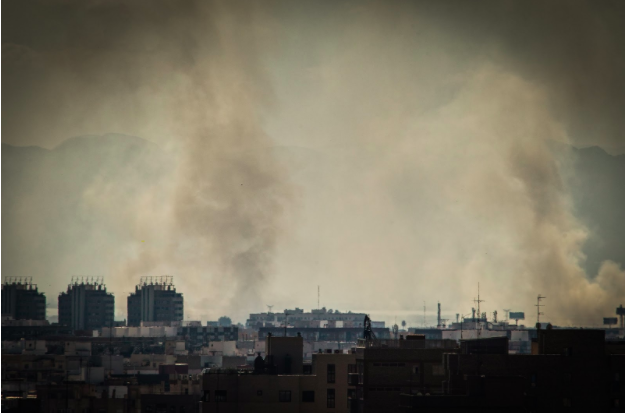 In a world consumed by fears of an imminent climate crisis, the pandemic provides some temporary relief. A Carbon Brief study shows that COVID-19 is set to reduce worldwide carbon emissions by around two thousand metric tonnes. Emissions in China alone were cut by at least 25 percent (according to CNN) from February to March, when the country was still at the peak of its outbreak. Similar drops in air pollution levels have been reported in dozens of countries. Now that mandatory quarantining has proven successful, it could become a strategy for combating growing emissions if and when a climate disaster strikes. Not only do stay-at-home orders shutter factories that spew greenhouse gases into the atmosphere; these orders, along with fear of contracting the disease, limit the number of cars going to-and-from the grocery store — traffic on motorways is 83 percent lower globally, according to the Guardian. Even if they order groceries online, families might become more conscious of their food waste if companies and state governments start using more delivery trucks to transport medical equipment. 
Story continues below advertisement
WIS students, I've noticed, have been quick to complain about the drudgery of Distance Learning. Sure, there are things more motivating than having to wake up early-ish for hours of video calls and what feels like homework, all while confined at home or maybe even to a single room. Work can sometimes feel arduous without a fixed routine set by someone else. That forced independence, however, is almost entirely beneficial. By scheduling and managing our own learning every day, we're learning great time-management habits that will ease the transition into college and the workplace. For students who live further away, online classes mean a more relaxed work pace since their usual long commutes to-and-from school aren't there to take up precious work time.
Forced isolation, ironically, provides us with the perfect opportunity for communities to come together. My family celebrated Passover via Group FaceTime with members of our extended family, and my parents have stayed in contact with relatives and friends they'd lost touch with before. Every night at 7 p.m., New Yorkers stop to applaud their front-line healthcare workers, and other places around the world have followed suit. Birthday parties, baby showers, and weddings continue defiantly via FaceTime calls and backyard ceremonies. Citizens of Spain, China, and Italy take to their balconies and open windows to lift their neighbors' spirits through music. At WIS, some Upper School grades have scheduled movie nights via Zoom. 
Of course, the cons far outweigh the pros and we all want this to be over as soon as possible. But until then, we can push away our hopelessness by reminding ourselves of all the pandemic has brought us, not just what's scary and overwhelming. With that mindset, this rapidly-changing world will become more bearable.
By Elise Naftulin