Distance learning is obviously very different from normal school days. Being at a computer all day long comes with massive disruptions, and it shouldn't be treated as normal. Instead of WIS' current less homework and shorter assessments policy for grades nine and 10, a 'no harm done' grading system for the remainder of the school year would allow students to place more focus on their actual learning and wellbeing.
The 'no harm done' policy prohibits students' grades from dropping during distance learning. Adaptations of this system vary, some schools the system is such that students can't fail.
The administration already made changes in response to student feedback. For underclassmen, they limited both homework and assessments to 30 minutes. However, these efforts are not enough to mitigate the difficulties of working as normal during a pandemic.
"I think that's [homework/assessment policy] a good change because having work on top of the asynchronous work is basically just rebranded homework" sophomore Saul Meyer-Fong said, but he believes that "they're [WIS] doing the wrong thing but for the right reasons."

Story continues below advertisement
Impact on Mental Health:

Meyer-Fong feels as if students' mental health during the Pandemic can negatively affect their learning. According to Jama Pediatrics, "The COVID-19 pandemic may worsen existing mental health problems and lead to more cases among children and adolescents because of the unique combination of the public health crisis, social isolation, and economic recession."

"For the first time in two years I've had serious depression," Meyer-Fong said, who's had to go back to a therapist for support.
Mental health issues should not go unnoticed and a lot of stress stems from having a lack of motivation to sustain a constant grade. A 'no harm' grading system would ease the stress of students who are particularly struggling allowing them to focus on their wellbeing as opposed to numerical grades.
"We needed to put some plans in place where it was saying this is a unique situation. We have to look at it curricularly, and we have to balance it out with wellbeing" said Beta Eaton, ninth and 10th grade Assistant Principal.
While the school has multiple means of addressing mental health issues like one on one meetings, advisory time, and parent seminars on quarantine parenting, utilizing a regular grading system during this unprecedented time puts the focus on grades, rather than students' wellbeing. Additionally, the system would still give students who want to achieve higher grades the opportunity to do so.
"Ultimately we don't want anyone to be harmed by what's happening to distance learning. Our hesitation for going to pass/fail is if people are thriving in distance learning…We don't want to take that away," Eaton said.
At WIS, some students do thrive and work hard under pressure, but many are also struggling during this time. The 'no harm done' policy would support their mental health, backing Eaton's claim.
Effect on Learning:
In addition to mental health issues, students struggle to find motivation in this unique learning environment. With the focus on grades during this time, students are no longer learning in the same way.
"She [Meyer-Fong's Chinese teacher] puts in twice the work for half of the result. I don't think that's fair to the faculty or the students to expect the amount of effort going nowhere", Meyer-Fong said. 
With teachers' effort seeming to go nowhere, lack of motivation seems to be common with the WIS community. Everyone is stuck at home and at a computer all day long is heavily difficult for students and teachers alike. Asynchronous work is also typically on the computer, regardless of needed breaks.
"There were a few teachers who didn't realize that, 'Hey! we're on our computers for hours a day' and started piling up on homework," Oliver Abushacra, a Sophomore at Bullis School said.
'No harm done' would ensure that students focus on content and their learning, which isn't currently happening because of focus of grades during an unprecedented time. With this policy implemented, students would no longer feel at a disadvantage because of circumstances out of their control. This would be better for their overall scholarly experience.
"We've tried our best, at least from the school model, to create a routine that we think is going to work best for our curriculum," illustrates Eaton. However, to adapt to a rapidly growing pandemic, policies must be implemented to improve everyone's experience.
To lessen the hours students spend online, the administration has met regularly to set distance learning rules during the first few weeks of isolation such as the homework policies and three out of five meets per cycle. The community experienced a quick change, and these policies are still being adapted to.
Comparison With Other Schools and Universities:
Many other schools in the DMV area, like National Cathedral School (NCS) and Bullis School have made the transition to 'no harm done' grading to aid their students. At the Bullis School, they ensure that no students' grades will drop below 70 percent. Abushacra experienced an immense amount of stress dealing with work but within a week of changing to the new system he feels able to relax and learn at his own pace.
"The attitude is a lot different. Everyone is just showing up to class physically happier." Abushcara said.
'No harm done' grading has made its impact at other schools like Abushacra's. He's been able to talk to his friends compared to when he was stuck doing school work all day long.

In addition universities, even the most elite like the Ivy Leagues, have decided to move to pass/fail to adapt to the changing situation. Many schools like the University of Maryland (UMD) offer the opportunity to get normal grades to encompass students with different stress and backgrounds.
"This overall policy might not be needed for everyone but the policy is trying to adjust to the very special circumstances" said UMD International relations professor and WIS parent, Susan Parker.
While this certain policy is not suitable to WIS because of the impacts our grades do have, the ideas presented within it are applicable with 'no harm done' grading. It similarly gives students with different experiences the chance to focus on learning or wellbeing.
"I think that if the universities itself switches to pass/fail I don't think it can possibly adversely affect admissions because this is a global issue and even universities are admitting that by switching their grading system," Meyer-Fong explained. However, "In general colleges will put less weight on this semester," Parker claimed.
The future of college admissions is unclear and the uncertainty means the lack of weight on grades is more important, especially if school closures continue into the 2020-21 school year.
What WIS needs to do:
Distance learning needs the entire community to work together to try to create the best routine, and the administration and others are communicating inside and outside of the DMV to ensure that WIS uses the best methods.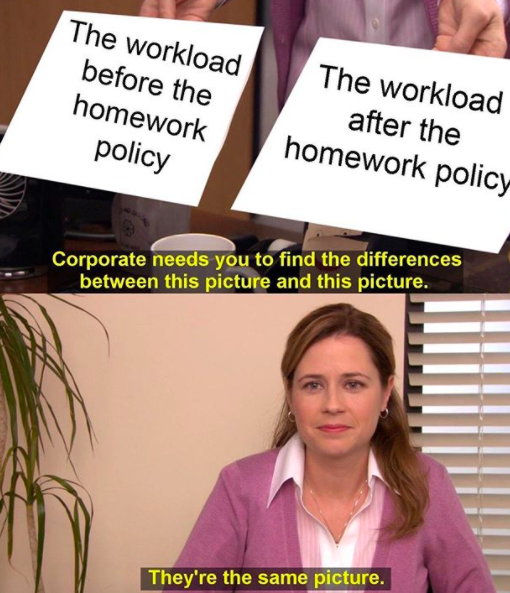 "There's a sustainability piece we're trying to figure out too because we want this, should this happen next year, we want this to be smoother to dive into" Eaton said.
Overall, the change to 'no harm done' would give students more time to talk to friends, continue hobbies, and focus on their mental health. It would alleviate the massive stress of grades during a time of already great anxiety.
Additionally, WIS prides student involvement. Recently, groups of students started to advocate against the no homework policy and for the 'no harm done' policy. These voices need to be acknowledged, and used to implement a system that works for students using progress report grades for the benchmark where it can't be dropped below that percentage.