Now that we are all stuck inside it's hard not to get bored, but why not learn something new? These 5 recipes are a great way to entertain yourself during the next few weeks. The difficulty of all of the recipes will be ranked out of 5.
Banana Chocolate Chip Muffins
Difficulty level: 1
Banana and chocolate is a pairing that never gets old. With a crispy outside and soft and gooey inside these muffins make a delicious post first-period pick me up.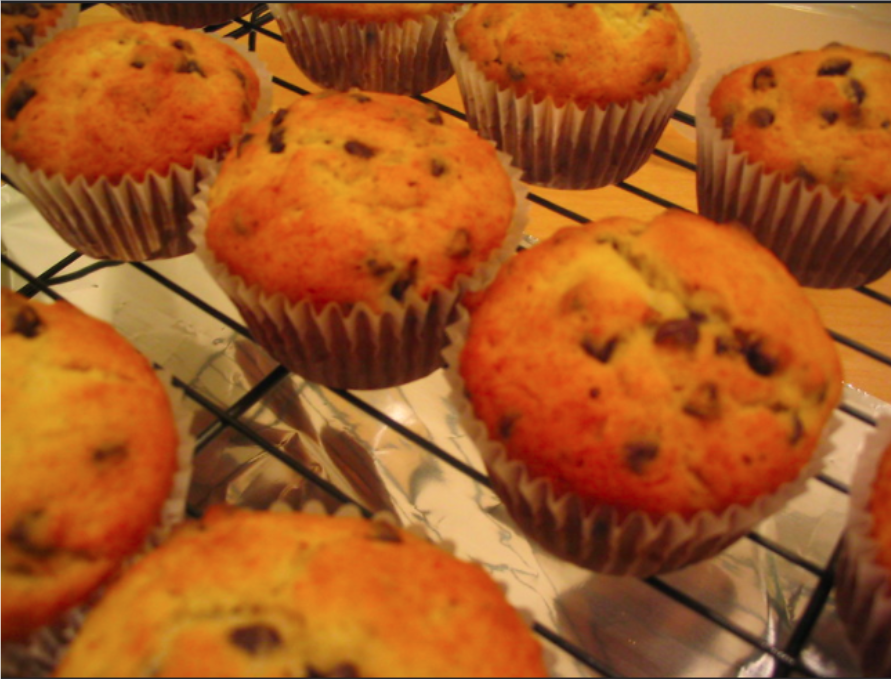 Ingredients:
Story continues below advertisement
3 very ripe mashed bananas
3/4 cup maple syrup
1/2 cup melted coconut oil
1 teaspoon vanilla
1 cup flour
1 cup rolled oats
1 teaspoon baking powder
1 teaspoon baking soda
1 tablespoon cinnamon
1/2 teaspoon salt
Instructions:
Blend: (yes physically put it in a blender): 1 cup flour, 1 cup rolled oats, 1 teaspoon baking powder, 1 teaspoon baking soda, 1 tablespoon cinnamon, 1/2 teaspoon salt
Mix in a separate bowl: 3 very ripe mashed bananas, 3/4 cup maple syrup, 1/2 cup melted coconut oil, 1 teaspoon vanilla
Preheat oven to 350 F
Mix dry and wet ingredients and add dark chocolate chips
Line a muffin pan
Use an ice cream scoop to measure out the batter for each muffin and place the batter in muffin liners
Bake for 8-10 minutes: check in on the muffins by using a toothpick to check if it is fully cooked (insert the toothpick into the middle of a few muffins: if the toothpick comes out clean and dry then they are ready, if the toothpick comes out with batter on it they are not ready)
Blueberry Mug Muffin:
Difficulty level: 1
This muffin is FAST and you can bake it in your microwave. This is perfect for a quick dessert or just when you want something sweet but are feeling kinda lazy. The juicy and tart blueberries contrast well with the sweet dough.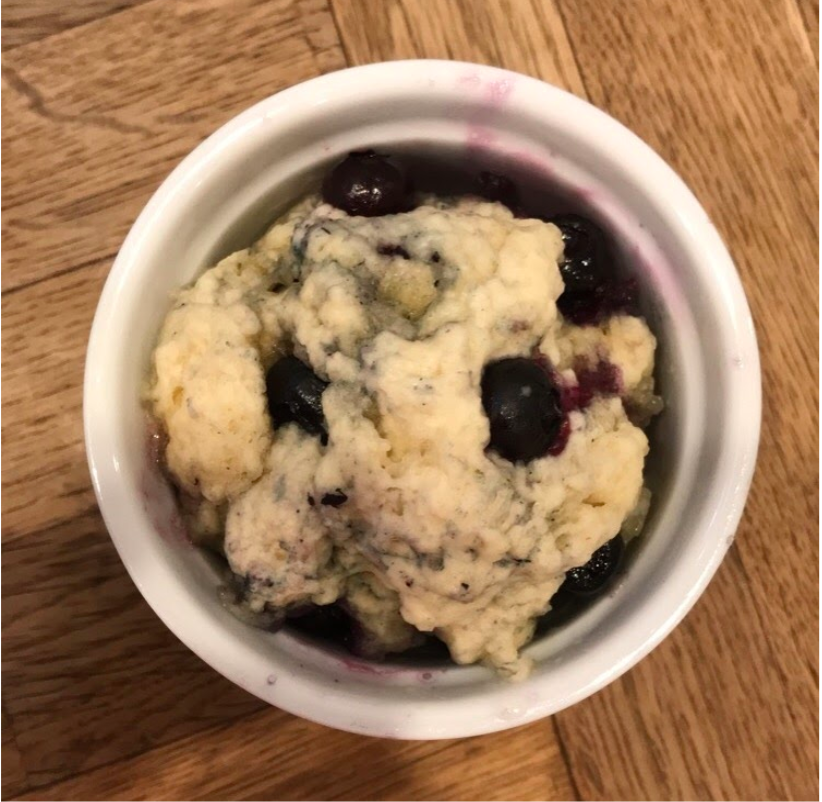 Ingredients:
1/4 cup flour
2 tablespoons milk
2 tablespoons maple syrup
1/2 tablespoon butter
1/4 teaspoon baking powder
Pinch of salt
Splash of vanilla extract
Frozen blueberries
Instructions:
Mix flour, baking powder and salt in a microwave safe mug
Pour in milk, maple syrup, vanilla extract and mix using a fork
In a separate bowl melt the butter then pour it into the mixture
Add blueberries and stir
Cook in the microwave for 70 seconds in 35 second increments. Careful not to over cook it because it will become rubbery. Note: cook times may vary due to microwave wattage
Granola:
Difficulty level: 1
This granola is a super simple recipe that you can easily make on your own by changing up the toppings. It's crunchy sweet qualities make it a perfect addition to smoothies! It's great for beginner bakers because it is super forgiving so don't panic if your measurements aren't exact!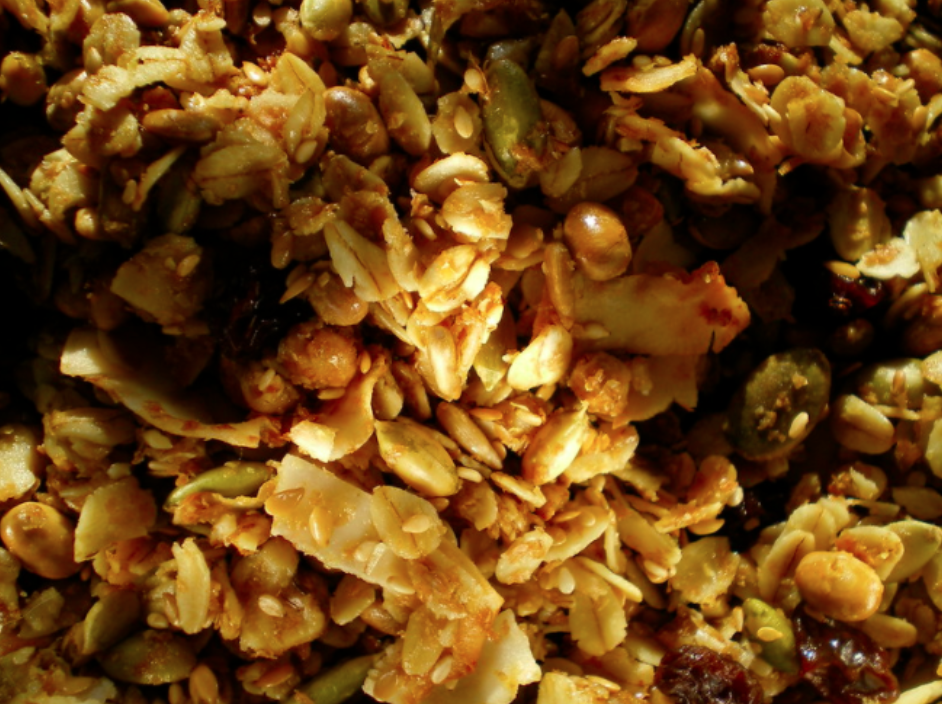 Ingredients:
1/2 cup canola oil or other neutral oil, such as coconut or olive oil
1/2 cup honey or maple syrup
1/2 teaspoon salt
3 cups old-fashioned rolled oats
Optional: 1 cup sliced almonds, 1 cup raisins or other dried, chopped fruit
Instructions:
Heat the oven to 300°F and line a baking sheet with parchment paper.
Whisk together the oil, honey or maple syrup, and salt.
Add the oats (and almonds if desired) and stir to coat the dry ingredients with the mixture.
Spread the oats out onto the prepared baking sheet. Transfer the mixture to the prepared baking sheet and spread into an even layer, use a spatula to press it into the pan.
Bake for 20 minutes, stirring halfway through, press down the granola using a spatula The granola is ready when golden-brown. It will still feel wet coming out of the oven but will dry as it cools.
Remove from the oven, press it down again, and let cool. If you want clumps of granola, press down the granola before it cools, (this helps it stick together)
Let it cool completely before storing it in an airtight container (add fruit once cool)
Madeleines:
Difficulty level: 2
These sweet mini lemon cakes are amazing for warm weather. Their light and fluffy texture makes them the perfect addition to a mid afternoon quaren-tea.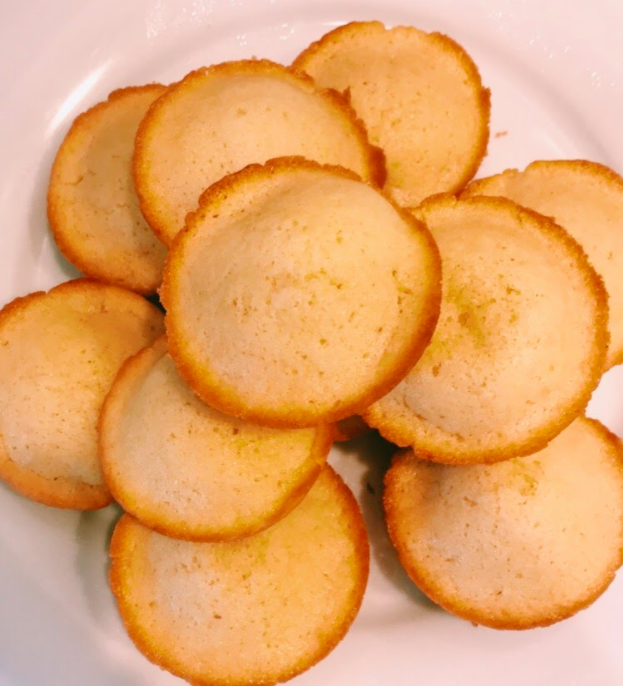 Ingredients:
1/2 cup (1 stick; 115g) unsalted butter (plus another 2 Tbsp for the pan)
2 large eggs, at room temperature
1/2 cup (100g) granulated sugar
2 teaspoons lemon zest
1 teaspoon pure vanilla extract
1 cup (115g) sifted all-purpose flour*
1/2 teaspoon baking powder
1/8 teaspoon salt
Confectioners' sugar for sprinkling on top
Optional: chocolate (chips or bars)
Instructions:
Melt the butter and let cool
Whisk sugar and eggs with stand mixer for at least 8 minutes (until it ribbons; meaning that when you lift the whisk the batter should fall slowly and form a ribbon pattern that lasts for a few seconds)
Add lemon zest and vanilla extract
Whisk the flour, baking powder, and salt together in a small bowl. Using a spatula or wooden spoon, gently fold into egg mixture.
Stir 1/4 of the batter into the butter, make sure it is fully incorporated before you add the rest
Stir the rest of the batter into the butter
Cover and leave in refrigerator for 30 minutes and preheat oven to 350 F
Melt 2 tablespoons of butter and brush (you can use a paper towel) on a non stick pan (I used a muffin pan)- make sure there is a good layer of butter on the pan in order to prevent the cookies from sticking
Plop batter into pan
Bake for 9-12 minutes (they are ready when the tops bounce back when you press them)
Let cool and dust with confectioner sugar
Optional: melt chocolate in microwave, stirring in 30 second intervals
Dip half of each cookie in the melted chocolate until lightly coated, place on plate and let cool in the fridge
Traditional Chocolate Chip Cookies: (brought to you by NESTLÉ Toll House and Phoebe Buffay)
Difficulty level: 1
These cookies are a classic and perfect with milk. There is something unbelievably comforting about ooey-gooey chocolate surrounded by a crisp cookie, perfect for these not-so comforting times.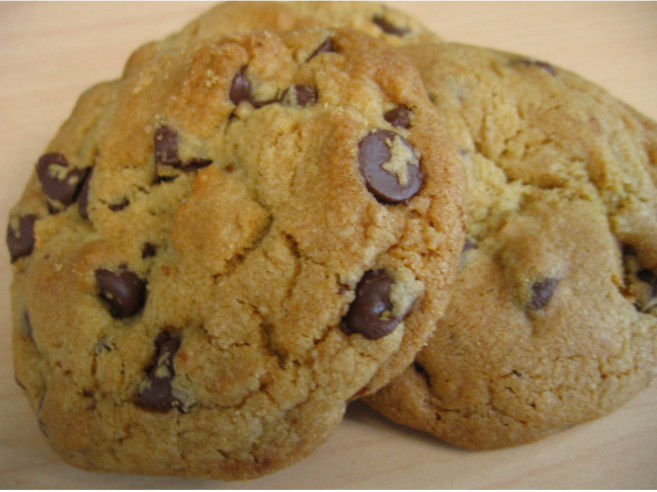 Ingredients:
2 1/4 cups all-purpose flour
1 teaspoon baking soda
1 teaspoon salt
1 cup (2 sticks) butter, softened
1/2 cup granulated sugar
1 cup packed brown sugar
1 teaspoon vanilla extract
2 large eggs
2 cups (12-ounce package) NESTLÉ Toll House Semi-Sweet Chocolate Morsels (or any other kind of chocolate chips/chunks)
Instructions:
Preheat oven to 350
Combine flour, baking soda and salt in small bowl
Beat butter, eggs, sugar and vanilla until smooth
Combine dry and wet mixture
Stir in chocolate chips
Use a spoon to measure and roll equal sized balls and place them on a parchment paper (or a silicone mat) lined cookie tray (the parchment paper is the key to making sure the bottoms don't burn!)
Bake for 9-11 minutes or until golden brown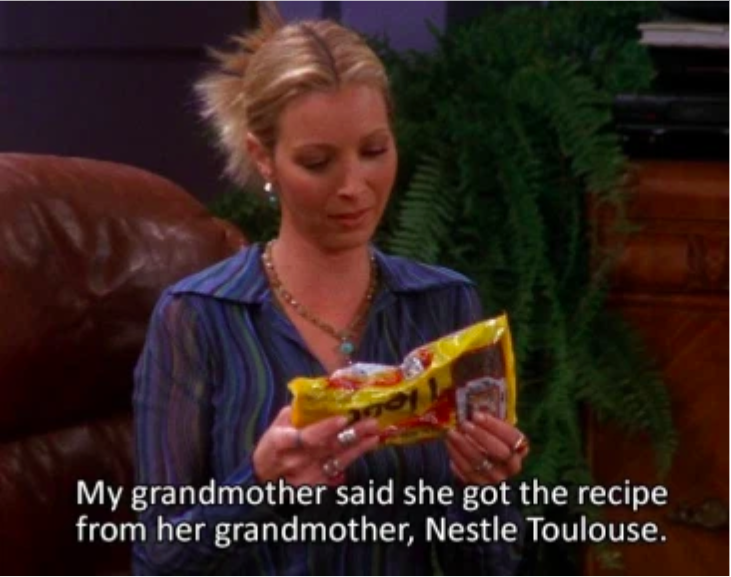 By Julia Dell'Ariccia