Kamryn Lute is not your average 10th-grade student. She has been training to be a short track speed skater since she was five years old, competing in events all around the world.
"When I was five, watching the Olympics, my mom asked me what sport I wanted to try and I thought speedskating was cool," Lute said.
Short track speedskating may be unfamiliar to the casual sports fan but it has been an Olympic sport since 1992 and has become very popular in South Korea, Canada, and Scandinavia.
Groups of four to eight skaters race on an oval-shaped ice track and the top two fastest finishers from each heat move on to the next round. Skaters reach high speeds of nearly 30 mph, often jockey for position through physical contact, and make extremely sharp turns.
Story continues below advertisement
"I love the strategy and competition," Lute said. "Since it is at such a high speed, you get an adrenaline rush. It is really exciting," she added.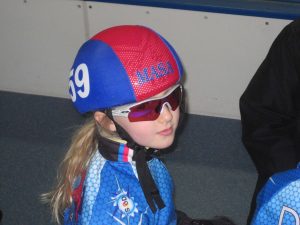 The sport, however, has not yet gained widespread popularity in the U.S. as the number of registered short track speedskaters was hovering at just above 1,000 in 2018. Compared with over 500,000 hockey players and 200,000 figure skaters, short track speedskating remains relatively unknown in the world of US sports.
"When you tell people about it [short track speedskating] they always think it is cool and unique, but in other countries, it is way bigger," explained Lute.
In Canada, for example, the sport has gained a much larger presence through specialized programs and teams, which provide skaters with opportunities that can not be found in the US.
David Seal, a Canadian short track speed skater who has trained alongside Lute, is able to represent his home province in the Alberta Amateur Speedskating Association which provides funding and training for its skaters. Seal has participated in competitions throughout the world and placed second overall at the western Canada championships in 2018. He is also able to train for the Elite Athlete Pathway program at the Olympic Oval in Calgary which attracts skaters from around the globe and allows for further conditioning.
Seal also points to Canada's strong speedskating culture as another main reason for the sport's popularity in his home country, compared to the U.S.
"It's very very competitive, especially on the eastern side of the country like Quebec. We have close to ten times more skaters here in Canada than in the U.S.," Seal said.
Lute also pointed out that in South Korea, skaters can compete at the high school and university level, where they can receive athletic scholarships.
While on a much smaller scale, Northern Virginia has become a local hub for speed skating due, in part, to the area's strong ties to Korea. 60% of Virginia's Korean-American population lives in Fairfax County and around ten years ago, many of these families began hiring coaches from South Korea in order to form elite speedskating teams for their children.
Lute practices six times a week with one of these teams: Dominion Speedskating. Her practices consist of two hours of off-ice exercise or cardio work and one to two hours of on-ice skating.
With no opportunities to skate in college, Lute is working towards her ultimate goal.
"I want to make it to the Olympics one day. It's what I think of whenever I train and it would honestly mean the world to me," Lute said.
In order to reach the prestigious sporting event, she must first participate in a series of qualifying events throughout the world. This year, Lute skated in the Junior World Cup in Italy as a member of the US team and has participated in other events and training programs throughout the world.
"I have trained in Canada, Utah, the Netherlands, Belgium, France, the UK and I have gone to Korea to train over the summer," Lute said.
With a busy travel and training schedule, Lute has developed a strong time management system for herself, oftentimes at the cost of free time and sleep.
"I take whatever small periods I have at home or sometimes in the car to do my homework. Also, I made accommodations with the school so that I only do one elective so that my other block is a free period which helps a lot," Lute said.
"I've gotten used to it," said Lute when asked about the lack of sleep associated with her busy schedule.
Lute currently holds the US record for the 222-meter, 333-meter, 500-meter, and 777-meter races for girls 10 and under and the 500-meter record for the 11-12 age group. With such high honors and success in the sport, Lute remains humble about her speedskating endeavors.
"I try to keep it separate from my school life and I don't really talk much about it with my friends," said Lute.
Her parents also play a key role in her development as a short track speedskater and have supported her since she first began competing in 2010. They have made sacrifices such as waking up at 3:30 in the morning to take her to practices which until recently was the only time they could get the ice.
"My parents have been 100% supportive since the very beginning," Lute said.
While math tests and history essays may stand in her way now, Lute is determined to achieve the goal she has been craving for the past decade. With a strong backing and work ethic, Lute is on track to represent the US short track speedskating team at the 2022 Winter Olympics in Beijing, China.
By Anders Westermann