Former NBA player Kobe Bryant passed away last week in a helicopter crash in southern California. All passengers on board were killed including his 13-year old daughter Gianna and seven others. The news came as a major shock as Bryant was one of the most prolific players in NBA history and was only 41 years old at the time of his death.
Since being drafted in 1996, Bryant quickly dominated the league while playing his entire career with the Los Angeles Lakers. He averaged 25.0 points, 4.7 assists, and 5.2 rebounds a game while reaching the All-Star Game 15 times and winning league MVP once. He holds the second-highest single-game scoring record in the NBA, scoring 81 points against the Toronto Raptors in 2006 and scored 60 points in the final game of his career against the Utah Jazz in 2016.
"For 20 seasons, Kobe showed us what is possible when remarkable talent blends with absolute devotion to winning. He was one of the most extraordinary players in the history of our game with accomplishments that are legendary," NBA commissioner Adam Silver said.
Bryant's career was filled with stories of his steadfast work ethic and winning mentality. He would often arrive two hours early for practice and set a goal of making 800 shots. He would not leave the gym until he reached that goal. He eliminated sugar from his diet and decided to lose 16 pounds for the 2012 Olympics to lessen the pain on his knees. Bryant would also watch film of the game at halftime, a practice not done by most players.
Story continues below advertisement
"I've heard a lot of great things about him. He was extremely inspiring to everyone who played sports. I played soccer and tried to reflect that mantra everyday, not just in soccer but in everyday life," junior Tommaso Forni said.
Bryant's hard work clearly paid off as he went on to win five NBA titles and was voted Finals MVP in two of them. His winning mentality coupled with pure skill and success has propelled him into the greatest of all-time conversation with the likes of Michael Jordan, Kareem Abdul-Jabar, and Bill Russell.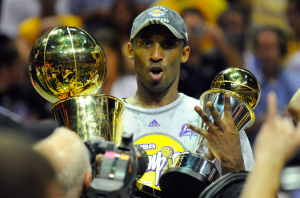 Romain Hufbauer '17 noted that "it is definitely a hard question because greatest implies accolades so it's hard to argue against Jordan or even Kareem." He went on to explain, however, that "I've never felt more confident that a player was going to win a game" as he believes that "he is the greatest scorer of all time."
Bryant's legacy, however, was not only centered upon his on-court play. He invested 6 million dollars into sports drink brand Body Armor in 2014 and saw his stake in the company rise to 200 million in 2018. In 2016, Bryant formed a venture capital fund called Bryant Stibel and began investing in an online education group as well as a restaurant booking company. He also wrote and directed a short animation film in 2018 titled "Dear Basketball" in which he recounts his love for the game and how basketball has impacted his life over the course of his 20-year career. Bryant won the Academy Award for Best Animated Short Film that year.
When asked about Kobe's off-the-court accomplishments, Hufbauer noted how "intellectual he was outside of basketball. He was a brilliant writer, filmmaker, and investor. That just showed that basketball players don't just have to be athletes. It inspired us to excel in whatever you're doing because working your hardest is worth it," Hufbauer said.
The other crash victims include John Altobelli, the head baseball coach at Orange Coast College, Keri Altobelli his wife, and Alyssa Altobelli their daughter and teammate of Gianna Bryant. Christina Mauser, an assistant coach for Gianna's and Alyssa's team also passed away. Payton Chester, another teammate of Gianna's, and her mother Sarah were also in the helicopter. The pilot, Ara Zobayan, was also a victim of the crash.
Bryant's legacy is extended through his 13-year old daughter, Gianna Bryant, who was also killed in the crash. She was an aspiring basketball player who played for a girl's middle school AAU team coached by her father. Videos of the two training as well as analyzing NBA games together went viral and Bryant had spoken fondly of Gianna's basketball skills, supporting her endeavors as well as women's basketball as a whole.
"Their relationship was super admirable and in a way, she was the next Kobe. Whenever they were on the street, people would ask when he's going to have a son and he'd be like I don't need a son, she's my legacy," sophomore Vicky Bauer said.
"I do think that the other passengers should also receive equal recognition though," Bauer said