Over the summer, Tino's Pizzeria opened replacing Chipotle on Connecticut avenue. The dedication of the hard-working chef and owner, Logan Griffith, is evident in the quality of the food and the restaurant's ambiance.
Background
Griffith takes a more modern approach to Neapolitan pizza with their topping combinations but mainly placing an emphasis on the more traditional crust. The chefs put a lot of effort into the crust and is possibly one of the best crusts in the DMV. The crust is light, airy, and cooked perfectly to have a good amount of char that you expect with wood-burning pizza ovens.
Griffith's interest in dough sparked from creating pita dough for a private event before the interest grew into pizza. He has spent a lot of time working to perfect his dough. His next step in the process of creating the pizza was determining the right toppings to compliment the dough.
Story continues below advertisement
Food
Tino's has a variety of options you can try, ranging from the distinctive "Octopie" to "A Simple Pie" or a dessert pizza with Nutella and seasonal fruit.
"A Simple Pie" is topped with just mozzarella and sauce, which can never go wrong, and it is my personal favorite pizza. This pizza most accurately represents traditional and authentic Neapolitan pizza.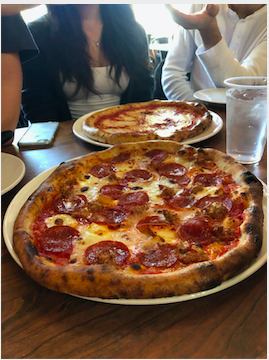 The "I'm Cocoa for Hazelnut" pizza features Nutella, hazelnuts, chocolate nibs, coconut, and seasonal fruit. The current seasonal fruit is figs, which are very fresh quality. All of the different elements complement each other to make any chocolate or dessert lover happy.
Finally, the stand out pizza is the "Octopie." This pizza has octopus that's cooked for 5 hours then charred and sliced and served along with olives, pestos, mozzarella, and tomato sauce.
The odd combo is definitely not traditional, but according to Griffith, "[the pizza] is briny, it's good." The Octopie isn't Griffith's favorite pizza but the modern and unique topping options show his creativity as a chef.
Price
The prices at Tino's seem to be slightly high compared to other restaurants in the area and neighborhood. The basic simple pie is similar at $10 but the others mainly range from $15-17. Tino's uses a variety of ingredients like fresh octopus and figs, which may be the reason for the higher pricing. Tino's competes directly with Vace Italian Delicatessen, which serves a larger pizza for only $8.
Ambiance
Walking into the restaurant you can tell that visual design is important. Griffith explained that he and his business partner, Joe McCarthy, focused on creating the restaurant atmosphere they wanted.
"We did all the construction in here. We did all the contracting. We did everything," Griffith said. Griffith's commitment truly paid off as the restaurant has a warming ambiance.
Griffith said that he didn't simply want to hire anyone which is shocking because of the physical outcome of the restaurant.
The size of the property limited Griffith and McCarthy to do a fast-casual setup. Yet, the fast-casual approach makes the restaurant different from other pizza restaurants in the area, and also makes it easier for residents in the area to enjoy a quick meal.
About the Chef
Griffith has worked in a few different restaurants including the Watergate Hotel and Blue Duck Tavern in Georgetown, and the integrity and principles he learned working in other places is most important for him to share with his employees.
"I mean yeah I can cook, I can do all that, but it is the integrity that I try to instill in my employees," Griffith said. "The disciplines that I've learned coming up through different restaurants I've worked. Just my work ethic in general that I try to instill in other people."
Overall, Tino's Pizzeria is truly worth visiting. It is close to WIS and is enjoyable with a small group of friends. Connecticut avenue businesses have a history of closing, like Chipotle and one of Griffith's favorites, Polena. Nonetheless, Griffith feels as if he can change that.
"I want to bring good food back to Cleveland Park," Griffith said, "It's going to be a struggle to do it. I want to do it, and I feel like I can."
By Rose Boehm
*Photo taken by Rose Boehm