Tik Tok has been a popular app for a good year now and users on the app seem to be moving past making silly lip syncing videos and moving on to what many may call art. This art, many times, proves to be much deeper than many may realize, drawing several close and undeniable comparisons to the early to mid 20th century artistic movement, surrealism. Thus, it is fair to say that Tik Tok has brought into the world a neo-surrealist artistic movement, shining a new light on how advanced the platform truly is.
For those who are unaware of what the hit app Tik Tok is, click here to read more about it. 
In order to best understand what this new level of Tik Tok is bringing to the table, it is important to understand the surrealist movement as a whole and what it was.
Story continues below advertisement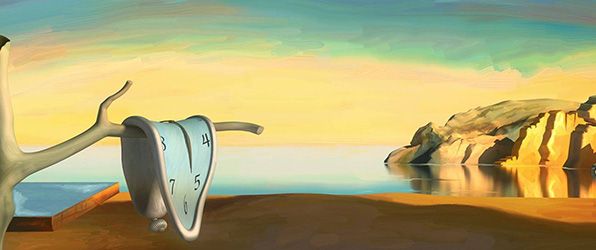 Surrealism started in the early 1920s at the end Dada movement and blossomed in France but soon after spread across the globe. Surrealist artists claim that the movement wasn't simply an artistic movement but a revolution in the arts. 
This revolution was evident in the movement's "purpose" which artists felt was too express the imagination and dreams the artists had, without any sort of logic or reason holding them back. Surrealism strived to change people's conception of what art was supposed to be.
Tik Tok has seen a similar evolution towards surrealism in recent years, and the resulting content is uncannily similar.
Users such as "lastmanstanley" and "grifdeck" strive to change people's conception of what a "tik tok" and most importantly what art can and should be. Infact, it would be more than fair to draw a comparison between these two and the greats of the surrealist movement such as Salvador Dali or Max Ernst.
As shown in the comparison above, many elements in both "lastmanstanley's" tik tok and Dalí's painting are quite similar and represent a somewhat next-level thinking which shows the inner complexities of life in the world that each respective artists lives in order to compose them.
Lastmanstanley chooses to adopt a somewhat otherworldly ideal in which the user is unable to quite pinpoint the message of the video and what is what. Similarly, Dali chooses to portray everyday objects in other ways which again, inhibiting the reader from actively knowing what is what.
Tik tok user "grifdeck" follows a different approach to surrealism where as the story of the video is ever evolving almost like the painting depicted below:
Clearly the evolution of "Milk" presents a deeper meaning behind the struggle of a man and his life. This is the kind of next level, surreal thinking that is creating this neo-surrealist movement. Max Ernst's "Ubu Imperator" also has an evolving story with every new glance at the painting revealing a new idea. 
Below are some more examples of neo-surrealism in Tik Tok to further prove this point:
Overall, it is more than clear now how evolved the artistic expression in Tik Tok is and how the app has helped birth a neo-surrealism movement. 
By: Nico Vallada