Fall does not only signify the beginning of the new school year, but it marks the start of the fall sports season, one of the most heralded times at WIS. Whether it is volleyball, soccer, tennis, or cross country; varsity teams are an essential part of the school community. This is a preview of the 2019 orgasmehemmere season and everything that is in store for the WIS fall sports teams.
Girls Varsity Volleyball
The girls volleyball team is heading into the 2019 season with an open mind despite losing key players. The team's freshmen are being propelled into starting roles, under the leadership of first-year coach Kaler Hurcan.
WIS volleyball has found success in past years, winning the PVAC banner multiple times and even reaching the DCSAA tournament throughout the years.
Story continues below advertisement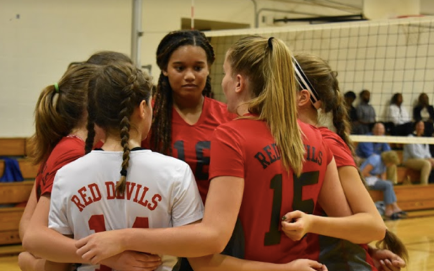 Long-time players such as Gabi Morichi, Lillian Orloff, and Ainhoa Petri-Hidalgo hope to use this past experience to propel the otherwise inexperienced team further than ever before.
"We want to build team chemistry for this season and next. Our team goals are to win the PVAC and get past the first few rounds of states, it would be a pretty big deal for us," Morichi said.
These goals will be tested in their out-of-league games against schools such as Maret, Wilson, and Georgetown Day, but also in PVAC play.
Boys Varsity Soccer
Coming off of a strong 2018 season, Boys Varsity Soccer hopes to make another run for the DCSAA title this year. The team won PVAC regular season and tournament banners last year and made a state semifinals appearance. But, the team looks drastically different this year, both on the field and on the sideline. Without key players from the class of 2019, the team looks to their senior captains Peter Laursen, Timo Maret, and Fabrice Gray.
The team's leadership is also different this year with longtime coach James Martin returning from a one-year sabbatical. He replaces Bardia Sassanpour, who had a one year stint as head coach.
Boys Varsity Soccer is used to PVAC dominance. The team's struggles usually come in non-conference play. WIS suffered an unexpected 1-0 loss against Bell Multicultural in their first game of the season, but came back the next week to tie juggernaut St. John's 1-1.
Boys Varsity Soccer has many more big matchups set this season, such as Sidwell, Wilson, and Gonzaga. They hope to transfer their PVAC dominance to non-conference games.
"I hope we win the PVAC," Gray said. "And the plan would be to win a state title."
Girls Varsity Soccer
Girls Varsity Soccer is looking to win the PVAC regular season and tournament banners and move on to the DCSAA tournament where they made history last year reaching the semi-finals for the first time in school history.
Colin Buck is back again to coach the squad, and despite losing some key players from the class of 2019, juniors such as Tatiana Clinton and Sofia Giorgianni are likely to assume a leadership role this year and mentor some of the younger players on the team.
"We're going to keep a positive mindset. We hope to build teamwork and effort throughout the season," Clinton said.
Despite starting the season with a 3-1 loss to Episcopal and a 1-0 loss to National Cathedral, two out-of-league powerhouses, the girls are motivated heading into league play and hope to capitalize on upcoming matchups against teams such as Maret, Oakcrest, and Wilson.
Girls Varsity Tennis
While often short-handed, the girls tennis team has grown in size over the past year. With a plethora of incoming freshmen along with two new sixth graders, the team previously dominated by current juniors and seniors is looking to continue their success with new and younger players.
"I hope to continue the spirit of the team. I think the girl's tennis team is one of the most underrated teams at WIS," senior Julia Stefanska said.
With Oakcrest and Grace Brethren exiting the league, there are only three teams left in PVAC girls tennis: WIS, Charles E. Smith Jewish Day School, and The Field School.
This change means that there is no tournament banner, but instead a three-team tournament at the end of the season.
Despite this slight change, the girls are still motivated to dominate in PVAC play. The change also allows them to play more exhibition games against out-of-league teams such as Georgetown Day and National Cathedral.
Varsity Cross Country
Cross country continues to be one of the most popular sports in the WIS community and this year is a true representation of that. With athletes from all grades, cross country is heading into the 2019 season with a lot of promise.
Daniel Freymann, a senior who runs a sub-five minute mile is looking to lead the way for many of the younger runners on the team. After a dominant junior season where he set a personal 5k record at 18:17, Freymann is hoping to "beat 17:30" and believes "everyone is improving super quickly so we [the team] can place well by championships."
Elsa Cooney and Maddy Connolly lead the way for the girls, placing fourth and eighth respectively in the 5k in an early-season meet at Sandy Spring Friends School. Younger runners such as sophomores Rose Boehm and Mila Martin are each running about two minutes faster than their freshman year times.
With more meets coming up at Sandy Spring and St. Anselm's Abbey, the teams hope to continue improving and take home PVAC banners.
The Boy's Varsity Soccer section was written by Saul Pink