This past season for the Washington Wizards was horrible. They lost 50 games for the first time since the 2012-2013 season, ending with the 6th worst record in the league. Despite this, Bradley Beal put up All-NBA stats, averaging a career-high 25.6 points per game, and became the first player in Wizards history to average at least 25 points, 5 assists, and 5 rebounds per game. These two conflicting events raise a question: What went wrong with the Wizards? What can they do to make things right? I asked three Wizards experts and one casual fan seven questions about what happened to DC's basketball team, and what they can do to fix it.
What went wrong with the Wizards? This was the question all Wizards fans asked as soon as this depressing season ended, with the Wizards missing the playoffs and with higher lottery odds than the tanking Memphis Grizzlies.
The blame seems to be spread out among everyone. Becca Winkert, the host of the "lockedonwizards" podcast, believes injuries were to blame. Dwight Howard, who was newly acquired, only played in nine games and All-Star point guard John Wall underwent surgery in the middle of the season. Tomas Satoransky, Wall's backup, stepped up, but Wall's absence impacted the Wizards heavily.
Josue Ochaita, a WIS freshman and avid Wizards fan, thinks injuries played a big role too, but bad management was also a factor. "The signing of Dwight Howard was a huge mistake, […], he is really old, and only can worsen the already bad team chemistry of the Wizards".
Story continues below advertisement
Chase Hughes, an NBC Sports Washington author, agrees injuries played a role, but defense was the main cause for this disappointing season. The Wizards had the 25th worst defensive rating in the NBA and the worst in team history.
Because of the mediocre performance from the Wizards, Coach Scott Brooks has been under fire for a while now, getting the blame for poor decision making throughout the season.
Despite this below-average performance from the coach, the experts all agree: keep Brooks around for one more year, and then evaluate his performance.
Jake Whitacre, the editor and site manager for Wizards fan page Bullets Forever, says "There probably isn't a coach out there who can get them more than a low seed in the playoffs." Washington might as well see what he can do with a younger roster and see if he can develop talent as he did in Oklahoma City.
Brooks led the Wizards to one of their best seasons in franchise history in 2017 when the team won 49 games and took the Celtics to seven games in the conference semifinals. It is hard to blame Brooks for all that is wrong with the Wizards, but after this season, change has to happen, and it very well may be finding a new coach.
However, this season, rather than winning 50 games, the Wizards lost 50. For most fans, this was very upsetting, but for some, it was a blessing. With this record, the Wizards have a 9% chance of getting the number one pick in the draft and a 37.2% chance of a top-five pick, according to ESPN. Since the NBA lottery hasn't occurred yet, I assumed the Wizards would get the sixth pick in the draft, seeing they had the sixth worst record. I asked who the Wizards should select, assuming they have the sixth pick.
Both Hughes and Whitacre liked the odds of Virginia wing De'Andre Hunter. "A wing who could play defense would be nice. So, right now, De'Andre Hunter of Virginia stands out," Hughes said. Whitacre agreed, saying the Wizards "desperately [need] to add defensive talent." This draft class has lots of high caliber players, and, as Winkert puts it, "it would be hard for the Wizards to go wrong."
Apart from who to draft, the Wizards have some other decisions to make this off-season: who do they re-sign, and who do they let walk?
Winkert believed they should re-sign center Thomas Bryant, saying he is "talented, but his desire to constantly work on his game is what makes him a great player."
Hughes agrees with Winkert, pleading for Thomas Bryant. Along with the center, he believes point guard Tomas Satoransky deserves a new contract. He thinks the Wizards should let Bobby Portis go, because of his price tag. This is unfortunate, as Portis showed potential during his first season with the Wizards.
Portis is a center, which is a huge position DC needs to fill this offseason. Ochaita and Whitacre both agree a center is Washington's biggest need at the moment, because "Ian Mahinmi isn't a difference maker, Dwight Howard is a question mark after missing almost the entire season, and Thomas Bryant isn't reliable yet on the defensive end to be a starting center for a playoff team," according to Whitacre.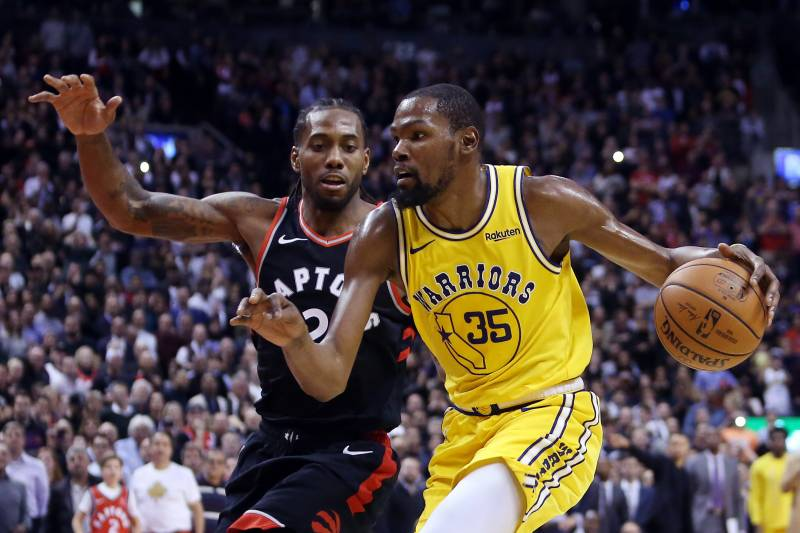 Hughes believes a small forward is "a huge need," and Winkert believes a point guard is of high importance with Wall's absence.
Thankfully, this season's free agents include two of the best small forwards in the game right now: Kawhi Leonard and Kevin Durant. If money wasn't a problem for the Wizards, what free agent should they sign?
The responses were split between the two small-forwards, Maryland-native Kevin Durant and two-time defensive player of the year Kawhi Leonard.
Hughes and Ochaita believe Kawhi Leonard is the better option. The Wizards are known to struggle defensively, so adding a great defender like Kawhi Leonard would help them out. Kawhi Leonard is also three years younger than Kevin Durant, so the Wizards could get more out of him.
Whitacre and Winkert vouch for Durant. Winkert likes his athleticism, and how "[he] knows what it takes to win." Whitacre adds that Durant would be a "great fit next to Beal and give the Wizards credibility they haven't had in decades."
Because the Wizards fired General Manager Ernie Grunfeld and haven't signed a replacement yet, these next couple of months are unpredictable. Only one thing is clear, as Winkert puts it, "I, along with other Wizards fans, are happy to put this season behind us."
By Erben Gerts