The walls of brown wooden lockers are scattered all over campus, for middle and high schoolers alike. Lockers are a staple of the typical American high school experience. In movies, characters gather to tell secrets and bullies scrawl mean messages on top of them.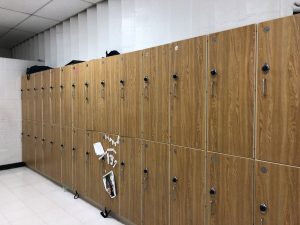 Despite being provided a locker by the school, some students don't use them. "I've only used my locker once this school year," freshman Michelle Hobardi said.
While one might think that most students are opposed to lockers and use them infrequently, once we started reporting this story, we found that the opinions were different than what a typical WIS student might assume.
Nearly 60 percent of WIS students who answered a survey said they use their lockers, unlike Hobdari. When students were asked about their opinions on the lockers, their responses were varied.
Story continues below advertisement
What do the students think?
"They're like, fine. I don't understand why people don't like them," said Alejandra Soto-Rehban, a freshman who's been at Tregaron since 6th grade. She said she uses her locker sometimes, usually just stopping by it after school.
Soto-Rehban said she doesn't know her locker combination by heart, so she leaves it unlocked. Although she thinks the size and dimensions of the locker are fine, there is one thing that bothers her: the location.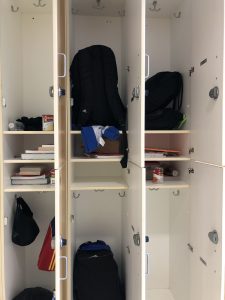 When asked if WIS should allow students to pick their lockers location, Soto-Rehban agreed, justifying her response with the fact that students "can be closer to their friends".  She continued, wondering why it's "such a big deal" for the school to allow students to choose their locker location.
In order to choose where students have their lockers, Beta Eaton, Upper School Dean of Students at WIS, looks at student's schedules, to try and find the best locker location based off where their classes are. Soto-Rehban brings up a good point: if students don't visit their lockers frequently, the chance to meet up with friends by the lockers may encourage locker use.
Elise Naftulin, a new freshman at WIS, also wants her locker to be in a different location, closer to her classes. Her locker is in the Carriage House, even though she only has two classes in that building.
Like many others, Naftulin wants the lockers to be a different size. "I wish they were a little bit taller because […] I want to put my violin in there, but […] it looks like I'm not going to be able to do that," she said.
What do the adults think?
The faculty and staff have similar opinions to those of the students. They believe that students are not using their lockers enough, both in middle and high school. Carmen Lluch, the middle school principal's assistant, said she sees students not using their lockers all the time, and the toll it takes on students.
Lluch believes there are three mains reasons that students should be using their lockers. The first reason is that lockers help to organize students. Secondly, lockers help reduce weight from students backpacks. The last reason is that when students move around campus, their lockers are a good place to put things so they do not leave them unattended.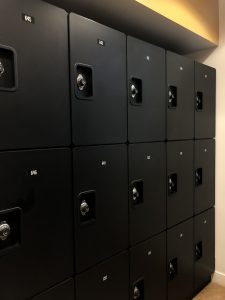 Lluch thinks students need to use their lockers even more because backpacks are getting too heavy throughout the middle school years. She also said that their lockers have plenty of space to hold all of the student's books that they are not using for class.
Faculty and staff also believe students in the Upper School do not use their lockers enough. Meredith Moore, an 11th grade advisor and science teacher, notices how her advisees are utilizing their lockers and knows the location of the lockers affects locker usage.
When Moore was asked about how her advisees use their lockers, she stated they were using them "far less than they should be." She blames this mainly on the fact that their lockers are in the mansion basement and "getting from the basement of the mansion to the AAA from any class is a challenge."
It's all related to location
Moore believes that location plays a very big part in locker usage because sometimes it is too hard for a student to go to their locker in between classes. Dean Eaton said the administration has been looking into how the location of the lockers affects locker usage.
"If we could potentially look at class schedules more and see if there is a location that certain students could use their locker because it would be more accessible to them […] locker locations are decided based on age group and essentially where people have the majority of their classes, and also what access they have [to their lockers during the day]" said Eaton.
Eaton agrees with Soto-Rehban in the sense that she thinks if the students could choose where the location of their lockers, they would use their lockers more. The only problem with this idea is that the school has a limit on how many lockers can be in certain locations, so not everyone can have the best location for their schedule. For example, last year, Moore's advisees' lockers were right next to their advisory, and Moore noticed a difference in locker usage. Moore's advisees' used to use their locker much more often because they were right next to a room they visited everyday. This year, however, their lockers are in the mansion basement, a location that is not easy to access.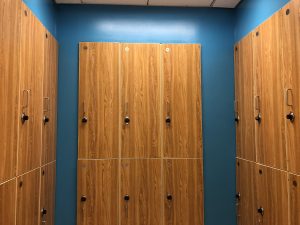 While Moore notices how her advisees' usage of their lockers changes over time, Eaton notices locker usage with freshman.
Eaton's office is right next to a group of freshman lockers and she says:  "I always see students using them […] but not as effectively as they could". She only sees the same few people consistently using their lockers, and knows not to expect to see different students doing the same.
Overall, students are using their lockers more than they lead on, yet there are still many students at WIS who do not use them as much as they should, yet students lead us to believe that if the lockers are placed differently, or a different shape/size, then they would be utilized more. Faculty and staff agree with the students, and they see each day students using their lockers for different purposes.
By Emily Muenzer and Sophie Racine