It is clear that teenagers love pizza, it is constantly being seen being eaten by teens in movies and TV. It is also clear that WIS loves pizza, we even have it every Thursday, but what does the WIS community think is the best authentic Italian pizza place in the DMV?
Pizza is one of the most widely eaten foods, and authentic Italian pizza is one of its many styles. This style of pizza is typically cooked in a wood-fired oven and has a light thin crust, tomato sauce, mozzarella and other toppings. Being VPN (Vera Pizza Napoletana) certified means that the restaurant serves authentic Italian pizza. VPN's requirements are that restaurants serve a Margherita and marinara pizza and follow a list of rules. Although some on this list are not considered VPN, they still claim to serve pizza similar to authentic style pizza. The DMV has many great options.
The obvious WIS favorite is 2 Amys. After a recent flooding, 2 Amys is back, and they continue to offer Neapolitan style pizza, that can be enjoyed by many. They used to be VPN certified, but it got recently revoked for incorrect peel usage and violations. Nearly half of people who took a poll think that 2 Amys is the best traditional Italian pizza place in the DMV. Freshmen Michelle Hobdari finds that the quality of pizza makes 2 Amys stand out.
"I like the thin crust," said Hobdari on the quality, "it has a great taste."
Story continues below advertisement
It was unanimous amongst my interviewees that the reason why 2 Amys are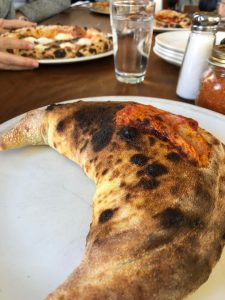 the WIS favorite was that of its geographic location. Most students live nearby school, so they have better access to 2 Amys.
"I think it's close to school and I know a lot of people live close to it, and it's pretty cheap too" senior Holden Davitian said.

Although Davitian likes 2 Amys, she prefers Pizzeria Paradiso mainly because they give you free olives, and the pizza is a great size for an individual person. Pizzeria Paradiso has three locations around the DMV in Alexandria VA, Georgetown, Hyattsville MD and Dupont Circle. All of these locations serve pizza that has been cooked in a wood-burning oven. They also focus on the crust since they believe it is the most important part. The location also influences Davitian choice since she lives in Georgetown, near one of the restaurant's outposts.
"For me, I live in Georgetown so it is super convenient, so I think that also plays into that. I also have been going there for like ever, " Davitian said.
Menomale is a small place with great food and service in Northwest DC. They are VPN certified, and they use ingredients from the Campania Region in Italy, which is on the eastern coast. Teacher Nicholas Loewen lives near Menomale and agrees that it has amazing food since the chefs use fresh and authentic ingredients. He also finds that its an admirable place in the community because it was one of the first restaurants in the area.
Loewen described Menomale as "really good, it's my neighborhood spot and it was one of the first restaurants that opened on that end of the street and I like to support. They're really nice guys."
Another restaurant high on WIS students' list is Il Canale in Georgetown. Their pizza is also VPN certified, and it's the main focus isn't just pizza, but pasta, entrees and antipasti dishes too, from Southern Italy. They have a variety of pasta and entrees that include fresh seafood. For example, they make a pasta dish name Scialatielli ai Frutti Di Mare which has several different types of shellfish (mussels, shrimp and clams). Freshman Beka Tatham likes Il Canale, despite not being a big pizza person. Tatham and her family always bring guests to Il Canale, and she likes it because she feels the restaurant is more formal, the food is really good, and it is nearest to her home.
It is "closest to my house and I like being in Georgetown and I feel like the pizza is better. Like the crust is so good," Tatham later said she hasn't " tried many places but they have a wider variety and I think their restaurant is nicer. Like a lot of places are to grab and go and you can actually have a sit-down meal there."
Pupatella was one of the places greatly underrepresented, receiving only two votes. It was voted best pizza in Virginia and is VPN certified. This restaurant is in Arlington, Virginia and like many others, it has flavorful pizza. Along with pizza, they serve appetizers, paninis and frigatorria (fried food from Naples). Pupatella is also unique because you wait in line and order at a counter. Then, you can either wait in an area for take out or wait to sit down in their dining area. Freshmen Sophie Racine remembers going there as a child and admiring the staff making pizza and the wood-burning oven. Racine finds Pupatella to be nostalgic, considering she cannot go there as often since they moved further from it.
"I kinda like the restaurant, I really like the oven, I always thought it was really cool as a kid to see the pizzas in there," Racine continued to say, "It's really good, like I am not saying it's the best pizza place, but I have an attachment."
The WIS community seems to stay within their neighborhood bubble when going out to eat. Looking at each one of my interviews I found that the place each interviewee liked the best had some attachment to where they had lived or where they are currently are living.
I asked Don Boehm, a history teacher, and my father, what he thought about this and he said, "I think people should branch out and seek out other options because there are a lot of great pizza places in town that have a lot of unique and interesting components, and I think it would be really appreciated by the WIS community."
By Rose Boehm