After the final whistle of boys varsity soccer's much-awaited match against Wilson on Friday evening, the team instantly charged over to WIS's student section and celebrated with their fans amid loud cheers and screams.
WIS' 3-1 away victory over Wilson continued their undefeated season and secured their reputation as one of the top teams in D.C. An electrifying three-goal first half propelled WIS (15-0-2) and gave them energy in the second half, holding Wilson to just one goal.
WIS has struggled to get wins over other top teams, as their two draws came against GDS (5-5-2) and St. Albans (6-4-2), who play in much more competitive leagues. Wilson, the runner-up in last year's DCSAA tournament, is another powerful non-conference team. WIS lost to Wilson twice last year.
"Overall, this was a tremendous team performance," said assistant coach Tom Walsh.
Story continues below advertisement
WIS came out attacking early, after a goal by senior Nick Peabody energized the players and the crowd. Peabody scored in the box of a pass from Amr El-Said in the 23rd minute. Minutes later, Pablo Peltier cracked a ball from a tight angle past the Wilson goalkeeper giving WIS a 2-0 lead. Peltier's goal ended up being the winner for WIS.
In the 35th minute, sophomore Carl Renner scored a beautiful goal just outside of the box off a cross from fellow sophomore Gaebriel Tafara. WIS celebrated as Renner and his teammates bolted towards the bleachers. Renner stopped in front of the WIS fans and rose his arms to his sides while being embraced by his teammates, reminiscent of the famous scene in Titanic. WIS coaches have described Renner's attitude with "heart, hustle, and pure grit".
The second half was uneventful. Renner missed a wide-open net, which would have been his second goal of the game and given WIS a dominant 4-0 lead.
In the 77th minute, freshman Rauf Hurcan got a yellow card after shoving a Wilson player straight to the ground. Hurcan's foul gave Wilson a 20-yard free kick that led to a soaring header past WIS goalkeeper Ben Muenzer, giving Wilson their only goal of the game. Wilson fans jumped up in excitement while WIS students retaliated with "scoreboard" chants.
A few days after WIS's big win, the Washington Post described WIS as being "on the bubble" of making the rankings of top 10 teams in the D.C. area.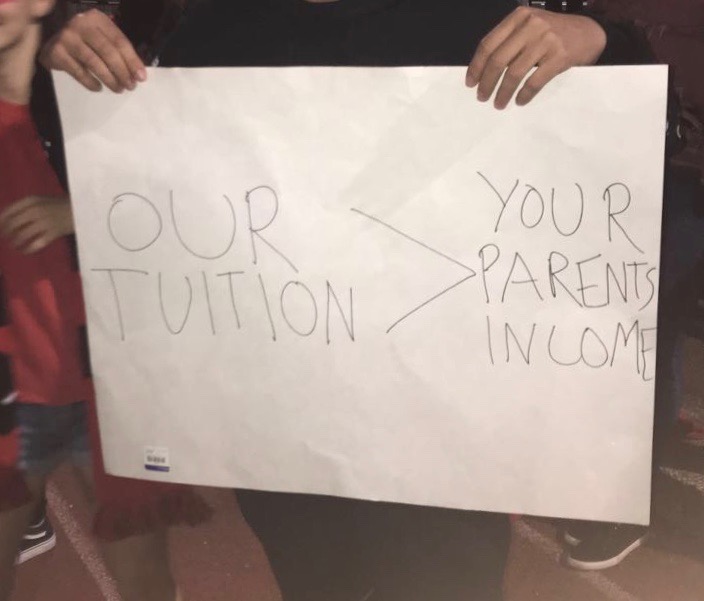 The significance of this year's Wilson game goes beyond what happened on the field. It was especially important given the infamous sign at last year's Wilson game. For those who don't remember, a WIS student held up an offensive sign at last year's game that read, "Our tuition > your parent's income". The sign outraged both the WIS and Wilson communities.
Many saw this game as a time for WIS to regain respect from Wilson and make up for their bad behavior. Dean of Students Beta Eaton was worried that the fans would get rowdy. "I don't want to wake up on Saturday morning in the same way I did last year," Eaton told students during the game.
The environment at the game ended up being friendly. There was barely light-hearted banter between the two student sections.
Boys varsity soccer's exciting win will give momentum to the team when they face Gonzaga, the reigning DCSAA champions, in a crucial match on Friday night.
Note: A video of the entire game is available online. The goals are at 53:41, 1:00:32, and 1:06:23.
Other sports news:
Girls varsity volleyball secured a tie for the PVAC regular season banner on Thursday with a 3-0 victory over Model.
Girls varsity soccer suffered a hard-fought 1-0 loss on Friday in a home game against Wilson.
Boys varsity soccer took a 3-2 win against PVAC rival Sandy Spring on Monday afternoon.
By Saul Pink