WIS was thrown into chaos after problems with the DNS server caused a shutdown of school emails and the WIS website.
On Friday, Sept. 14, WIS's domain name system (DNS) server abruptly shut down, crippling WIS's communication systems. Javid Majdi, Director of Information Systems at WIS, was in charge of restoring the WIS's DNS server.
"We had our email completely shut down. We didn't have email for a couple of days. Our website was not accessible and we had to find a backdoor for our website. So I think it was very significant but luckily we were able to recover from that disaster," Majdi explained.
Access to the website was restored fairly quickly, but restoring the email took longer. Beta Eaton, the Upper School Dean of Students, thinks the downed email system was particularly damaging to WIS students and faculty.
Story continues below advertisement
"Because our mode of communication has shifted to almost one hundred percent email, that communication lapse, we really noticed it," Eaton said.
Emails were restored by Tuesday, September 18, but not before the breakdown in communication caused difficulties for students and faculty alike. Otis Katz, a sophomore at WIS, described his struggle.
"One thing that happened is I had to send an email to my English teacher asking some questions because I was going to be missing that class and during that class we were supposed to go over essays that we wrote so I didn't get to have that extra peer-editing from it," said Katz.
The downed emails did not just affect students and teachers. David Markus, the Upper School principal, gave an account of his experiences during the email shutdown.
"It's been miserable.The deal is that we've become so dependent on certain things like email and internet," Markus said. He also noted that without emails, students who were late or absent could not communicate with Ms. Nomdedeu to give a reason for their lateness or absence. These students were marked absent unexcused or late unexcused. After 5 unexcused tardies or absences, the student in question receives a detention.
However, he also acknowledged the emotional benefits of the downed email servers.
"It's gotten me to walk around and talk to people more. Which I've actually enjoyed because I got to go and see people in person," Markus said. Despite these benefits, the breakdown in communication was harmful to productivity and organization at WIS, Markus said.
WIS officials point to DNS Park, a small DNS hosting company, as the culprit behind the server shutdown. The small firm maintained WIS's DNS server until it recently closed its doors without notifying any WIS officials, according to both the WIS administration and IT department. Ms. Eaton criticized this lack of transparency.
"What is the impact of a company that doesn't tell anyone that they're going out of business and shutting down immediately? That's a much larger issue than only what happened here at WIS. Like we're one relatively small community that did get affected but, you know, where's the responsibility there, the accountability," she said.
DNS Park was a small DNS provider situated in Arkansas. According to its now defunct website, DNS Park was founded in 2001 and was a company with only 3 employees. However, it's current digital footprint is small. Its Facebook account and Zendesk are inactive and its website can only be accessed using internet archiving tools like Wayback Machine. Only its Twitter is still active. However, it is likely some form of 'bot' as it simply displays a message of thanks for following the account. The most recent message thanks twitter user guillej77.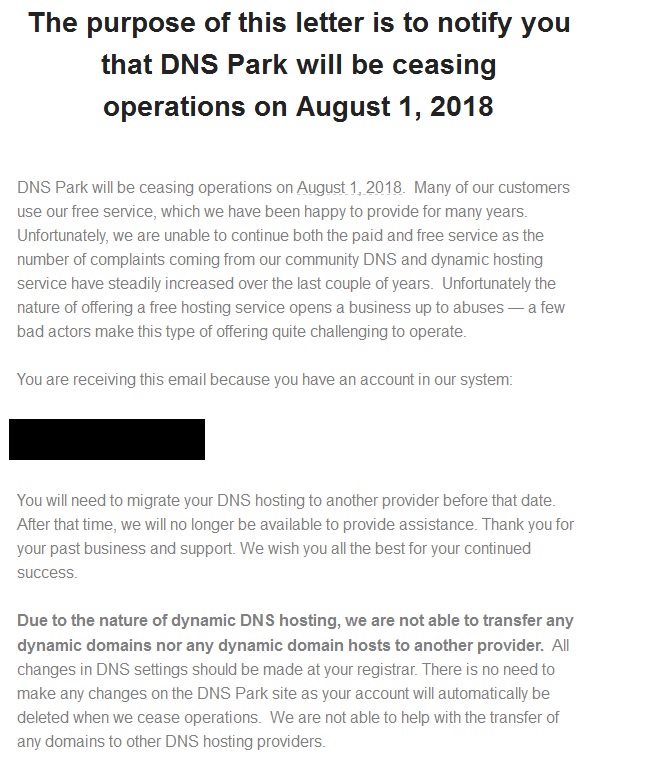 "guillej77 Thanks for following. I hope our DNS hosting services simplify your DNS management. – Steve"
On the popular internet media aggregator, Reddit, a former DNS Park client released a message they received from DNS Park.The message states that the company will shut down by August 1st, in part due to the strains on DNS Park caused by having to maintain its free DNS hosting service. It also advises the firm's clients what to do before the company's closing on August 1st.
"You will need to migrate your DNS hosting to another provider before that date," the letter says.
Mr. Majdi, however, disputed  the letter and its contents.
"It didn't shut down August 1st, obviously, because we had service and this message never went out to all the customers, because we were never informed that they were going out of business," Majdi argued.
In the aftermath of the DNS server crash, the WIS I.T. department has been working to prevent a similar event. Mr. Majdi is hopeful about WIS' new DNS provider: "GoDaddy"
Image sourced from: wpSMACKDOWN
"GoDaddy is the most popular. It is a very reliable service. Probably 80% of companies use GoDaddy right now. So we are pretty confident that this company is not going to go out of business," he explained.
Mr. Majdi also believes more general changes could help prevent similar incidents.
"Review all third-party vendors that we are using. Review them on either an annual or semi-annual basis. Just see the company profile, what they're doing, how they're performing," Majdi said.
Majdi believes such a system will help prevent WIS staff from being caught off-guard by the actions of third-party organizations affiliated with WIS. He believes that the financial information, company profile and performance reviews of the third-party vendors that WIS uses should be reviewed on a biannual or annual basis.
On Trustpilot, a website that focuses on reviewing online businesses, DNS Park has mostly 1-star reviews. The top review of the company gives some blunt advice for potential clients: "Do Not Use DNS Park"
By: Nicolas Greamo