Supreme. Stüssy. Thrasher. These are three major brands scaling the top of the immense streetwear and skateboarding fashion world. People across the globe sports clothes from these high-end namesakes, from celebrities like Kylie Jenner to the average person scraping together $40 for a simple T-shirt with a famous logo printed in tiny text across the front.
But how do these leading brands impact the realm of skating, besides being stamped on to the more fortunate of boarders? Brands like these dictate street culture.
These same brands are weaving skate fashion into the public fabric to open their market to greater numbers of consumers. "Supreme is the most popular brand for skateboarding, crossover, and mass culture," said Steve Rodriguez, local New York City skatepark designer and owner of 5boro Skateboards. In the last 20 years, Supreme released numerous collaborations with companies such as Nike, Fila, The North Face, and Louis Vuitton, all brands with different shoppers, followers, and styles.
"Brands are the innovators, the trendsetters and the trend killers," said Rodriguez. Starting out as small businesses and growing into so much more, the brands drift away from the skateboard scene and into the mainstream light with merchandise sold by common retailers.
Story continues below advertisement
Gabriel Asher, a 16-year-old from Washington, D.C. who does not skateboard wears Stüssy "because it's at Urban Outfitters, and it has cool designs." Urban Outfitters is a lifestyle fashion chain with eight stores in Manhattan alone.
Through social media, these brands have been blasted over common platforms and showcased by popular influencers and hip-hop culture, dragging skate culture even further into the public abyss, while influencing the new skate wear.
Some blame hip-hop culture as the cause of non-skateboarder interest in these brands. "A lot of them are prompted to wear skate brands because of publicity," said Michael, an employee of Bureau skate shop in Washington, D.C. over Facebook Messenger.
Overall, there seems to be a split in opinions concerning the newfound attention to their passion through clothing.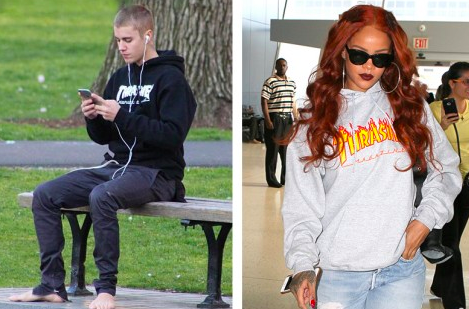 "It's cool people like skateboarding now," Michael said. "Some people hate seeing non-skaters wear skater clothes as fashion, but I personally love it. It means skateboarders are getting paid and the industry is doing well. It's a win-win in my eyes."
Fashion can also inspire a sense of community and purpose in skateboarders. "I think skate fashion is important because it's really used as a form of social signaling like 'this is the tribe I affiliate with that best expresses my view on skateboarding and the world more generally,'" Michael wrote.
Though branding has become ever popular, some are opposed to reaching out to stars for legitimacy. "We don't send boxes to Justin Bieber or Rihanna or those (expletive) clowns," said Jake Phelps, editor of Thrasher magazine in an interview with Teen Vogue. Justin Bieber and Rihanna, two of the many celebrities involved, have been spotted in public wearing Thrasher as fashion.
Despite the widespread publicity, the extent and importance (or lack thereof) of skate fashion seems to skip over the younger generations, many of whom have been boarding from a very young age.
At Golconda, a skatepark located under a bridge in downtown Brooklyn, filled with talented skaters of all ages, most do not seem to care about the clothes they wear or the brands they see printed across social media.
"Brands don't really matter to me personally," said Luca, a teenage skater dressed in a pale yellow tank top and faded blue jeans. "I use skating as a way to waste time…..I don't care about brand names."
Those who have grown up skating wear whatever they can, and whatever is comfortable. "At our dad's house we only have baggy clothes, which are actually kind of a fashion at skateparks and seem to be what people wear," said FB, an 11-year-old skater.
Besides a split opinion on the importance of fashion, the clothing can illustrate affluence; however, the imbalances don't always show through in the skate park.
"There's certainly a wealth disparity in streetwear culture no doubt, as there is throughout broader society," Michael said. "But it is not as big of a point of contention. Skateboarding is one of the most egalitarian communities of people I've ever seen."
By Julia Brownell
— Supreme is a unit of the Carlyle Group
— Stüssy's full corporate name is Stussy, Inc.
— Thrasher's full corporate name is Thrasher, Inc.
— Nike's full corporate name is Nike, Inc.
— Fila, Inc. is a unit of Fila Korea
— The North Face, Inc. is a unit of the VF Corporation
— Louis Vuitton is a unit of LVMH Moët Hennessy Louis Vuitton SE
— Urban Outfitters' full corporate name is Urban Outfitters, Inc.