Washington International School is, in some ways, just like any other school. The classrooms are always cold, the bells ring a tad too quickly, and rainy days mean soaked backpacks. But WIS is different from other schools in some major ways, the biggest one being Homecoming.
September, a month filled to the brim with scheduling issues, classes, tests, brings with it Homecoming, an American high school tradition dedicated to celebrating yet another school year. Centered around a sports game, Homecoming is preceded by a spirit week with different themes for each day. The Friday pep rally hypes everyone up for the big Homecoming game that evening, where food, company, and victory await. After the game, students can attend the Homecoming dance, the major social event of autumn.
If you're a high schooler at WIS, chances are you've attended at least one Homecoming by now. However, you may not have realized just how different Homecoming at WIS is compared to other schools.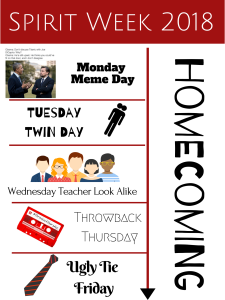 Story continues below advertisement
For one thing, Spirit Week at WIS is remarkably unique. Instead of cliched themes like Hawaiian, American, or Pajama Day, WIS spirit days offer remarkable opportunities for students to personalize outfits. For example, students could dress like their favorite teacher on Wednesday, or wear an ugly tie on Friday. Everyone can do something unique to stand out while blending in to the theme, a perfect harmony of individuality and team spirit.
Other schools maintain the same Spirit Week themes for years, offering little to no personalization. I've never seen a Spirit Week without a "Sports/ College Jersey's Day." But after a while, there's only so many Hawaiian shirts in your drawer. And while we all want Pajama Day back, there's no denying that WIS' Spirit Week with standout themes and startling ideas is like nowhere else.
In addition to the uniqueness of Spirit Week, WIS' Homecoming game is also very pretty special. Traditionally, the typical Homecoming week is centered around a American football match with a tailgate party preceding the game. Everyone is encouraged to pay a small fee, like $5, wear school colors, and watch as two teams shove each other to the ground to reach the end zone.
At WIS, though, there is no football team. Instead, there are a variety of sports to watch on Homecoming day. This year, on Friday, September 21, 2018, Junior Varsity Girls' Volleyball had a match at 3:30 P.M. against Sidwell, followed by a Volleyball Varsity game against Sidwell at 5:00 P.M.. Boys' Varsity Soccer played at 5:00 P.M. immediately after the Girls Varsity Soccer game against Field at 3:30 P.M., . Varsity Tennis played Oakcrest at 4:00 P.M. too. Students could watch any one of those sports, and get pumped up for all the victories that take place.
Compared to most other schools, WIS offers a diverse range of sports to watch on Homecoming Day. Instead of just watching boys play football which gets rather boring after a couple of years, students can choose to see boys or girls, soccer, volleyball, or tennis, or maybe even all of the games. WIS' Homecoming is definitely more well rounded and a lot more interesting than most other schools.
Finally, the Homecoming Dance at WIS is incredibly unique as well. For public schools, Homecoming is typically the only social event for freshmen and sophomores. Because of this, Homecoming is extremely formal and usually quite expensive, with tickets ranging from $20 to $30. Homecoming "promposals" are definitely a highlight to the week, as punny posters, beautiful flowers, and heartfelt messages make their way around. However, many girls feel left out if left unasked and the pressure leading up to the dance is extremely high.
At WIS, though, Homecoming is one of the few dances. It's a lot less formal, like with this year's "Decades" theme, and more light-hearted as well. Students could chose to wear a dress, but many chose to wear jeans and jackets instead. Tickets were only $10, or $15 at the door, a lot cheaper than most dances. Homecoming seems more like a fun, no pressure social outing than the uber-formal event it's made to be at other schools.
If you've been at WIS your whole life, you may have never realized just how different Homecoming is here. The variety of sports is definitely appealing, as is the chance to go to Homecoming just to relax with your friends as opposed to feeling pressured into acting formal and stinted. WIS' Homecoming 2018 was definitely one for the books.
By Sneha Parthasarathy