D.C. sports had their first major championship for over 20 years this past spring with the Washington Capitals taking home the Stanley Cup. But, unknown to many, there was a new championship contender in town this past summer. Washington's WNBA team, the Mystics, advanced to their league finals for the first time. They ended up falling to the Seattle Storm, but that doesn't diminish their impressive season.
The Mystics don't have a huge fanbase. Last year's average attendance for Washington's WNBA squad was 7,771. Their male counterparts, the Wizards, averaged close to 18,000 fans per game at Capital One Arena. Despite their low attendance, Mystics fans are extremely passionate.
Patrick Anders, a sophomore at WIS, went to his first Mystics game this summer. It was a semifinals game against the Atlanta Dream at George Washington University's Charles E. Smith Center.
"You almost can't hear yourself," Anders said of his experience. "The Mystics score and the whole place goes ballistic. Everyone is on their feet. "
Story continues below advertisement
The fans make up for the empty seats riddling the arena with noise, energy, and love for their team. But, there is a reason for the fans' passion. The team is simply fun to watch. They have incredible talent, young and old. From rookie standout Ariel Atkins to one of the WNBA's marquee players, Elena Delle Donne, Mystics basketball is entertaining basketball. Although there are no high-flying dunks, they play the game the right way.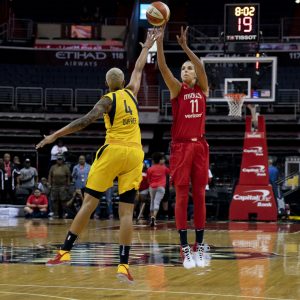 "I jumped on the [Mystics] bandwagon in the playoffs," said sophomore Anders Westermann. "The games were really fun to watch on TV. I bought tickets to Game 4 of the finals but we didn't make it that far."
For those of you who are not WNBA aficionados, the league's basketball is very different from the NBA. In this era, NBA basketball is a game of isolations and 3-pointers, with very little ball movement and team-playing. The WNBA is the opposite. Most WNBA teams rely on ball-movement and fast breaks to get open shots. This makes the game much more fluid.
This season is just the beginning for the Mystics, as their finals run seems to have come prematurely.
"We're still new," veteran Kristi Toliver said in an interview with the Washington Post.  "We're still getting to learn one another. We'll have another year next year, and we'll continue to get better and see if we can get back."
The Mystics' big three of Toliver, Atkins and Delle Donne are all in their first or second season with the Mystics. The Seattle Storm's star-studded core has been together for a much longer time. The Mystics' future is extremely bright.
The Mystics' big season teaches us about more than basketball. Watching hard-core fans of women's basketball go crazy in local arenas makes us realize that the "boring" WNBA is alive and well. The league has the potential to grow, and the Mystics will rally up a bigger fanbase next season thanks to this year's playoff run and their brand new arena that is opening this fall in Congress Heights.
So, if you're ever bored next summer, go to a Mystics game, and watch one of D.C.'s best teams put on a show. 
By Saul Pink