As urban regeneration happens in D.C., more and more young people move to places that only a few years ago were not considered to be a safe place to live. As a result of this development, many people, mainly homeless, do not have places to live when they are forced out. The homeless population then spreads into other areas, making the city as a whole more unsafe.
It is possible for D.C., to end up like other cities like San Francisco or Detroit, where these changes are currently happening. Homeless people in San Francisco, as a result of the destruction of the abandoned buildings the homeless live in, are spreading out into other areas of the city. According to the SFGate, "with gentrification and widespread construction downtown pushing homeless people into the neighborhoods, the count [of homeless people] in the core area fell" about 13 percent. It is expected that more cities follow in San Francisco's footsteps.
There are many problems posed when this movement starts happening, because there is a debate over whether it is better to construct new buildings around these neighborhoods and leave parts of the city that maybe aren't as safe and are more crime-filled alone, or if it is better to renew many parts of the city at once, and force the homeless population to spread out inside of it. Which would make it more safe for everybody else?
Of course there are parts of every city that are more unsafe than others, and generally
Story continues below advertisement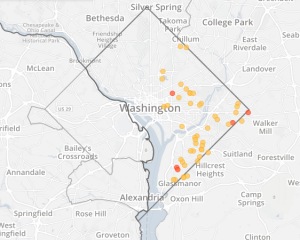 speaking, this area of D.C. is Southeast. Looking at statistics for homicide reports in the DC region in 2018 so far, it is clear to see that many more homicides have happened in the Southeast area than any other part of DC. Of the 58 total homicides in DC this year, two were in Southwest, six in Northwest, 17 in Northeast, and 33 in Southeast; about half of the total number of homicides in the entire area. In 2017, of the 116 total homicides, 48 were in Southeast, and 42 in Northeast (mostly around the Southeast border).
As far as where the majority of homeless people are, most are in Southeast, and along with this, many people are unemployed or have very low incomes in this area as well, according to statistics from Housing and Urban Development.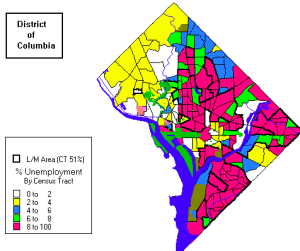 Reports from the United States Interagency Council on Homelessness (USICH) state that "the experience of homelessness involves police encounters, lockups, courts, or jail and prison cells as much as it does shelter beds," adding that some people are "caught in a revolving door between the streets or shelters and jails." It is estimated that one-fifth of people currently in jail are homeless. The USICH reports that the reason for this is that some homeless people look at jail as a way to escape the street, even if it is only for a short period of time. As a result of this, they are more willing to commit crimes to get into jail.
Some people believe that there will be benefits for the homeless people as a result of urban regeneration. One of the main arguments is that there will be more places for them to live because many people are pushing to have an increased number of shelters. The problem here is that major construction companies push not to have more shelters since there might be fewer people willing to live in buildings and homes next door.
Based on these crimes, unemployment, and homelessness rates, in general, everything is crowded onto one side of D.C. So, with recent construction like The Wharf, and new higher-end real estate projects like "Agora", "West Half", and "1250", all in the Southeast quadrant, the older, more run-down places now buzz with young people – leaving less room for its former homeless residents, and making the rest of DC more unsafe.
By Ava Dwyer