Yara Mowafy, a representative from the Syrian American Medical Society (SAMS) was at the Global Issues Network Conference, presenting about her work on running projects in the refugee crisis outside of Syria.
The Global Issues Network (GIN) Conference, is a conference where anyone can discuss what they are truly passionate about and influence others to what they want to do with their life, and Mowafy is no different. "When you are working on disaster relief, of course your goal is to end the disaster. I guess the goal was to have a peaceful end in the crisis in Syria. In addition, I guess working on restructuring," Mowafy discusses "…redeveloping Syrian healthcare system, healthcare facilities, retraining of staff, and again, the infrastructure."
Mowafy, a medical missions officer, runs all the projects outside of Syria, become interested in the Syrian refugee crisis after she got her Masters Degree in humanitarian assistance. "Since the war started in 2011 and I became interested in Arab Spring and how the revolutions of the region transformed into democratic transitions or war. And there was humanitarian crisis with 5.5 million refugees seeking to go into another country and it just connected to me," Mowafy said.
The Syrian American Medical Society started in 1998, founded by the society members. When the conflict in Syria began in 2011, SAMS expanded its capacity significantly by adding the Foundation to meet the growing needs and challenges of the medical crisis. SAMS has since supported healthcare throughout Syria, sponsoring field hospitals and ambulances, training and paying the salaries of Syrian medical personnel who are risking their lives to save others, and sending lifesaving humanitarian aid and medical equipment to where it is needed most. SAMS also supports Syrian refugees in neighboring countries with critical psychosocial support, medical and dental care, and art therapy programs.
Story continues below advertisement
 To support the foundation, SAMS is in need of premedical students, medical students or even Arabic speakers. According Mowafy, SAMS would appreciate if people would also raise awareness in social media or donate to their campaigns.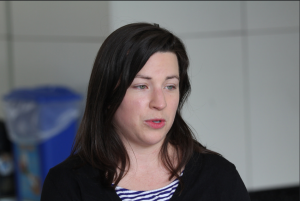 Courtney Mallory, the membership and events coordinator at SAMS, became interested in SAMS due to her studies on the Syrian refugee crisis.  She remembered, "it was a way for me to implement my experience and be able to support SAMS. It's a great cause that they do by helping Syrians in Syria and refugee camps. Well I have a had a hard heart for non-profits and combine my passion for non-profit work and experience with the events."
Both support the GIN conference purpose in educating students about different paths people took. They say that "It is really interesting seeing you guys take a part in it because its experiences like that which can help you decide what career or what your focus wants to be."
Mowafy, in particular, was glad that this conference raised awareness about issues outside of their area. She claimed that GIN  "…is knowledge based, by having a platform to learn about what is going on outside of their communities, outside of their classrooms, outside their cities and states. Going that extra mile and learning how the global world works and what doesn't work and how can they contribute to that."
SAMS is trying to expand globally. Currently, they have 27 chapters all throughout the U.S. and are being mentioned in the media. They also want to expand their foundation to other countries, such as Germany and Belgium.
If you would like more information about SAMS go to https://www.SAMS-usa.net
By Daria Undeland
This story has been updated to reflect some changes. We previously misidentified Ms. Mallory. We also added additional information about SAMS.