Featured Image courtesy of Anna Faustino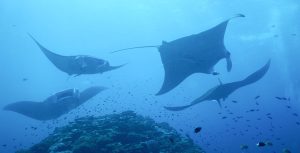 As a keen scuba diver, I've been able to scuba dive all over the world and it's an unforgettable experience. Most people, especially those not living on the coast or in a tropical climate often don't even think about Scuba diving but really it's something that everyone, if possible should get into as compared to other exploration trips it's not incredibly expensive. Nowadays there are dive sites in quarries and all over Europe, with even the possibility of diving in a 130 ft pool in Germany being an option. All of these locations have different sites, with quarries being purposely filled with wrecks of buses and cars, to make for an interesting dive where there isn't any natural fauna. For an interesting summer job with scuba diving, you can dive at most national aquariums where you feed the fish and wash the tank. So why wouldn't you want to learn to scuba dive when there are so many possibilities out there for an adventure?!
Explore a world that many people don't see
Most people have seen pictures of the ocean, while many have been to a beach and have seen the surface. But what lies underneath the waves, covering 71% of the earth's surface, is a magical world that must be appreciated with your own eyes. Not only can you see the vibrant wildlife and the gorgeous coral reefs, but the sea is also home to wrecks and lost treasures of the sea, like leftover pottery from the Roman era. While traveling I met a man who recovered 1000s of vintage coke bottles from a sunken US submarine, discovered while scuba diving in Asia. Those coke bottles were all sold, making him a millionaire! Although his story is rare, it goes to show that you never know what you might find on a scuba dive. Sometimes you'll even interact with creatures under the water, such was my experience with a friendly reef shark in Cayman and a turtle in Raja Ampat.
Story continues below advertisement
Night Dive in Kona, Hawaii. Courtesy of Aryssyra
Experience Ultimate Tranquillity
Although when scuba diving you manage your weight with a weight belt and buoyancy jacket, once you're down and are just swimming around there is a wonderful feeling of weightlessness, that is relaxing for all your muscles and joints. Also being down there is a sense of peacefulness as you can escape from everyday technology and zen out, while you focus on steady breathing and the sights around you.  You will also learn all about staying calm in any situation, whether your regulator (breathing tube) falls out of your mouth or water fills your goggles which is helpful in real life. You also learn to chill out as diving figuratively and literally teaches you to go with the flow and prioritize for the best experience, as well as showing proving that things that seem scary like breathing underwater, can be done.
You can help out local wildlife
Most scuba lodges are eco-friendly resorts, where part of the money paid to towards conservation of the local area. In Cayman, the local dive shops and groups have banded together to protest the removal of mangrove trees, so money paid to these dive shops helps conservation efforts. Additionally, if you like hunting confident scuba divers are often enlisted to hunt foreign species that are detrimental to the local area. An example being lionfish in the Cayman Islands who are detrimental to the local environment as are non-native and have no predators so can wipe out the local species. Also because you're seeing the ocean up close, it makes you incredibly environmentally aware, which can only help motivate people towards conservation.
Improve your equalization skills for flights and mountain drives
This means that when you get to high altitudes you will be less affected by changes in pressure, making you more comfortable as you learn techniques to equalize pressure. Something which definitely makes traveling to your next dive site location that much easier.
Master non-verbal communication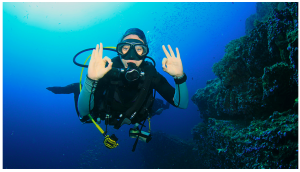 When you scuba dive you can't communicate verbally which means you have to learn the scuba divers' sign language, meaning that you really have to decide what words are important to say and which aren't. It also comes in handy when you want to signal something to someone without others knowing. This also helps you to work with everyone because your dive community is always a strong one.
Visit amazing dive resorts
Wherever you go, although dive resorts are not five-star hotels they are absolutely wonderful for another reason. Most get you in touch with nature and the local culture, where you get to live a simpler life that is both aesthetically pleasing as well as relaxing and enriching. Often the dive resorts have communal dinners together where you get meet the most amazing people from numerous different backgrounds, which is a brilliant part of the holiday experience. Some island that most people don't even know about can be discovered through searching up dive resorts, so being a diver really opens up access to unknown places all around the world.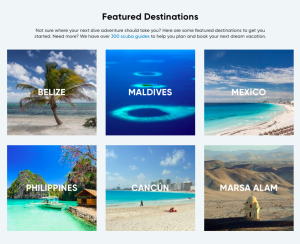 Explore more across the world: https://travel.padi.com/destinations/
There are so many reasons to scuba dive, not limited at all to the above 6. Learning to scuba dive won't only provide you with an amazing experience, but it is a wonderful way to meet new people, become more environmentally aware, improve skills that will help you in outside life and help you to chill out. So why not? It's an affordable global experience that's becoming easier than ever to do! Search up PADI, which is one of the most well-known dive companies, with many dive shops all around the world. They make it easy to move your way up through the ranks and dive all over the world, permanently tempting you with pictures from beautiful sites. There's so much information out there, so do your research and get diving!