The deadliest garment-factory accident in history occurred four years ago in Dhaka, Bangladesh, after an eight-story building collapse killed over 1,100 people. Many organizations and companies immediately tackled the issue, and today, Bangladesh's worker safety has improved, according to worker safety activists. However, other organizations emphasize the need for more reforms.
On April 24, 2013, the now infamous commercial building, Rana Plaza, was holding around 3,000 people before falling to the ground. It collapsed at about 8:55 a.m., during morning rush hour, and is now known as the most lethal accidental structural failure in modern human history. The search for bodies went on for 19 days afterwards, with around 2,500 injured people being rescued alive from under the debris. The death toll amounted to 1,134 lives lost.
Reshma Begum, an ex-seamstress who worked on the third floor of the building, was the last person rescued alive from the rubble, 17 days after the accident. "I didn't have anything to eat. I only had two bottles of water with me," she told reporters the day she was rescued. "I used a stick to show them there was someone alive down there."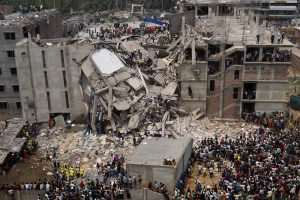 After the horrific accident, the Bangladesh government, factory owners, and international buyers got together to figure out how to improve worker safety. As a part of this, two major organizations started up in Bangladesh in order to protect future garment workers from situations like these. The Alliance for Bangladesh Worker Safety and the Accord on Fire and Building Safety in Bangladesh are organizations that aim to rid Bangladesh of factories that aren't up to par with the standard of safety required. They do this by making big companies in Europe and North America pledge that they will not import garments from factories that aren't worker friendly. This gives garment factories in Bangladesh more incentive to pass the Alliance and Accord safety tests.
Story continues below advertisement
The Alliance website elaborates more on how the safety tests work; "These assessments, conducted by independent Qualified Assessment Firms (QAFs), provide factory owners with a technical understanding of the fire safety and structural concerns related to their facilities, and prompt action plans that aim to systematically and sustainably improve safety conditions for garment workers."
The Alliance and Accord organizations have helped owners make quite a bit of progress, as according to their respective websites, they have remediated 700 factories in total. "4 years after Rana Plaza, the Accord has made significant progress in achieving its goal of a working environment in which no worker needs to fear fires, building collapses, or other accidents that could be prevented with reasonable health and safety measures," states the Accord website. "Remediation is close to completion at more than 400 Accord factories which have completed more than 90% of the remediation."
However, there is still progress that needs to be made, according to an NPR report. "The organizations in charge of these initiatives released statements this month indicating they had made progress, but there was still more work to be done," the report said.
Bangladesh is the second largest garments exporting country in the world, next to China. One of the reasons the workers in Rana Plaza were ordered to go back the next day was because of the tight, fast-fashion deadlines they needed to meet for buyers overseas. Most cheap clothing stores before Rana Plaza didn't have much interest in how their clothes were being produced if it was happening in a fast and cheap way, putting more pressure on factory workers.
As an owner of many garment factories, which have won international awards for worker safety, Mohammed bin Quasem elaborates on how he makes sure his garments workers are treated well, so that they are able to perform as best as possible. "In our factories, we provide at our own cost daily meals, medical services, educational scholarships, skills training, financial management services and training on personal health and safety," he said.
After the accident, however, buyers behaved very differently when doing business with factories in Bangladesh. Adrian Rodriguez, a manager at one of Dhaka's local garments factories, explains that consumers now send teams to check in on the factories they are doing business with, making sure they are safe and worker-friendly. "As much as consumers love a bargain, they don't want blood on their hands," he said.
Along with this, many leading brands have signed a new transparency pledge, ensuring that buyers, activists, and the general public will be able to access the sources from where their clothing is from at any time. This is another big step for endangered workers, as these companies will pinpoint the factories from which their goods come from, making it necessary for them to check the safety of the factory first.
Thankfully, the effort to improve Bangladesh's garments industry safety has worked overall. Labor organizer Kalpona Akter supports this statement with statistics. She said, "To give you an example, up to 2013, every year, [on] average, 200 workers would die. [In] 2016 … it was zero."
By Inaya Zaman