In the USA, downing a glass of champagne at midnight is traditional to welcome in the New Year. Around the world, the customs are vastly different, and much more interesting, as people celebrate with traditional foods and quirky conventions that are believed to usher in prosperity, longevity, and good luck in the year to come – things we'd definitely appreciate for 2018!
1.) Spain*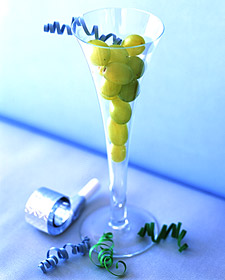 Story continues below advertisement
When midnight comes, along with the dawn of New Years day, people will quickly scarf down twelve grapes, one for every chime of the clock, each representing a wish. Sweet grapes are said to represent good months, which sour grapes are said to represent bad months.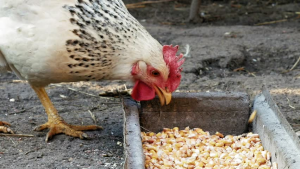 In Belarus, single women play a game to try to determine who will get married first in the New Year. The women sit in a circle, and a pile of corn is set in front of each one. They then set a rooster in the center of the circle, and depending on who's pile of corn the rooster will go to, that women will get married first.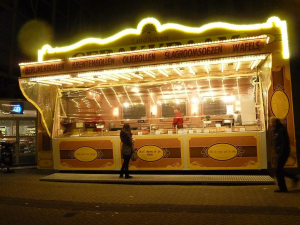 Around New Years, little street carts (Oliebollenkraam) will pop up selling Oliebollen (translates to oily balls). They're similar to donut holes: circles of dough fried up, sometimes full of dried currants and raisins, and dusted in powdered sugar. Shoppers passing by can buy a little packet to fight off the cold. They are connected to an old legend about the Perchta, a Pagan goddess. The only people who could survive her wrath and avoid being cut open by her sword were those who ate the greasy donuts; her sword would slide right off their stomachs.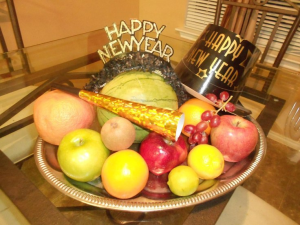 In the Philippines, a New Year's Eve table will be decorated with round fruit (grapefruit, oranges, etc.), representing coins, in hopes of prosperity in the New Year. A bowl might be set out containing twelve round fruits, one for each month. Some families will eat round fruit at midnight as well, similarly to Spain. It's traditional to dress in polka dots for good luck as well.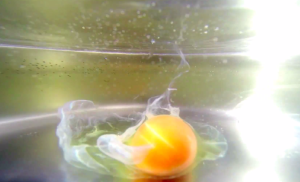 In El Salvador, cracking an egg into a cup of water is a tradition. This is done a minute before midnight. When the clock strikes twelve, everyone tries to decipher what shape the yolk resembles, which will represent the things to come in the New Year.
6.) Austria and Parts of Germany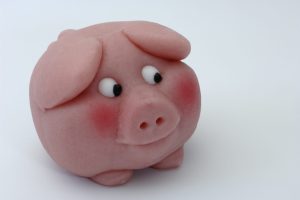 Pigs represent progress and prosperity – the New Years Eve table in Austria duly reflects this belief. It is traditional to roast a whole suckling pig for the main course, nd decorate the tables with little marzipan pigs (marzipanschwein). Around New Years, bakeries in Vienna will churn out dozens of pig shaped pastries, and good luck pigs (Glücksschwein) are often given as gifts in both Austria and Germany.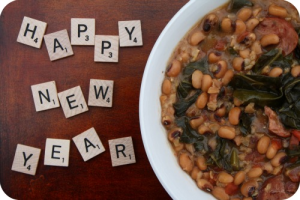 In the South, it's traditional to eat a meal called Hoppin' John, which consists of peas or black-eyed peas flavored with pork (circular shape symbolizing coins), rice, cooked greens (usually collard green with green representing money) and cornbread (yellow so it symbolizes gold). There are many different tales explaining the roots of the dish, which has evolved over many years. Most of the time it is traced back to African andWest Indian traditions, and therefore is believed to be brought over through slavery.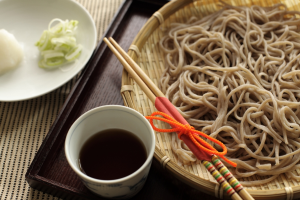 Soba noodles (toshikoshi soba) are eaten just before midnight in Japan. The long, thin buckwheat noodles have symbolized prosperity and longevity since the 17th century. Cutting the noodles is tabo with a shorter noodle means a shorter life, so people slurp down the "year-crossing-noodles" whole.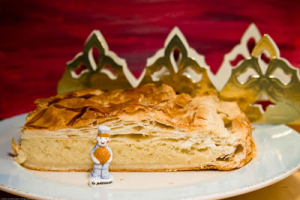 New Years is often celebrated with a big, traditional meal, consisting of French staples such as goose, oysters, foie gras, and champagne, along with other traditional courses. For dessert, people may eat the classic galette des rois, a buttery puff pastry cake which comes with a crown and a little trinket, such as a coin, baked into it. Whoever gets the slice with the coin gets to wear the crown, and is "king" for the night.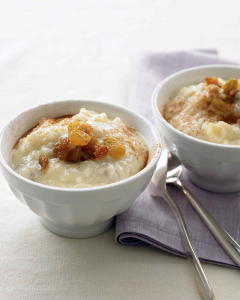 The New Years tradition in Sweden is rice pudding, sprinkled with cinnamon and full of dried currants or raisins. There is a single almond hidden in the pudding and, similarly to the French Galette des Rois, whoever gets the almond is thought to receive twelve months of good luck and prosperity in the New Year.
*All credit for the images goes to the websites linked in the name of each country
Sources:
http://www.cnn.com/travel/article/new-years-food-traditions/index.html
https://www.thedailymeal.com/travel/20-new-year-s-food-and-drink-traditions-around-world-slideshow/slide-1
http://www.thisisinsider.com/new-years-eve-dinner-around-the-world-2016-12