Every year around the beginning of December, the very well-known American news magazine, Time, choses their "Person of the Year" (POY). According to Time, the POY is "a person, a group, an idea, or an object that for better or for worse…has done the most to influence the events of the year".
Over the past years, some memorable and sometimes controversial POY's have included: Donald Trump (2016), "You" (2006) and Bill Clinton (1992). This year, like almost every year, there were rumors on who would get the acclaimed title of Person of the Year. This year, the nominees were: Amazon CEO Jeff Bezos, "The Dreamers", Wonder Woman director Patty Jenkins and Quarterback Colin Kaepernick.
On Wednesday, December 6th, Time revealed their 2017 Person of the Year: "The Silence Breakers".
Story continues below advertisement
"The Silence Breakers" refers to the women who, in 2017, stood up against men who have sexual assaulted or harassed them. The cover has 5 women on it including: actress and activist Ashley Judd, engineer Susan Fowler, lobbyist Adama Iwu, pop-star Taylor Swift, Isabel Pascual, a strawberry picker who chose to use a pseudonym to protect her family, and the anonymous woman's arm in the right corner to represent everyone who is also part of the movement. Some of the women not included on the cover, but included in the article of the magazine, consist of actress Rose McGowan, activist Tarana Burke, journalist Megyn Kelly, and housekeeper Juana Melara.
All of these women have played and still play a big role in the movement to encourage other woman to come forward with their past experiences of assault, and to reassure others, who may not feel as comfortable sharing, that they are not alone.
Below is a brief description of the women on the cover of the Time magazine and their involvement in the "Silence Breaker" movement.
Ashley Judd
In 1997, at 29 years old, Ashley Judd says she was sexually harassed by Hollywood director Harvey Weinstein. Although Weinstein denied the accusations, Judd still explains the effects of the incident and empowers women who have been in similar situations. In the interview with Time for the POY publication, Judd said: " There wasn't a place for us to report these experiences…We need to formalize the whisper network. It's an ingenious way that we've tried to keep ourselves safe. All those voices can be amplified. That's my advice to women. That and if something feels wrong, it is wrong—and it's wrong by my definition and not necessarily someone else's."
Susan Fowler
In late 2015, Susan Fowler landed her dream job as an engineer at Uber. Two years later in February, Fowler published a blog about her traumatizing experience at Uber and unveiled some information regarding an incident of sexual assault with her boss. This blog post was very influential in the fall of Uber's symbol of innovation and instead shifted into a symbol of that is wrong in the tech world. When speaking with the Financial Times, Fowler said: "Women have been speaking up for many, many years, but were very rarely believed, and there were almost never any real consequences for offenders.This year [2017], that completely changed."
Adama Iwu
After experiencing harassment at a work event, Adama Iwu, a lobbyist, activist and head of government relations on the West Coast was shocked at the lack of response that she received by her community, especially those who witnessed the assault. She decided to take action against the men who continually commit the acts of assault without seeing the harm to the victims. Iwu was widely recognized when she organized more than 147 women to bring light to sexual harassment in the California government. Here's an excerpt from her open letter published in the LA times: "Why didn't we speak up? Sometimes out of fear. Sometimes out of shame. Often these men hold our professional fates in their hands. They are bosses, gatekeepers, and contacts. Our relationships with them are crucial to our personal success."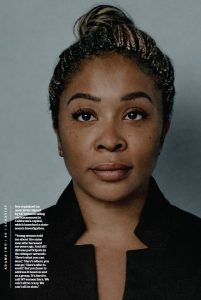 Taylor Swift
In 2015, Taylor Swift, famous singer-songwriter, reported that at a concert meet and greet in 2013, Colorado DJ David Mueller reached under her skirt and groped her. Two days after Swift's confession, Mueller was fired from the radio station where he worked and sued Swift for falsely accusing him which made him lose his job. Swift then countersued for a symbolic $1, and won this past August. In the interview with Time, Swift concluded with: "To this day he [Mueller] has not paid me that dollar, and I think that act of defiance is symbolic in itself."
Isabel Pascual (pseudonym)
Originally from Mexico, Isabel Pascual works as a strawberry picker. To Time, she described the situation with her harasser and how he started to stalk her at home. The ordeal left her feeling powerless and alone especially since her abuser warned her that if she said anything, he would come after her and her family. Due to the threats, Pascual and her family remained silent.
The symbolic elbow
The elbow on the bottom right of the cover represents the women who are not able to share their story of abuse due to fear for their safety, job or family. The elbow also represents the many women who are still enduring the acts of abuse everyday that are going unnoticed. Time's national correspondent Charlotte Alter spoke with BuzzFeed and explained that the inclusion of the elbow was very intentional and is "a reflection of the thousands of women who feel they can't reveal their identities for fear of professional or personal ignominy."
By: Holden Davitian