As we reach college football bowl season, we see thousands of passionate fans pack stadiums to witness young men take the field and hope their months of constant hard work pay off. These players play every week on national television and stand on the sidelines next coaches with multi-million dollar contracts. All this publicity and money makes it clear that college football is a billion dollar business.
In 2015, 231 NCAA Division I schools made a combined revenue of $9.15 billion off of their athletic programs. Texas A&M and the University of Texas each made over $180 million off of student athletes. College football powerhouse, the University of Alabama, makes over $80 million per year from football and their legendary coach, Nick Saban, gets $11 million of those dollars. The athletes at these big-time Division I schools devote their bodies and their time to the teams, yet they do not get a nickel of the money the school makes. This raises the question: should college athletes get paid?
Sure, the schools make tons of money off of the athletes, and the players pour their heart and soul into the team. Maybe it isn't fair to some of the players that they do not have a salary. But, let's not forget why we love college sports, let's not forget what makes college football so much fun. It's the passion of the players.
When these players take the field, they play with pride. They want to win to make their school proud, to make their family proud, to make themselves proud. The athletes play with fire, and they live in and for the moment. When star Louisville quarterback, Lamar Jackson throws a pass, he's not thinking about million dollar signing bonuses or contract extensions. He's thinking about winning the game for his own good.
Story continues below advertisement
When watching an NFL game, you're not gonna see all the crazy things you see NCAA fans do. You don't see the hilarious signs that we all love, you won't see students screaming their school's fight song after a win, or even a loss. So, for the passionate fans of college football, players getting paid would take a lot of the fun away from the game.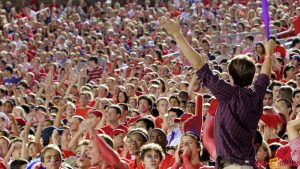 Another thing to take into account is the NFL. The popularity of the NFL is declining due to its corruption, and it's strong focus on money. People still love the NFL, but not as much due to all the evidence of concussions and the whole Colin Kaepernick controversy. This is why I only watch college football. 
Paying the student athletes would also have a negative impact on the athletes' college football experience. Most college football athletes choose what school they want to go to based on where they feel is the best fit and where they can develop the most in order to succeed in the NFL. If the NCAA were to start offering to pay these players, they would make their decisions purely based on what school would pay them the most. We need to remember that these are 18-year-old kids, not responsible adults. These athletes are going to choose the wrong school but stick with it just for the money, and that will come back to haunt them.
What makes college sports awesome is the passion of the players, and if the NCAA were to begin paying these players, the passion would disappear, and college football would just become another boring professional sport. 
By Saul Pink