Think Thanksgiving. Think Dessert. What's the next thing that pops into your head? Pumpkin Pie. Every year, your family gathers around the table to share a meal and say thanks. By the time dessert comes around, most of the adults are on their third glass of wine and the awkward "How's school?" and "You've gotten so tall" comments are over and done with.
But really, it doesn't matter what the conversation is. Even if that one uncle is ranting about politics or that one aunt  is subtly judging everyone, when the creamy, flaky, spicy pumpkin pie comes to the table, a few minutes of peace and blissful sweetness can be found.
However, the spectacle that is pumpkin pie shouldn't just be reserved for Thanksgiving. This festive pie is meant to be enjoyed throughout all of the holidays. Making a pumpkin pie when you're in the mood is possible, but a lot of work. It just so happens that when fall and winter come around, bakeries start whipping up pumpkin pie.
Of course, if you want to indulge, you should only go for the best. With so many options throughout D.C., it can be hard to decide which one to try. That's where we come in. We've selflessly committed ourselves to finding the best pumpkin pie for you. We rated each slice in five different categories: crust to filling ratio, pumpkin to spice ratio, crust, presentation, and ambiance. After trekking through the city all day and entering serious sugar comas, we found the unofficial best place to eat pumpkin pie.
Story continues below advertisement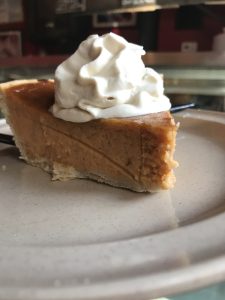 First Stop: Dangerously Delicious Pies
Crust to Filling Ratio: 6
Pumpkin to Spice Ratio: 8
Crust: 7
Presentation: 6
Ambiance: 10
Overall: 37
This bakery was actually proclaimed to have one of the best pumpkin pies in America by Food and Wine Magazine. Naturally we had to try it out. The store has three locations in D.C., one in Chinatown, one near the National Mall, and one in Union Market, so it's easy to access wherever you're located.
Walking into the store, the first thing I noticed was how dark it was. There were no big lights inside, just a string christmas tree lights wrapped near a pole by the cash register. However, the big windows in the front provided enough light for the atmosphere to be cozy rather than creepy.
The only thing sold in this bakery is pies, both sweet and savory, so we knew we were in a very specialized place. If a pie store can't make good pie, how would it stay open? Quiet blues music played in the background, and the bright red walls and chalkboard brought around a sense of warmth.
The cashier was really nice. Despite it being really crowded, he still set up a couple chairs for us. He was friendly without being annoying or prying, which I always appreciate.
But let's move on to the pie. It came on a ceramic plate with a dollop of whipped cream. It was a beautiful amber color, because the store actually roasts the pumpkins for hours before making the filling. On first bite, the flavor was overwhelmingly creamy.
The pumpkin flavor was there, but so was the spice. The crust had a good flavor, buttery and smooth, but maybe not as crispy as we would have liked it. More of the crust would have been appreciated, because there was a lot of heavy filling. The whipped cream was light and fluffy, but a little too sweet, and I doubt it was home made.
Overall, the pie was very good, with a great pumpkin flavor, but very heavy and filling. If you're looking for a more fluffy, flaky pie, this is not it. If you're looking for a hearty, warming pie in a great atmosphere, go for it.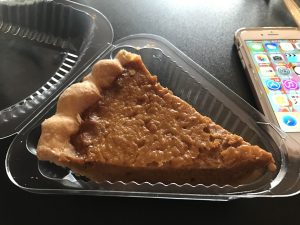 Second Stop: Baked and Wired
Crust to Filling Ratio: 7
Pumpkin to Spice Ratio: 10
Crust: 7
Presentation: 6
Ambiance: 9
Overall: 39
Secondly, I visited a bakery that is probably familiar to everyone, Baked and Wired. Located in Georgetown, this bakery is only a 5 minute walk from the waterfront. This bakery is different from the others, because it sells more than just pies.
The first thing to notice about this store is the long line out the door, which means that you might have to put a little more effort in to try this pie over the others. The outside of the bakery was inviting and stylish, with plants and quotes on the glass window. I waited in line for 10 impatient minutes.
The second  thing I noticed was how packed the store is. People from all over were flooding into the bakery to get their afternoon coffee and a delicious, sugary treat to go along with it. Over the years I've learned that you should eat where there are crowds. People are drawn to good food, so if you see a hoard of people in a restaurant it is probably a good sign. There was barely any room to sit down, so I decided to get our pie to go.
The pie itself was amazing. They advertised their pumpkin pie as, "A traditional favorite of creamy pumpkin puree in a baked pie shell. Not just for Thanksgiving." , and that is exactly what it tasted like. Pumpkin pie is good year round; enjoying the creamy, spicey pumpkin with a flakey crust is universal. It definitely had the best pumpkin to spice ratio, having a perfect balance of flavor, and the crust was more of a soft cookie than crunchy.
Third Stop: Pie Sisters
Crust to Filling Ratio: 8
Pumpkin to Spice Ratio: 6
Crust: 10
Presentation: 8
Ambiance: 8
Overall: 40
Last, but not least, I walked down to Pie Sisters, a ten minute walk from Baked and Wired. If you've never been to this quaint little pie store, it's definitely worth a visit. Not only is their pumpkin pie amazing, but they have these cute little cupcake pies in so many flavors that it will blow your mind. Opened by three sisters in 2010, it's both a local and family run bakery.
Located at the far end of Georgetown, near the GU campus, the store is small and narrow, with high top tables in the front and the display case and cashier in the back. The whole bakery had a very homey feel to it, and I could see myself spending a peaceful afternoon there eating pie, sipping some tea or coffee, and getting a lot of work done. The first thing you will notice when you walk in is the delicious pies in the display case straight ahead of you.
Known for their small cupcake like pies, I had to try one as well as a normal sized slice of pumpkin pie. They did not offer a mini pumpkin pie so we had a lemonberry one instead. The lemon berry pie was amazing, but their pumpkin pie was, to put it simply, fantastic. This bakery has the best pie crust out of the three places. The crust was nice and flakey but still had the perfect crunch. It was neither soggy nor moist, and I probably enjoyed the crust of the pumpkin pie more than the filling.
I loved the flavor of the filling which was also the best out of the three places by far. It had a lot more spice than the others, and a very subtle pumpkin flavor, which is what I personally prefer in Pumpkin Pie.
So in short, this article should have informed you of two things. The first one is that I can't really predict which pumpkin pie you will like the most. Although I liked Pie Sisters the most overall, I hope that the descriptions of the pies help you decide which one you would like the best. The second is that if the pumpkin pie in DC is good enough for us to write an entire article about it, you should go have a slice ASAP.
By: Marta Maliszewska and Lucy Porter