Despite having the majority of their players injured, the Girls Varsity Soccer Team rose above expectations, stayed full of spirit, and achieved a record only slightly lower than last year.
According to both the team and their coach, there has never been a previous case of this many incapacitated players. The team is missing many upper class and a few lower class members, as well as their senior captain, Val Deshler mostly due to foot and ankle injuries. For some players, the damage is long-term.
However, coach Colin Buck keeps a positive attitude. Between last season and the present, Buck states there is no dramatic decrease in performance statistically, "Last year we won all league games and tied one, this year we lost one game and won the rest" he said, pleasantly surprised.
Story continues below advertisement
Still, trying to maintain their record takes a toll on the team. Some games have consisted of only 11 players on the field and on the occasions that coach Buck has to pull someone out of the game, the number has even gone down to 10.
Those in the WIS community, who often watch the team play from the bleachers can see the team's change and struggles. Peter Laursen, a sophomore who watches many of the matches said "they're a good team with a good coach, unfortunately they've just been plagued by injuries this season". Laursen plays soccer in a league outside of WIS, and has had his own fair share of injuries.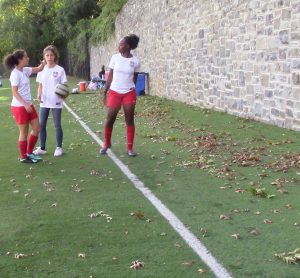 It is very tiring for the remaining players. Julia Brownell, a tenth grade team member said, "It has been a rough season when playing with a half-broken team". The problem really tests the team's strength and endurance. The entire team makes an effort to prevent future injuries in hopes that this situation will not repeat itself.
Whether these injuries were just a stroke of misfortune or lack of preparation before a game, the team has become more safety conscious, while still giving it their all. In being more cautious, sophomore, Torin O'Brien said coach Buck "has put extra emphasis against over exertion, especially during non-league games, which don't affect our position in the finals".
O'Brien thinks that there was no particular reason for all these injuries but more a culmination of unfortunate events. She also says that a couple of her teammates, including Mia Gemayel and Angela Caloia became injured in other leagues outside of school, which gives WIS even less control over the situation.
Captain Deshler thinks the lack of training combined with pushing the body's limits for 80 minutes, caused many of the injuries. In addition, she said "We share a field with so many other teams that we don't get time to practice strength training and techniques that prevent players from getting injured".
The injuries can also impact the teammates relationship with their coach. "I think our coach, Mr. Buck, is disappointed in our performance, compared to our previous wins, but understands the situation and doesn't expect too much of us" O'Brien said. However according to a 9th grader who would like to remain anonymous, Buck has "fits of rage" which include lots of shouting.
Other team members also feel the relationship with their captain is strained. With two torn ligaments, Deshler feels frustrated only being able to give verbal advice from the bench, which she says, isn't the same in sports as physical presence.
However, because she now sits next to Mr. Buck on the bench during games, she feels closer to him. She knows more about what goes on in his head during a match, what he's thinking when he does substitutions and gives players advice, but she feels terrible that "he doesn't have a captain he trusts out there on the field doing the hands-on stuff for him" she said.
Coach Buck agrees that the tough situation, in some ways, has changed his relationship with his team, having to assume a more encouraging role for many of the injured players who could be feeling demoralized. In his efforts to spur them on, he says, " I have to keep checking people's well being, including asking how they are everyday".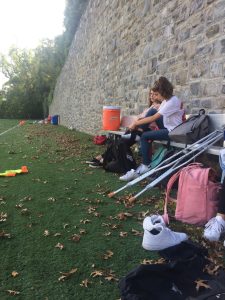 The team, undeterred, continues to thrive. "Our morale is still pretty high and we have put in a good amount of effort, considering the circumstances" O'Brien said. The players persevered through tough times with their chin up. Their coach states for both non injured and injured players, "the spirit of the team was never questioned; other teams would have given up".
For some lucky players, who aren't injured, less teammates opens up new opportunities. "I am very thankful to not be injured, and I have felt as if this situation has allowed for players, such as myself, who don't usually play as much, to play more often" Brownell said. Her team captain agrees after seeing many lower classmen step up and grow.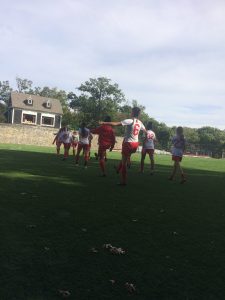 It's an opportunity that is not likely to happen again, and former teammate Ye'Amlak Zegeye, who played on the Girls Varsity Soccer Team last year, regrets not playing again this year. "I definitely would have had more playing time to improve" said Zegeye.
Marama Diaz-Asper, who is left wing, definitely thinks that she played more and improved. Diaz-Asper is one of the several freshmen who Coach Buck highlights, stating how hard the situation was for them while also making the jump from middle school soccer to high school varsity, without the JV transition. "With their backs to the wall, they were determined to do as well as they could stepping into empty boots" Buck said. He also thinks that when everyone is fully recovered, next year, there will be some hard decisions to make, about positions.
Article By Celeste Bloom and Video taken by Celeste Bloom