There are so many choices that come with carving a pumpkin. Huge or small? Textured or perfectly smooth? Smiling or Scowling? For those who carve pumpkins, these aren't huge decisions and can be decided mostly on instinct. Arguably, the most important choice of all, that leaves us thinking, is what to do with the pumpkin guts.
Ok, most people just throw them away, so maybe it's not that important of a question for everyone, but it is for me. Instead of seeing it as throwing away a mess of slimy orange and slippery seeds, I see it as throwing away a loaf of soft, warm pumpkin bread, pillowy honey pumpkin spice cookies, or addictively salty, crunchy pumpkin seeds.
Surprisingly, there's a lot you can do with the inside of a pumpkin, and with a few tips and half an hour, you can have a jack o' lantern and some pumpkin spice cinnamon rolls to go with it.
Story continues below advertisement
How to make the most of your pumpkin → STEPS
Take a knife and cut off the top of the pumpkin as norma. Keep a large bowl on hand.

Cut off the seeds and orange stuff attached to the top, along with about ½ inch of the actual pumpkin. The width of the top shouldn't affect how it fits back on, and the more pumpkin you get out of it the better.

Place what you cut off into the bowl, then scoop the rest of guts out of the pumpkin and put them into the bowl as well.

After the pumpkin is completely clean, continue scraping off bits of the actual pumpkin until you've filled up the bowl. If you feel that the pumpkin's width is getting too fragile, stop.

The most annoying part → separate the seeds from the rest of the pumpkin insides. This will take some time, but it'll be worth it.

Put the seeds aside and cover a baking sheet with parchment paper. Cook the pumpkin guts and bits of scraped pumpkin in the oven at 400 degrees F for 20 minutes.

After the pumpkin is cooked, put it in a blender and blend until it is a completely smooth puree. If you don't have a blender, you can just mash it up with a fork.

You've just made pumpkin puree! This can be used in any pumpkin-related recipe and is way more flavorful, sweet, and fresh than puree from a can.
Below are some recipes for amazing and easy pastries you can whip up, as well as a way to transform the slimy seeds into a crispy, addictive snack: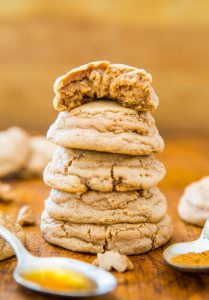 Pumpkin Spice Honey Cookies → Fluffy-Melt-in-Your-Mouth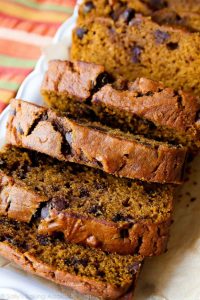 Chocolate Chip Pumpkin Bread → Soft-Crumbly-Crisp Edges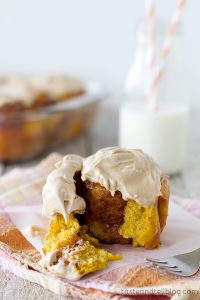 Pumpkin Cinnamon Rolls with Maple Cinnamon Cream Cheese Frosting → Creamy-Soft-Tangy-Sweet