Have you ever wanted to go to Japan? Imagine wandering around the capital, maybe taking a trip to the business district, getting off at Tokyo Station and exploring. Now imagine it's fall, and the weather has been mild all day, but now it's late afternoon, the sun is setting, and you're starting to wish you'd brought a jacket.
As you stroll through streets lit up once by neon arcades stuffed with smiling animals, buildings that disappear into the sky, and billboards flashing in pinks, greens, and blues, the last thing you want to do is go back to wherever you're staying. You window shop, take to the smaller roads with streetlights and apartments and try your hand at a claw machine. Before you know it, it's dark and decidedly cold.
Backtracking through the smaller alleyways, all of a sudden you're hit with a tantalizing warmth floating through the air. The rich scent of roasting meat and spiced broth draws you in, and you a little bar-like booth with six stands notice up ahead. It's jam-packed with people. You hurry to reach it and squeeze through the clear door.
Story continues below advertisement
It's very suddenly warm, the kitchen is right in front of you, and a few people are bustling around behind the counter. One is stirring a giant simmering pot on a stovetop, and heat is bouncing off the walls of the room. You have to wait a bit before there's a free stool, but once you finally have a seat, a huge bowl of steaming soup is waiting for you.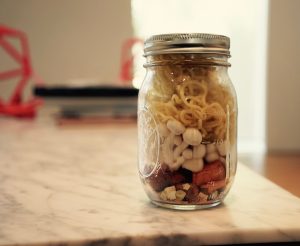 The broth is hot, salty and complex, like the smoked, fatty flavor of bacon, the twisting, smooth taste of soy sauce, and the comfort of chicken noodle soup combined. The thick cut of crispy pork belly sits on top, it first crunches than melts in your mouth. Bright, bitter bean sprouts balance out the heaviness. It's perfectly simple yet tastes strangely intricate. Comforting yet adventurous, it's ramen.
I'm not talking about the little packets you can buy at CVS for less than a dollar that college kids are known for eating, and that you've probably tried, if not for the price or because of laziness, then out of curiosity.
I love traditional, Japanese ramen with a passion. It's probably one of my favorite foods. I have incredible memories tied to it. But it's not very practical. Who has the time to make broth over several days at home, to go to a specialty store for bean sprouts and whatever else they put in the soup to makes it so amazing? Not anyone taking the IB.
At the same time, people are always saying eating healthy and balanced meals will make you feel and focus better. So it's hard when you have a passion for food and want to eat healthy, but you don't have the time or energy to put effort into it.
But there has been an incredibly genius trend lately that might allow making good ramen on a daily basis possible. It started with adding things to cup ramen to make it more substantial and even healthier. Soft boiled eggs, mushrooms, bok choy, chicken, tofu: all of these things can be added to make a bowl of noodles and flavoring seem gourmet.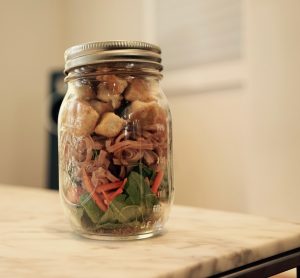 Then people took this trend one step further. Why not combine ramen with the meal prep trend that's spread like wildfire? Fancy-ramen-for-lunch was born.
It's simple: just take any toppings that work together and with ramen (almost anything if you think about it) and dump some hot water over the dried ramen in the package so that it's partly cooked. Put the toppings, ramen, and flavor packet into a plastic container (or a mason jar if you really want to stick with the trend). When you get to lunch, fill your container up with hot water and shake. Instant ramen is meeting the aesthetic obsession. And it tastes amazing.
How to pull off a healthy (kinda), delicious, super easy, and impressive lunch:
Step One: Buy your stuff (it ends up costing less than the five bucks you pay everyday to buy Sodexo, trust me)
Instant ramen packets (Whole Foods sells like brown rice ramen and other types if you want to be healthy, and it's only like $1.50 a pack)

Any toppings you want, some suggestions are: Eggs, Bok choy, red pepper, carrots, mushrooms, sweet potato, leeks, kale, scallions, miso, edamame, sriracha, broccoli, chicken, shrimp, ginger, spinach, bacon, ground pork, tofu

Suggested Combos:

Eggs + kale + bacon

Sweet potato + mushrooms + miso

Bok choy + tofu + carrots + spinach
Tip: Leafy greens, like spinach or kale, are good not only because they're healthy, but they'll also wilt with hot water, meaning it'll be easier to mix together the soup if you have a small container.
Step Two: Put it Together
Boil some water and dump it over the dried ramen. Stir for about a minute, then drain.

Take a mason jar or a Tupperware container and sprinkle the flavor packet at the bottom.

Add any greens and vegetables that don't need to be cooked (spinach, kale, red pepper, carrots, bok choy, scallions, broccoli etc.)

Put the ramen in the container.

Add any protein or veggies that do need to be cooked (Eggs, mushrooms, sweet potato, leeks, chicken, shrimp, ginger, bacon, ground pork, tofu)
Tip: If you're not sure how to cook something, look up a recipe! Pretty much any form of protein will work with ramen. If you have any leftovers from previous dinner (chicken, eggs, etc.) there's a good chance that will work too.
A few quick recipes for toppings that need to be cooked:
Roasted Soy Sweet Potatoes
Preparation Time: 5 mins
Cooking Time: 20 mins
Total Time: 25 mins
Ingredients:
One medium-sized sweet potato

1 tbsp soy sauce

1 tsp sesame oil
Steps:
Preheat an oven to 400 degrees F

Cut the sweet potatoes into cubes

Place sweet potatoes onto a greased baking sheet. Add soy sauce and sesame oil.

Mix until the sweet potatoes are coated, then place in the oven and bake for 20 mins.
Crunchy Tofu Cubes
Preparation Time: 15 mins
Cooking Time: 15 mins
Total Time: 30 mins
Ingredients:
1 package extra-firm tofu

1 tsp salt

½ tsp coriander

¼ tsp red pepper (or more if you like spicy things)

2 tbsp canola oil
Steps:
Preheat an oven to 375 degrees F

Drain the tofu and wrap it in a couple of paper towels. Put it on a plate and put something heavy on top (like a skillet or pan) and let it sit for five minutes to take the excess water out.

Cut the tofu into small cubes and coat with spices and salt.

Heat the oil in a cast-iron skillet over medium-high heat. Add the tofu.

Shake/flip the tofu until all sides of the cubes are slightly browned, about five minutes.

Place tofu in the oven for 15 mins so that it can dry out.
Step 3:
Take your ramen to school and at lunch fill up the container with hot water (from the cafe or student center). Stir, show off to your friends, and enjoy!