With the 20th anniversary of the death of Diana Princess of Wales, here are 5 of her most iconic and memorable fashion moments.
Diana was not only known for being the Princess of Wales and for her her involvement with charities and organizations around the world but her ability to alter the boundaries of trends of fashion while maintaining an appropriate and regal sense of composure.
     1. Wedding Dress
Story continues below advertisement
Leading the list is none other than Diana's wedding dress, one of the most well-known outfits of the generation. The dress designed by an undiscovered duo David and Elizabeth Emanuel took only 3 months to create. Although it's 25 foot train posed problems as Diana exited her carriage in front of the Saint Paul's Cathedral, she was able to maintain an elegant walk down the aisle. Today, designers and fans still look at the dress as an iconic and a significant work of art from the century.
     2. Angola Mines
On January 15, 1997 Diana walked through an active minefield in Angola. With help from an expert, Diana advanced down a row of mines before a crowd of photographers and reporters. The outfit she wore consisted of cropped khaki slacks, a crisp, white blouse paired with brown loafers and minimalistic jewelry. This outfit quickly became well known in Britain as a simple, but chic twist on a casual outfit for women.
     3. "Revenge Dress"
This Christina Stambolian dress, known as the "Revenge Dress" was worn by Diana at a Vanity Fair party in 1994. The black, silk, off-the-shoulder dress was referred to this since the summer party took place while Diana and her then-husband Prince Charles were in a declining marriage. Although Diana was nervous that the dress would be "too daring", she continued with the ensemble pairing it with a jaw-dropping choker and matching pearl earrings.
     4. World's first glimpse at William
After the birth of Diana's first son, Prince William, the world got their first glimpse at him outside St. Mary's Hospital. Diana wore a green, V-neck, polka-dot dress and pink flats. This outfit regained attention when Kate Middleton, Prince William's wife, donned a similar ensemble when she introduced her son to the world on the very same steps in 2013. Kate wore a sky blue and polka dot blouse-like dress just like Diana's.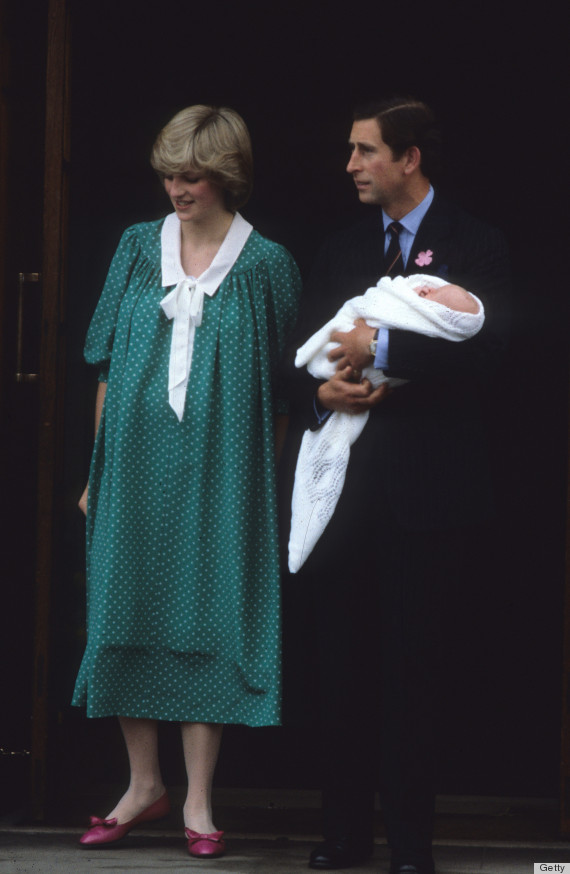 5. The Engagement
To end this list is the iconic outfit Diana wore in the her engagement announcement with Prince Charles. Diana showed off her 12-carat, oval, blue sapphire engagement ring by pairing it with a blue blazer and skirt. Prince William later used the ring when he proposed to his now-wife Kate Middleton. He said in an interview that this was his way of "making sure my mother didn't miss out" on the wedding.
Cover Photo Credit: PopSugar
By Holden Davitian