On Friday afternoon, WIS students wore all white on the sidelines supporting the boys varsity soccer team as they took on Wilson. The Wilson Tigers and the WIS Devils were both undefeated going into the homecoming game. Wilson had tied one of the Devils' closest competitors, Bell Multicultural, 1-1 earlier in the season. The Devils' only goal came from striker Jasper Pearson, assisted by Yousef Auer. The score was tied until the 70th minute when a Wilson striker powered a goal past keeper Miro Everaert to take the lead. WIS had some small opportunities to score in the final ten minutes, but weren't able to tie up the game. These two teams meet again on October 20 at Wilson. This will be another close match and hopefully WIS can get revenge on the Tigers.
Other homecoming games:
Girls Varsity Volleyball lost to Wilson in 3 sets.

Girls Varsity Soccer lost to Bishop McNamara 3-1, despite a first half lead.

On Thursday afternoon, Boys JV Soccer also played Wilson, and lost 7-1.

The only team to win their homecoming game was JV Volleyball, who bested Wilson in 3 sets.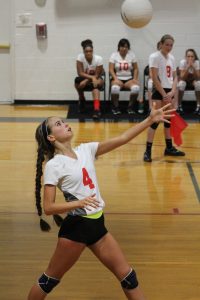 By Saul Pink
Story continues below advertisement