Ms. Totten has been teaching art at WIS for twenty years, but now she is retiring in the hopes of being able to concentrate on her own work. When asked to describe Ms. Totten a ninth-grade student, Fabrice Gray, says that Ms. Totten has been "one of the best mentors, teachers and friends that I've had at WIS."
Ms. Totten says that since teaching at WIS, her artwork has "been on the verge of getting somewhere but not quite there yet." Wishing to better inform her students on where "there" is, Ms. Totten has described  her artwork and process.
Ms. Totten keeps sketchbooks "all the time," and frequently what's in the sketchbook transforms into paintings. Although the painting may stem from a sketch, images in the painting are constantly evolving as the piece develops. The flow of images, shapes and textures become a language. "When I'm painting, it's more like a conversation between me and the painting. I react to what's happening," Ms. Totten said.

For her paintings, Ms. Totten uses oil paints on canvas, linen or board. The colors she uses are generally vibrant oranges, bright yellows and deep reds, which weave together to form shapes of all kinds. The most astonishing thing about Ms. Totten's painting is her ability to intertwine organic and geometric forms.
Story continues below advertisement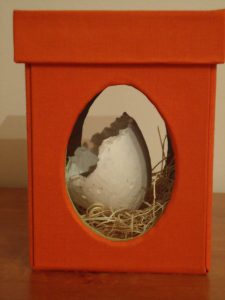 As well as her paintings, Ms. Totten makes box constructions, using bookbinding materials. As one would imagine, the boxes aren't just rigid and plain, but are somewhat whimsical and fantastic. Each box seems to encompass a small world of magic within it's straight walls.
In order to create these small worlds, Ms. Totten uses all sorts of materials. The paper which is used on the interior of the box is handmade Lokta paper. Lokta Paper comes from Nepal, and is made from pressed Lokta leaves. This paper has been a part of  Nepalese culture since the 12th century, and has been used over the years by Buddhist Monks to write religious texts, as well as to recount epic stories. In addition to the Lokta paper, Ms. Totten presses her own copper pieces, and dyes and prints her own fabrics.
As well as being a passionate teacher and artist, Ms. Totten regularly imparts life wisdom to her students. Last year, Ms. Totten's eighth grade class loved to chat about where they would go to college, what they would major in and what they wanted to be when they grew up . Alejandro Gonzalez remembers Ms. Totten always repeating "Don't worry about that, just enjoy your time being a child."
Similarly, when asked about what the main thing he has learned from Ms. Totten was, Fabrice Gray responds that "The reason you do things is to enjoy it, not because you're good at it, and that is something that I use in art class and also in the real world."
Another 9th grade student in Ms. Totten's class, Dorothy Nelson, describes one of the most significant aspects of her teaching as how she gives her students the room to develop and shape their original ideas. This helps students to build a concept which approximates the final piece more completely and creatively. There is no such thing as a bad idea in Ms. Totten's class, Dorothy says.  
Depicting a similar quality, Alejandro Gonzalez explains how his favorite part of being in her class is that he gets to thoroughly personalize his projects and move at his own pace. Alejandro says "I get to shape my work the way I want, which allows me to be creative."
Ms. Totten is a beloved teacher, so thinking about the art department without her next year is hard. Many students have commented on how she is irreplaceable because of our relationships with her, but when expressing her sadness for Ms. Totten leaving,  Dorothy has a unique perspective. Dorothy says "I see Ms. Totten and Ms. Zamula functioning as a unit so it'll be weird to see one of them without the other."
Even though Ms. Totten will no longer be physically teaching alongside Ms. Zamula at WIS, her legacy will continue on. Fabrice describes how Ms. Totten completely changed his perspective of himself through her art class. Fabrice says that he wasn't expecting to enjoy art, and for him it was just a class that he was required to take. His reasoning was "I suck at art. You know, I'm an athlete and I'm into sciences, I'm not really an art type guy. I wasn't ever really good or interested in art." Fabrice describes how as each project went by, Ms. Totten would encourage him and made him understand that art is different for each person, and there is no such thing as someone who "sucks at art". Fabrice is now taking art as one of his electives in ninth grade, and is planning on taking art in the IB. "If it weren't for Ms. Totten, I wouldn't see myself as a person that enjoys the arts."
– By Lily Coll