South Koreans have gathered en masse to push for the impeachment of President Park Geun-hye after allegations of improper influence and meddling by Choi Soon-sil.
Across the Pacific in South Korea, peaceful protests are demanding the impeachment of President Park Geun-hye.  President Park has been the target of allegations suggesting that a close friend of President Park, Choi Soon-sil, used her ties to the leader to meddle in state affairs and wield improper influence. The countrymen have been voicing the widespread opinion that President Park Geun-hye's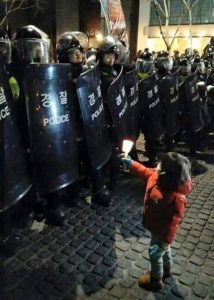 raft of policies have been weakening democracy. Protestors are providing opposition to plans that include a change in labour laws and greater control over history textbooks; the latter is believed by left-wing critics as potential for whitewashing to South Korean dictatorships. These recent protests aren't the first that South Korea has seen, yet they protests mark a change in attitude towards more peaceful and family friendly protests. The South Korean people are incredibly invested in the politics of the country, with over 3% of the total population protesting.  That would be equivalent to over 325,500,000 people turning up in the United States, which is a staggering amount.
Story continues below advertisement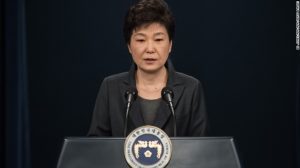 The organization of these latest protests have been exemplary. To deal with the 1.7 million demonstrators, police created bus lines to help with crowd control and formed thousand-strong blockades, showing a positive move away from heavy-handed tactics including the use of armed police on protesters and tear gas. The protests have been safe enough for parents to bring their children and for the elderly to march with them. Many have even likened the protests to family festivals rather than political mobilizations, with the street theatre, calm atmosphere and market stalls selling goods. At night the protests are calm and protesters hold candles, which are later blown out to symbolise the President bringing South Korea into darkness.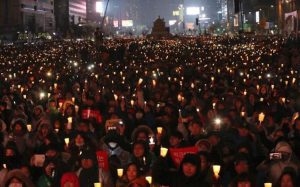 The organization and scale of these protests are impressive and are demonstrating the extent of possible change without violence. After over 2 months of peaceful protests the President was impeached by parliament, although the constitutional court requires approval. The protests reiterate the idea that in a time of turmoil and possible violence, peaceful protests with roots in hope and not fear, an in fact make a difference.
– Phoebe Thomas