It's January, and we are about halfway through the Boys and Girls Middle School Basketball season. Both teams are off to solid starts with contributions from every player.
Girls
The Girls MS Basketball Team currently has a 3-4 record, with losses to Washington Christian (WCA), JDS, Washington Waldorf, and Spencerville Adventist Academy. They managed to defeat Kendall, Edmund Burke, and Oakcrest.
Story continues below advertisement
Star forward Riley Contee has been leading the team to victory, highlighted by a 21-point performance against Oakcrest. Riley has been a threat all over the court, as she leads the team in points and rebounds. WIS blew by Kendall and Edmund Burke, and they came up short in a close game against WCA.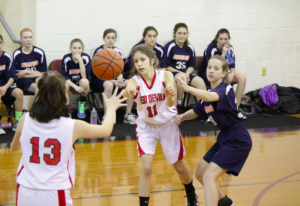 The Red Devils have potential to be a very good team for the rest of the season, due to Riley's constant scoring and rebounding, and point guard Sofia Roche's ability from the three-point line. The team also has younger talent from seventh grader Michelle Hobdari and a great team coming off the bench. Another key contributor is forward Nicole Fenochietto, who is a great second-chance scorer in the paint.
The Devils have chance to win many more games this season, including upcoming home games against Field and McLean. To win these games, the team will need to finish better and make easy layups. They consistently have opportunities but they need to take advantage of them and not let them slip away.
Boys
The Boys Middle School team is off to one of its best starts in years, with a 7-1 record. They had easy wins against Kendall, Waldorf, Burke, Washington Christian, Lab School, and Spencerville.
The highlight of the team's season was a 37-35 double overtime victory over St. Anselm's, who have been PVAC champions three times in the past four years. The win was largely thanks to Ali Hakim-Florian's clutch three pointer in the second overtime and the teams consistent lock-down defense throughout the entire game. WIS Athletic Director, Tom O'Mara dubbed the game, "The biggest Boys Middle School Basketball win in years."
The Devils suffered their only loss to JDS, 33-39, in the second game of the season. This loss was partially because key player, Patrick Anders, was out with a broken finger. WIS was up for the entire game going into the fourth quarter, but the team fell apart in the fourth quarter due to tired players and lackadaisical defense.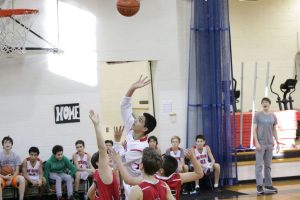 The team has been carried by captains Hakim-Florian and Anders. Hakim-Florian is a laser three point shooter and Anders is very strong in the paint and is a great finisher.
The team has also been helped by Liam Byrne's ability to force turnovers and take charges and point guard Jakobi Haskell's ball handling and passing. Shooting guard Anders Westermann has also contributed, especially in the Washington Christian game, where he had 13 points.
This is clearly a very good team that could go far in the playoffs. "We have improved greatly since last year, and we have a chance to make a statement in the PVAC," said Patrick Anders, who is averaging 13 points per game.
The team had only 7th graders last year, and ended up with only three wins. Now, the teams is mostly 8th graders who have improved their game since last year, and has a few new additions, such as Pax Granich and Dean Atassi. There are five more games left in the season, including a road matchup against constant PVAC power, Grace Brethren. It is possible that the team could start the playoffs with strong momentum and a winning mentality.
By Saul Pink