Unfortunately, the summer of 2016 is over as of September twenty second, marking the first day of Fall. Although maybe it's not that unfortunate, because the only really good things about summer is that there's swimming, watermelon, and no school.
Now take Fall for instance: there's soccer, cute jackets and scarfs, great weather, pretty colors, flannel, apples, and the most important thing of all: Fall Baking. After all, cinnamon is pretty synonymous with Fall.
My favorite thing in the whole world is a warm slice of pecan pie or a bowl of apple crumble with a huge scoop of vanilla ice cream. There's thousands of fall desserts out there, most variations laced with pumpkin, cinnamon, apples, and nuts.
Story continues below advertisement
At first we struggled with picking a manageable amount of recipes to bake and write about, since there are so many. But in the end, we came up with a (mostly) foolproof system for all the fall baking you'll crave this season.
With three amazing recipes: Microwave Apple Crumble, (the BEST) Pecan Pie, and Pumpkin Banana and Macadamia Nut Crumble Muffins, you'll have a perfect fall recipe for any situation. Unless you don't like pumpkin, pecan, or apple. But if you don't, then why are you reading this?
We have a dessert for any situation, pick your perfect fall bake below: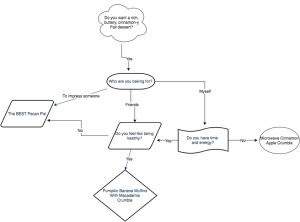 Pumpkin muffins:
It can be hard to find good, healthy, fall-inspired breakfast recipes Luckily we have just the recipe for you. These muffins are relatively healthy as far as muffins go: there is no sugar used in the batter and the amount sugar used in the topping is relatively small.
Like many high school students, I usually can't find the time every morning to prepare breakfast for myself. So when I have options in the freezer that can just be placed in the microwave and reheated. One could even use the oven at a low temperature as well.
These muffins are the perfect fall breakfast food with a wondrous pumpkin and banana flavor, plus a macadamia nut crumble for a topping. For those who are allergic to nuts, you could replace the almond milk with regular milk and use a different topping.
They can also satisfy that craving that I get when I get home from school. Coupled with some warm apple cider or hot chocolate, these pumpkin muffins make the perfect afternoon snack.
Recipe:
Prep Time: 10 minutes
Cook Time: 20 minutes
Total Time: 30 minutes
Ingredients:
2 medium bananas (mashed)

3/4 cup pumpkin puree

1 egg

1/2 tablespoon vanilla extract

1/4 cup maple syrup

1 1/2 tablespoons olive oil

1/4 cup unsweetened almond milk

1 1/2 cups whole wheat pastry flour

1 teaspoon baking soda

1/4 teaspoon salt

1 teaspoon cinnamon

1/2 teaspoon nutmeg

1/4 teaspoon ginger

pinch of cloves

For the topping:

3 tablespoons coconut sugar (if you don't have this item substitute with brown sugar)

2 tablespoons whole wheat pastry flour

1 tablespoon melted coconut oil

1/4 cup finely chopped macadamia nuts
Instructions:
Preheat your oven to 350 degrees F.

Line a muffin tin with muffin liners and make sure to spray the inside of liners with nonstick cooking spray, otherwise your muffins will stick (make sure to use a lot of cooking spray, when we made these we did not use enough and our muffins stuck to the liners).

Set the tray aside and grab a large sized bowl for the next step. Mix the mashed banana, pumpkin, egg, vanilla, maple syrup, oil and almond milk (we found that using a blender was quicker and more efficient).

Then in a medium sized bowl, whisk together the flour, salt, baking soda, cinnamon, nutmeg, ginger and cloves. Then add the dry ingredients from the medium bowl into the larger bowl containing the wet ingredients. Do not overmix the batter.

Divide the batter evenly among the muffin cups, making sure to fill them only 2/3 of the way.

To make the crumble topping, mix the coconut sugar, flour, coconut oil and macadamia nuts in a small bowl.

The consistency of the topping should resemble that of wet sand.

Then distribute the topping evenly over each muffin.

Lastly bake the muffins in the oven for 18-24 (we baked them for 20 minutes) minutes, or until a toothpick inserted into the middle of one of the muffins comes out relatively clean. Then enjoy!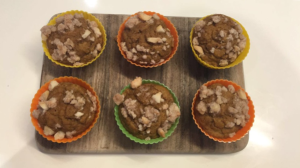 Microwave Apple Crumble:
Picture This: It's a Monday in the middle of October, and the weather has cooled down considerably. You've plowed through all your classes, albeit drowsily, but you have sixth period or have to meet with a teacher after fifth.
When you finally get home, you have mountains of homework stacked up. After stepping out of the chilly air and pulling off your jacket, you are craving something warm, gooey, sweet and laced with cinnamon.
You are craving a dessert that makes you feel cozy and warm, one that breaks through the stress. But you don't have the time or energy to bake. Luckily, we've provided you the solution to your dilemma in advance.
Using this recipe, you can have warm, caramelly, Apple Crumble goodness using ingredients you probably already have at home. The best part? It takes less than ten minutes.
Recipe:
Prep Time: 5 minutes
Cook Time: 5 minutes
Total Time: 10 minutes
Ingredients:
For Crumble:
2 tbsp  unsalted butter, soften (zap in the microwave for 15 sec)

2 tbsp light brown sugar, packed (use one tablespoon if you don't have as much of a sweet tooth)

2 tbsp old fashioned oats

2 tbsp all purpose flour

½ tsp cinnamon

¼ tsp nutmeg

Pinch of salt (optional)
For Apple Base:
1 medium/large apple, diced into cubes

½ cup apple sauce

1 tsp cornstarch

whipped cream or ice cream, optional for serving
Instructions:
Combine all the ingredients for the apple base in a microwavable bowl. Cover with plastic wrap (if you don't have any just add another minute in the microwave).

Microwave the apple on high for 2:30 minutes.

In the meantime, combine all the crumble ingredients in another bowl (feel free to add walnuts, pecans, pumpkin spice, or any other topping too.)

Spread the crumble evenly over the apple mixture (the apples should be soft at this point) and microwave for another 2 minutes, until the brown sugar has melted and caramelized, creating a gooey, cookie-like layer.

Top with vanilla ice cream or whipped cream and dig in!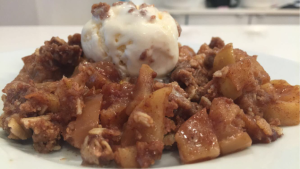 Pecan pie:
It was Lucy's idea to make the Pecan Pie. To be honest, I hadn't had much pecan pie before, and what I did have wasn't very appealing. It was cloying and sticky sweet with nuts that were soggy and a sad crust.
But let me tell you, all the pecan pie I've had before doesn't even come close to this one (spoiler: there's a reason we call it "the BEST"). Most Pecan Pie recipes call for corn syrup, which is where that sweet stickiness comes from, giving the pie a slightly processed taste.
But this pie dissolves lots of brown sugar in eggs for the base, giving the pie a more caramelized and nutty taste. Additionally, the recipe has browned butter (which is basically butter that has been melted and cooked on low heat in a saucepan) which gives the butter a richer and more intense flavor.
These two factors combined make a rich, mouthwatering filling. We didn't add that much sugar in ours, but the pie is easily customizable to your sweet tooth. It takes a while to cook, but trust us, it's worth it.
Side Note: We used Trader Joe's frozen pie crust: it came out super buttery and flakey.
Recipe:
Prep Time: 15 minutes
Cook Time: 50-60 minutes
Total Time: Around 65-75 minutes
Ingredients:
Your favorite 9-inch pie crust recipe, or a frozen crust from a supermarket

½ – 1 cup dark brown sugar, depending on your sweet tooth

2 tbsp- ¼ cup white sugar

½ cup butter, browned* and cooled slightly

2 eggs, room temperature

1 tablespoon all-purpose flour

1 tablespoon milk (any fat content is fine)

1 teaspoon vanilla extract

2 cups pecans, chopped
Instructions:
Preheat your oven to 400 degrees F so the oven will be ready when you have finished preparing the pie.

In a large sized bowl, beat the eggs with either a mixer or a fork until they are slightly foamy (Make sure not to beat them too much). Afterwards, stir in the browned butter, white sugar, and brown sugar. You want to whisk these ingredients together until it is completely mixed.  

In the same bowl, stir in the flour, milk, and vanilla. Next, add in the pecans and stir them until they are fully coated with the mixture.

Pour the finished mixture into a greased pie tin. Stick it in the oven for about 10 minutes at 400 degrees F, and then lower the temperature to 325 degrees F and bake for 40-50 more minutes.

Take the pie out of the oven and let it cool down completely before cutting and enjoying.
*To Brown Butter melt the butter in a saucepan over medium-low heat. It will foam at first, then the foam will fade. Wait until brown bits form and the butter has a slightly nutty aroma. Be careful not to burn it! This should take around 10 minutes.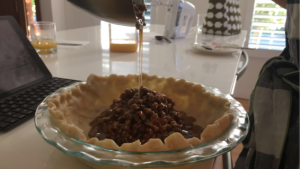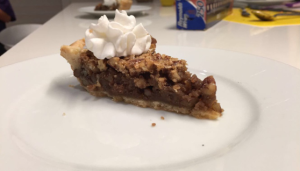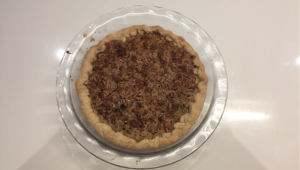 By Marta Maliszewska
Photographs by Lucy Porter