Taylor Swift's highly anticipated Eras Tour finally came to Philadelphia from May 12 to 14. To the disappointment of D.C. fans, Swift did not make a stop at the nation's capital, leading many of them to swarm to Philadelphia for her three nights performing at the Lincoln Financial Field. 
Were the hours waiting in line for tickets on Ticketmaster worth it? 100%. With 44 songs on the setlist, and about three hours of singing along with Swift through her record-breaking career's many eras (from the yee-haw country days of "You Belong With Me," to her catchiest pop songs like "Shake It Off," to more melancholy songs written during the pandemic, such as "cardigan"), this was truly an extraordinary and memorable experience.
For those that weren't able to snag tickets due to the infamous Ticketmaster fiasco, or couldn't make the two-hour drive to Philadelphia, here are Swift's eras in photos as well as a quick review from the night of May 12.
'Lover' Era
Swift started the concert with a thrilling and colorful performance of hits from her 2019 "Lover" album. Within minutes, the whole stadium was already screaming along to the fan-favorite bridge of her song "Cruel Summer." Other highlights were the rainbow pattern that the crowd's light-up bracelets made during "You Need To Calm Down" and Swift's power dance moves during "The Man." 
Story continues below advertisement
'Fearless (Taylor's Version)' Era
Following "Lover" was "Fearless," which Swift recently re-released in 2021, naming it "Fearless (Taylor's Version)." The moment I heard those nostalgic first notes of the album's title track, I could not contain my excitement and screamed out of pure exhiliration. Her performance of arguably one of her most iconic albums was a joyful trip down memory lane to the days when Swift was a curly-haired rising star singing of high school crushes and teenage angst. With the return of her signature sequined guitar and golden fringed dress, this was truly one of the highlights of the night; not a single person had a dry eye.
'Evermore' Era
Swift then transitioned into one of her more recent albums, "evermore," turning the stage into a mysterious forest with tall evergreen trees, which was perhaps the most captivating set design of the night. Along with her long dark cloak, the synchronized, almost cult-like choreography during the song "willow" transported the audience to another world where witches seem to exist. In addition, Swift gave a gut-wrenching acoustic piano performance of "champagne problems" that received a lengthy standing ovation. 
'Reputation' Era
Swift went from the mysterious forest to the angsty and revenge-seeking album "reputation," perhaps the most polar opposite aesthetics of her albums. This was definitely the most dramatic performance of the night, with intense light beams that seemed to shine infinitely up into the sky and the light-up wristbands forming the shape of a snake in the stands. 

Swift transported the audience into another, almost religious, dimension. With her incredible vocals and electrifying lighting, this was truly a transformative experience that made me appreciate "reputation" in a way I have never before.
'Speak Now' Era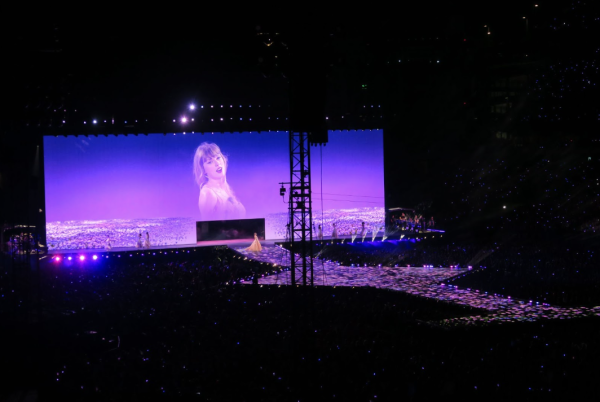 Next up, Swift performed "Enchanted" from her album "Speak Now." She wore a stunning, shimmering ball gown and delivered a magical performance that pulled heartstrings and "enchanted" the audience. My one complaint was that she only sang one song from this album. 
'Red (Taylor's Version)' Era
The "Red" era definitely has a mix of catchy pop tunes, like "I Knew You Were Trouble" and "22," but Swift also performed some of her most gut-wrenching songs, such as "Nothing New" with Phoebe Bridgers, who also opened for the concert. 
It was a memorable experience to see these two icons share a stage, just them and their guitars. And of course, the 10 minute version of "All Too Well" was a masterpiece during which snow and leaves fell on the stage and the crowd's light-up bracelets created a magical sensation of stars in the night sky. 
'Folklore' Era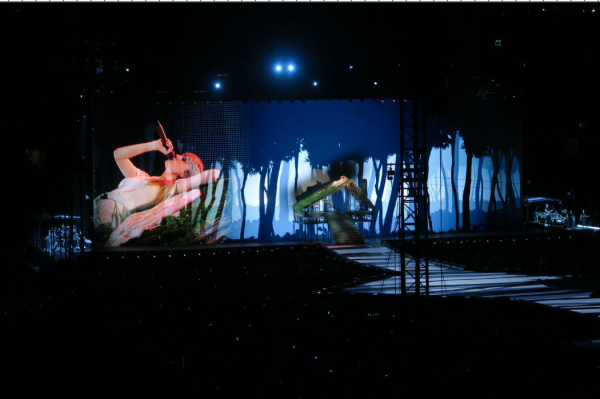 This was one of the best moments of the show. Hearing Swift capture the gut-wrenching feeling and nostalgia of her song "august" while sashaying around the stage in her stunning flowy white dress was unforgettable. Not to mention the way she immediately transitioned into the agonizing bridge of "illicit affairs," ending up crouched on the floor singing with note changes that somehow made it even more agonizingly beautiful. 
'1989' Era
Another one of her most iconic albums, "1989," transported the audience back to the 2010s, when "Shake It Off" and "Wildest Dreams" were on repeat on the radio. Swift wore a bright pink fringed top and skirt that she twirled around in as she sang hit after hit. 
During "Bad Blood," actual fire was shot into the air, creating sudden bursts of heat, and truly capturing the essence of the angsty song. During "Blank Space," Swift playfully twirled a glowing golf club, a small reference to the music video, as she sang on a platform and dancers rode glowing bicycles around the stage. 
Surprise Songs
At every show, Swift performs two surprise songs from any of her albums acoustically, one on guitar and one on piano. It is one of the most highly anticipated moments of the show, as Swifties are left wondering: what will she play tonight? At this show, she sang "gold rush" from her album "evermore," the first time it has ever been performed live, which created massive excitement within the crowd. Her vocals were beautiful and the ease with which she accompanied herself on guitar was astounding. Next, she sang "Come Back…Be Here" from "Red (Taylor's Version") on the piano with fiery emotion. Hearing Swift perform acoustically is a one-of-a-kind experience where her raw songwriting and musical talents truly shine. 
'Midnights' Era
Swift ended the show with her last album, "Midnights." Though it felt a bit rushed, I appreciated how she included an abundant number of songs from the album. A highlight was her performance of "Midnight Rain," in which she made an unexpected costume change in the middle of the chorus to a deep blue bodysuit. For the finale, she sang "Karma" with impressive lights and smoke to put on a showstopper to end the night. 
In the three hours onstage, Swift never once tired. Her incredible endurance to sing and dance was exceptional and admirable. She managed to keep the whole audience captivated and surprised the whole night, song after song, whether simple and acoustic or with a massive show. Swifties and non-Swifties alike can agree that the Eras Tour is an extraordinary experience that is truly unforgettable. 
By Naomi Breuer