The drapes rise as dancers begin to glide across a stage, perfectly in sync. One of them launches into the air, executing a flawless pirouette. These are some noticeable actions during a ballet performance. Yet a too often overlooked struggle is the one experienced solely by young male dancers.
Sophomore Lucas Springsteen has been dancing and practicing ballet for over ten years. "I love to dance; it's one of my passions in life," he said.
However, despite his fondness for dance, Springsteen has had moments of frustration throughout the years. "As a guy, the environment can be especially uncomfortable," Springsteen said.
Springsteen is the only boy in a class of 20 dancers, making him self-conscious and creating additional pressure for him. "It was frightening in the beginning to be the only guy in the room," he said.
Story continues below advertisement
There are significantly fewer boys engaging in dance than girls. Across the U.S., only 26.6% of dancers are men. The key to improving the situation for male dancers is balancing the ratio between male and female dancers.
Unfortunately, male dancers like Springsteen face obstacles that many might be unaware of, including gender stereotypes, that push them away from the dance industry.
"In this society, it's expected for a guy to do sports rather than to dance," he said. "There could be guys who don't really like sports and love to dance but they don't pursue their passion because they want to fit in."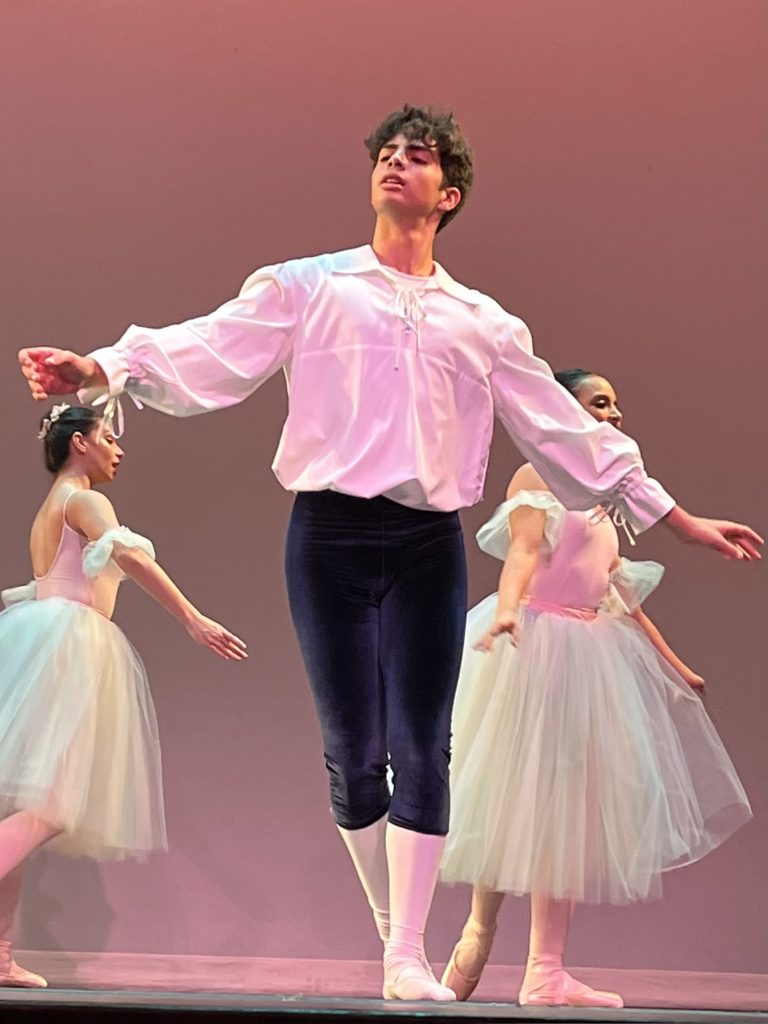 Early on, kids want to try new activities, so it is easier for young boys to participate in dancing. "At a young age, I wasn't influenced by those factors," Springsteen said. "As I grew older, I realized that I was a part of a minority."
Fitting into societal norms becomes even harder as boys involved in dance grow older. This blocks their ability to discover and undertake a graceful activity that allows for expression.
Jennifer Firschein is a sophomore at WIS who has been studying ballet since she was two years old. She believes there are bountiful benefits to dancing. "Ballet teaches [me] a lot of life lessons like discipline and time management, making me learn how to balance my schoolwork and dance," she said.
Nonetheless, she has noticed that dance can foster a competitive and toxic environment, particularly when it comes to male dancers. "I think some people believe there's always been this unwritten rule that boys shouldn't do ballet," Firschein said.
She believes this mentality is ironic, given that male dancers are "very valuable to dance studios."
In ballet, men have immensely important roles that require them to have more height and power, elements that are necessary in performances. Yet people often overlook the extraordinary amount of practice and physical strength needed for such roles.
One of the most hurtful aspects of being a male dancer is homophobia and bullying. "There's that [assumption] that guys who do [dance] are all gay," Springsteen said.
He is grateful that he is part of the WIS community, since it has allowed him to pursue his passion without the discrimination that exists elsewhere.
It may be WIS's international nature that creates a positive environment for male dancers. In many Latin American and European countries, the stigma against men who can dance is significantly smaller, since traditional folk dancing involves both men and women. Examples of these dances include the Argentine tango, the Cuban salsa and the Polish polska.
For his Grade 10 Project, Springsteen decided to raise awareness about this topic. His main message was getting students to follow their interests and explore new things without being discouraged by gender stereotypes.
"[Your choices] shouldn't be affected by what other people think of you. Do it because you love to do it, and don't change who you are to please others," he said. "You can do this. This isn't weird."
By Derin Kirtman