Although U Street and Washington D.C. as a whole have seen many changes over the past 64 years, Ben's Chili Bowl's ("Ben's") commitment to serving D.C.'s Black Community remains the same. 
As a Black-owned D.C. landmark, Black History month is meaningful to the family that founded Ben's.
"It means a great deal to bring the focus to the Black community," Ben's co-founder Virginia Ali said. "This is something that's been going on for many, many years and it gives us time to concentrate on the culture and the values of the Black community."
In 1952, Virginia moved to segregated D.C. and started her first job at Industrial Bank, located a block and a half away from Ben's. Howard University was within walking distance, and because of Jim Crow laws, highly educated Black people were confined to living in the Shaw neighborhood. "It was a very proud, self-sufficient community at the time," Virginia said.
Story continues below advertisement
In 1954, the Civil Rights Movement began. Around the same time, Ben Ali proposed to Virginia and asked her to partner with him on a restaurant, and in 1958, they opened Ben's Chili Bowl as newlyweds.
When Virginia asked Ben if she should leave her job right away, he had a memorable response. "'Yes, we will make this work, even if we have to get rid of the apartment, sell the car, bring in a bathtub… and a bed and sleep right here,'" she said, echoing the words Ben had spoken over six decades prior. "We didn't have to do that, but we were willing to make that kind of sacrifice if we had to." 
Although Ben's was successful from the start, as a Black-owned business, it was challenging to gain access to financial services such as liability insurance.
In 1963, Martin Luther King Jr. came to D.C. and visited Ben's. He spoke to Virginia about his plan to unite people to protest the injustices faced by the Black community, which later became known as the March on Washington. 
"We were there that day, looking over a sea of people of all colors and ages and backgrounds," Virginia said. "He made that wonderful 'I Have a Dream' speech and it was a very inspirational day."
In the following years, the Civil Rights Bill of 1964 and the Voting Rights Act of 1965 were passed. But on April 4, 1968, King was assassinated, and a mourning crowd rushed into Ben's.
"We [didn't] want to believe that. [We thought,] 'it can't be our very much loved, nonviolent, peaceful leader,'" Virginia said. "That sadness turned to frustration and frustration turned to anger, and an uprising began in our community, on U Street."
The civil unrest and rioting lasted for three days and the D.C. mayor at the time put a curfew in place to try to contain the violence. Ben's was the only business that was permitted to remain open to provide food and shelter for those working to restore order, and it extended its hours to 3 a.m. on weekdays and 4 a.m. on weekends. 
"It was a scary time, but we were able to do that," Virginia said. "All the folks in the community were there to support Ben's because they knew we would support them and had supported them all those 10 years, so no one touched the turntable."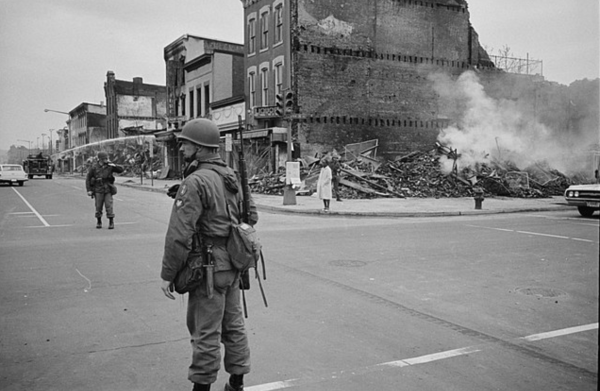 When the uprising was over and the National Guard had gone home, Black-owned businesses and Black homeowners moved to other parts of D.C.
"We were integrated," Virginia said. "The middle class moved away, heroin moved in, crack cocaine moved in and our beautiful, proud, classic community went downhill and became a ghetto."
After years of delays, construction on the U Street-Cardozo Green Line Metro station began in 1987. Ben's struggled throughout much of the construction and was kept open by just two employees: Virginia Ali and an associate. Once the construction was complete, a city survey found that only three businesses in the immediate vicinity had survived: the Industrial Bank, Lee's Flower Shop, and Ben's, which are still there today.
"When it opened finally in 1991, all the new businesses began to move in, the new residents began to move in and now our community is a thriving, young, educated community," Virginia said.
Ben's has also evolved over the years. It opened four new locations around D.C., opened another restaurant and bar next door called "Ben's Next Door" and ships food nationwide through its online store.
Its number one item on the menu, a chili half-smoke, was also voted D.C.'s signature dish.
"It was a breakfast sausage that really was served at breakfast time but my husband, in particular, thought it was a great idea to put that in a nice, soft, hotdog bun and dress it up with mustard onions and our very own special chili sauce," Virginia said.
Ben's has also expanded its menu to offer a variety of chilis, hotdogs, subs and sandwiches, vegetarian options, sides, and desserts.
Ben's iconic food and powerful story continue to attract people from across the country and all over the world. Politicians, celebrities, and activists that have visited the restaurant include former President Barack Obama, former US Representative John Lewis, tennis player Serena Williams, and singer Bruno Mars.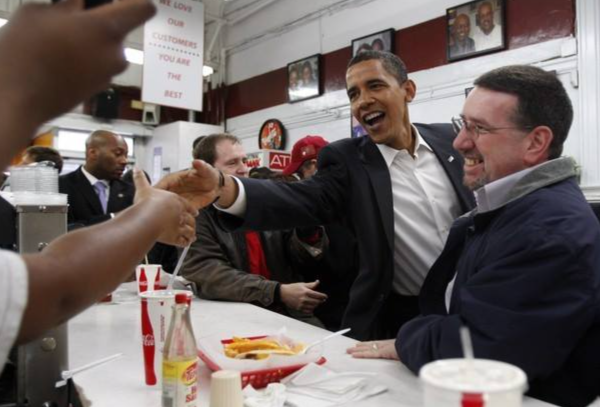 Virginia believes that her restaurant's long-lasting success and popularity stem from its devotion to hospitality. 
"I've served presidents and judges, professional people and actors, you name it, but I've also served heroin addicts and crackheads and bums," she said. "If you treat people the way you'd like to be treated, I think they allow you to stay in business for 64 years."
Moreover, Virginia owes her restaurant's longevity to her community, which has supported her for over six decades. 
When a reporter wrote that Ben's was struggling due to the pandemic, the surrounding community wrote Virginia letters and checks. The restaurant used that funding to prepare boxed lunches for the Howard University Hospital staff, who were taking care of patients with COVID-19. 
In return, Ben's helped the community over the years through miscellaneous tasks and by serving on the boards of local charities. In 2011, Ben's established "The Ben's Chili Bowl Foundation" to provide service to the community and the neighborhoods in which they work and live.
As for the future, Ben's was passed down to Ben and Virginia's three sons and their wives after Ben died.
Ben's will be celebrating its 65th anniversary on Aug. 22, Virginia's 90th birthday on Dec. 17, and will soon announce that Ben's will be franchising. 
Although Virginia is 89 years old, she is energized by hearing others' stories and sharing her own story in the restaurant each day. "I've had the pleasure of serving people from all walks of life," she said.
Now, Virginia has taken a step back and allowed her children to continue her legacy. "We've been a place that shows if you stick with your business if you do a good job if you treat people the way you like to be treated and you provide some very tasty food and [a] warm and friendly family atmosphere, that's what it's all about," she said.
Visit the Ben's Chili Bowl at the locations listed below, or visit its website: https://benschilibowl.com/
U Street – The Original: 1213 U St. N.W. Washington, DC 20009
H Street: 1001 H St. N.E. Washington, DC 20002
D.C. Convention Center: 801 Mt. Vernon Place NW third floor
Reagan National Airport: 1 Aviation Cir. Arlington, VA 20002
Nationals Park: 1500 S Capitol St. S.E. Washington, DC 20003 Sections 109, 140 & 315
By Zoe Hällström